15/09/2019
Veronese, a certain idea of elegance
The French design house, Veronese will bring its almost 90 years of experience with Murano glass, as well as its 20 years of contemporary design expertise, to its new headquarters, which will officially open on September 7, 2019 in the Arts-et-Métiers neighborhood of Paris. The new Maison will mark a new page in the history of the brand and become a part of its DNA – both precious and contemporary. The new House will bring together a showroom, atelier, design room and management offices in a welcoming and vibrant atmosphere. Within this new urban oasis, Veronese will focus on sharing novel design experiences, starting with a rotating roster of exhibitions to showcase their creative collaborations with international talents. For its official opening, it will present acollaboration of almost nine decades of Veronese designs with both vintage furnishings from Objets D'affection (of the famed Puce Antique Market) and contemporary pieces.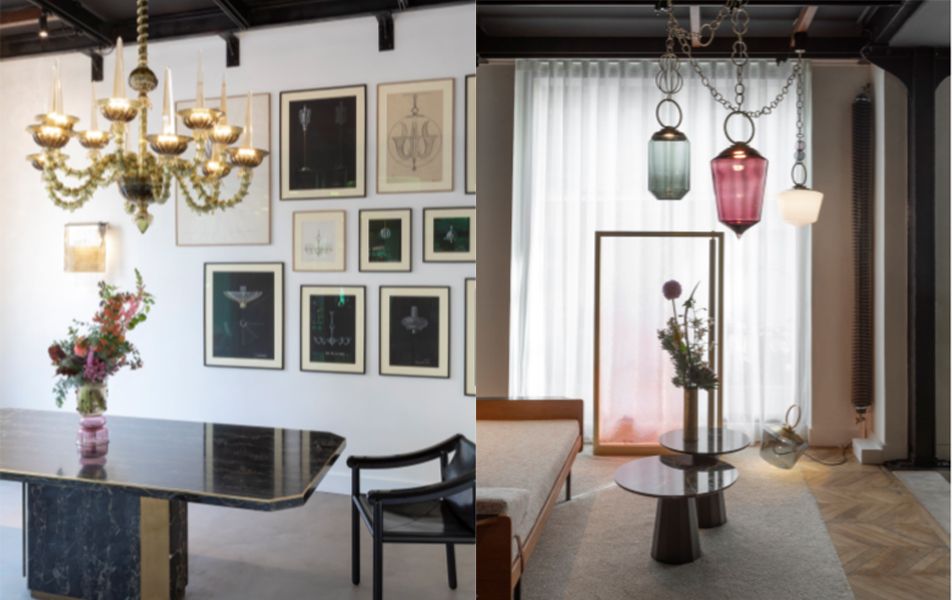 Designed by the architect Reda Amalou of AW2 Architecture, the showroom is a spacious, luminous loft hosting current notions of home living. Veronese wanted to create an inviting and functional home environment that would entice, comfort, and inspire guests to be a part of the House's new creative experiences. Reda transformed the erstwhile space by mixing its original rustic herring bone wood floors with elegant softly gouged black wood walls. The textured black walls are counter-balanced by the natural light that floods the room through the showroom's colonnade of floor-to-ceiling windows. The contrasting textures are a perfect complement to the Murano glass designs that bring the space to life.
The interior design of this immense, L-shaped space is sequenced according to different home functions, starting with a large open-plan kitchen anchored by an island counter, which also functions as the company's conference room. Veronese chose to make the kitchen an essential part of the interior design. "Where I come from,"explains Ruben Jochimek, the creative director of Veronese, "everything happens in the kitchen. And, I wanted to bring that experience to Veronese and everyone we welcome. I've learned through the years that, by creating opportunities to enjoy engaging experiences, we were able to nurture long-term relationships that make up the foundation of our success. And, that is what we want to continue to explore with this new and open space."

The kitchen design is dominated by a large table made from up-cycled wood by Dutch designer Piet Hein Eek – it is this iconic table design that first introduced Veronese to the designer, opening the door to their collaboration. The soul of the living room is Piet's now-iconic Past and Future lighting collection – designed with the treasure-trove archive belonging to the Maison – suspended above vintage Amanta modular chairs by Mario Bellini. A sitting room showcases a vintage daybed sheltered by the Paralight designed by Isabelle Stanislas. A contemporary dining area is also included, with designs from Matiere Grise, Patrick Naggar and vintage chairs. At the other end of the showroom is a formal dining room with the new Sophia chandelier – a feat of craftsmanship true to the 1940s French design style – and vintage designs by Vico Magestreti and Paco Rabanne. The walls are adorned with sconces by Reda Amalou, Tristan Auer and Patrick Naggar, among other designers.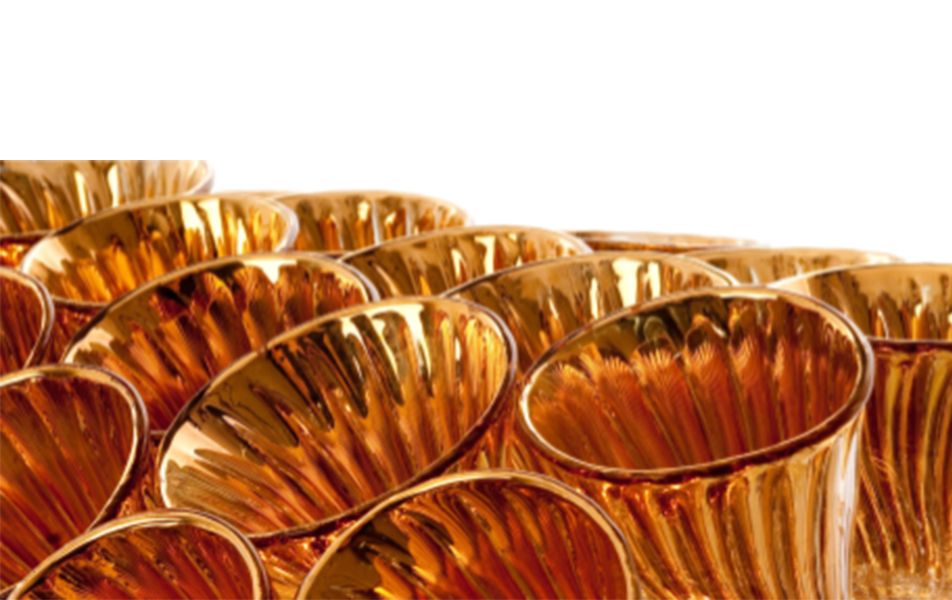 The lower level is dedicated to Veronese's atelier, in which all the designs are assembled and undergo quality control. The ample space allows for more swift fabrication processes and cohesive teamwork. Now, Veronese can easily welcome guests to discover, for themselves, the work involved in assembling each design – further creating opportunities for inspiration. The lower level also includes a photography studio, which will now allow the House to bring its routine photography needs in-house.

On the first floor sits the management and design offices, where the in-house design team works. Its aim is to provide a full range of design services, from creating new designs to customizing catalogue designs: colours, dimensions, and compositions. Delivering a personalized experience is the team's priority. Veronese's customization services are supported by the company's in-depth knowledge of the glass-making ecosystem on the island. Its relationships with Murano masters allows Veronese to work with the best artisans to achieve the highest quality craftsmanship.
Looking forward. The contemporary approach to Murano glass, as pursued by Veronese, attracted the attention of designer Luca Nichetto – a native of the Venetian island of Murano. Being particularly connected to local know-how, Nichetto chose to collaborate with the Parisian Maison to lead this old-world craft into the future. In the coming months, Nichetto and Veronese will unveil a spectacular collection in an enchanted setting. In 2020, Veronese will also unveil new designs by Samuel Accocebery, Isabelle Stanislas, and Dan Yeffet – all confirming the House of Veronese as a major producer of high-level furnishings in the French market today.

How it all began. At the height of the Art Deco period, Veronese was founded in 1931 by Marcel Barbier, who had a penchant for Murano glass. Working with the best artisans of the Venetian Lagoon, he then fabricated objets d'art in Paris that showcased their extraordinary artisanship. To cater to French taste, he collaborated with renowned architects such as André Arbus. Ever since, the Maison has maintained a product range comprised of classic pieces and contemporary lines. Sometimes, the two blend together, as when the vocabulary of shapes found in the company archive are modeled into styles relevant to current trends. Examples are the obelisk of the Sophia chandelier and the cups of the Martha modular suspension by Fredie Jochimek, the President of Veronese.
Before purchasing the House of Veronese in 2009, Fredie Jochimek, a craftsman and entrepreneur, collaborated with numerous fashion designers to create high-end leather fashion for luxury brands such as The House of Montana, Guy Laroche, Hermes, Karl Lagerfeld, Lavin, Fredie, Ruben and Jonathan Jochimek and Donna Karan. Eager to take on a new adventure, Jochimek enthusiastically delved into the world of glass-making. Jochimek was soon joined by his two sons Jonathan, director of sales and production, and Ruben, creative director. Together, they consolidated the position of Veronese as a producer of haute-couture decorative arts, with an emphasis on lighting fixtures and mirrors. Ten years after the acquisition, the Jochimeks are keen on bringing Murano glass into new design territories. The family has entrusted its long-term vision to the talents of great names including Tristan Auer, Piet Hein Eek, Reda Amalou, Patrick Naggar, Dan Yeffet, Tal Lancman, Maurizio Galante, Isabelle Stanislas and Raphael Navot. Each of these masters contributes, in his or her own way, to bringing new challenges to the skilled craftspeople of Murano.

Seeking to broaden its design reach, the Jochimek family recently bought the metal-furniture manufacturer Matière Grise near Lyon, and a wood-working enterprise outside Paris. These acquisitions offer architects a complete set of skills to create made-to-measure designs for their projects. Veronese is growing at the cross-roads of traditional craftsmanship and contemporary creativity, with its products incorporating and anticipating the latest technological developments in lighting.

This blend of global vision, heritage, product range, wonderful collaborations and, now, a showroom worthy of its aspirations have placed this family-run business on the cusp of longterm success.