05/02/2018
Caspani Tino Will Return To Design Shanghai 2018 With Global Launch Collections!
Thanks to the 50 years' experience of Mr. Caspani in this sector, Caspani Tino has built an own designer team and a top-level chain among workshops of craftsmen, carvers, and decorative artists. Personalization is our specialty.
Starting from their rich catalogue, where you can find every genre of classical and contemporary furniture, they listen to every customer's individual need, and make their dreams come true. Every piece made by Caspani Tino would be unique in the world and specially for you. Combining antique craftmanship and latest design trend, they make you the home. This March, Caspani Tino will bring 1 global launch and 2 China launch collections to return to Design Shanghai:
Waves Sofa Collection ——Global Launch
Waves, the new modular collection by Caspani, is characterized by dynamic movements which reminds us of the big waves. The sofa is totally composable, decorated with previous Swarovski crystal. The product is an outstanding representative of Caspani Tino's contemporary collection, showing both elegance and smoothness.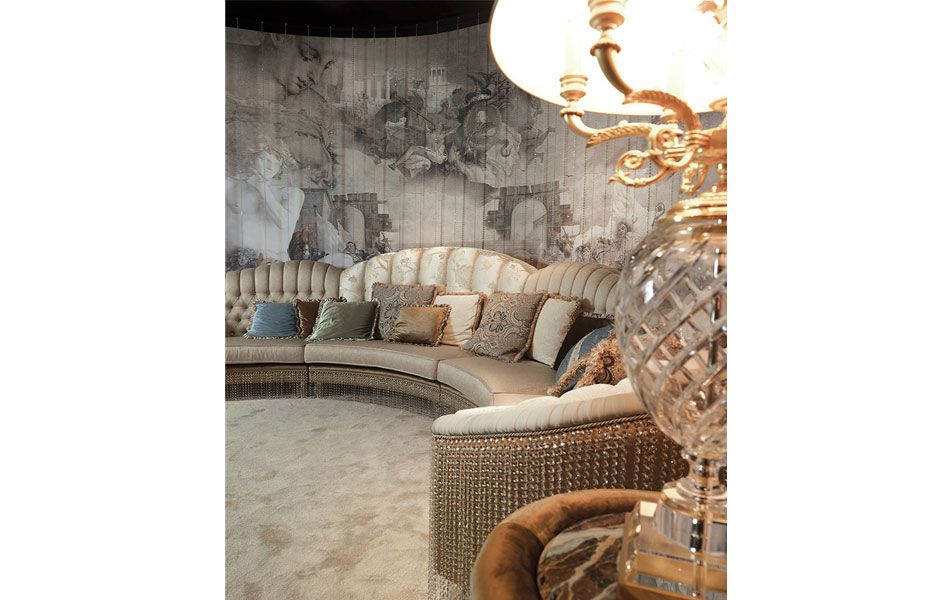 Dragon and Phoenix Table & Cupboard——Global Launch
Dragon and Phoenix are the two prime icons of nobility in Chinese culture. They love to refer to traditional oriental culture, and they believe that the combination of the two divine symbols could indicate both the delicacy of our product and the uniqueness of our client. The table has a diameter of 200cm, with rich decorations in precious materials like mother pearl and various woods. The cupboard has five doors, with total length of circa 260cm, also richly inlayed in white and colored mother pearl, and diverse colors of wood.