09/11/2018
Path to China: 8 brands explain their Shenzhen strategy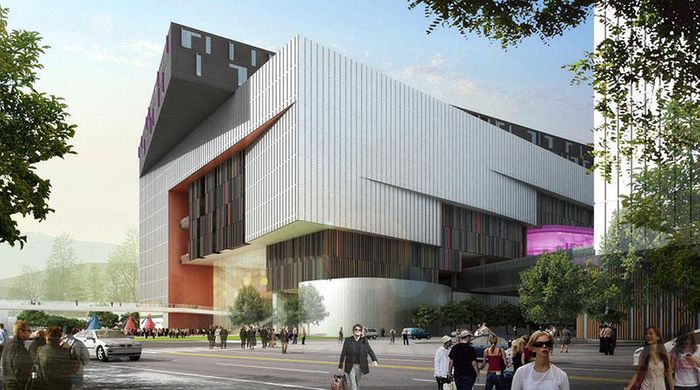 Before 1980, Shenzhen was a fishing village with a population of 30,000. Fast-forward to today and the city has a population that exceeds 12 million, one of the busiest container ports in the world, more billionaires than in all of California—and a 10.7-million-square-foot design center with a grand opening slated for the end of November.
The behemoth design complex, the International Art Design Center (iADC), will house an international design school, a museum, a cultural center, a performing arts center, an apartment building, several hotels, retail space and a high-end design center. The design center, which will be occupied by companies from all over the world, will bring high-end goods to the city that was dubbed China's first special economic zone in 1980, transforming the sleepy town into the "next Silicon Valley," according to Forbes. Business of Home caught up with eight of the more than 50 companies opening showrooms in the design center and talked about about what the opportunity means for their brands.
"The Chinese have become the most important market for us," says Raffaella Vignatelli CEO of Luxury Living Group, whose Fendi Casa and Bentley Home brands will open a showroom in iADC in partnership with Shenzhen Wanbin Space Consultant Ltd., which will staff and manage the space. "We are witnessing an evolution of the Chinese consumer, who is acquiring a different design culture from the one of a few years ago. Today, we are turning to a generation that has studied abroad and absorbed the influences of taste now established in Europe or the United States, and therefore more oriented to a contemporary style."
Kartell is jumping into the Chinese market full steam ahead, opening two flagship stores in the country—one in the iADC, and the other in Shanghai, slated to open later this month. "China is a rapidly expanding market, and a generational change is taking place that is bringing the Chinese consumer closer to a more contemporary taste that opens up new market opportunities for brands like ours," says Federico Luti, commercial director of Kartell, who notes that his company has a unique opportunity in China, one that has been unmatched before. In addition to offering its full range of merchandise at both locations, the brand is also forging agreements with e-commerce companies throughout China, with the intention of developing relationships and launching future collaborations, "strengthening the strategy of expanding the online indirect sales network, offering a transversal and intergenerational proposal," says Luti.
Calligaris has always distributed within the Asia-Pacific region, according to CEO Stefano Rosa Uliana, but two years ago, after the company debuted at the Salone del Mobile.Milano Shanghai, it started investing heavily in the Chinese market. "The turnover is still low but has been growing at a double-digit rate every year," he says. "We have very ambitious plans and are working to set the product for that specific market." Ambitious though it may be, the brand is still treading carefully, as Uliana knows that their Western business model may not translate as easily in China (though he hopes the "Made in Italy" tag can be leveraged for success). "We do not want to be naive and think that this alone is enough to win the confidence of the Chinese consumer," he adds. But Calligaris already has nine showrooms in China and is considering expanding their Quick Ship Program, which already exists in the United States and Japan, to the Chinese market.
Knoll's rationale for opening a showroom at iADC is twofold: The brand was inspired by people its representatives met in China, and wants to continue its mission of educating people about original design. When Knoll was first approached by iADC representatives, it was moved by their passion and enthusiasm for international design. The company has long wanted to break into the Chinese market and, aside from Shenzhen, are aiming at big Chinese cities like Beijing and Shanghai, where there's an international clientele who travel often and have a strong interest in modern design and style. "We aim to position the brand in a coherent way with the same values we have in Europe and the U.S.," says Demetrio Apolloni, president of Knoll Europe. The company is also exploring the possibility of opening a Chinese warehouse to increase its local retail production, and hopes to open a quick-ship service to distributors in the near future.
Paola Lenti is no stranger to the Chinese landscape—the company has had a presence there for 10 years in the form of a showroom and dealers. Talks with the iADC began earlier this year, when it was approached by management for its "very fresh lifestyle concept," says a Paola Lenti representative. "The concept creates a unique atmosphere where each element—outdoor, indoor, landscapes, rugs and architecture—[evokes a] dialogue with one another to create an entire environment. A mono-brand showroom offers us the best opportunity to present a coordinated image displaying our full vision, with the use of Paola's exclusive materials and finishes." For its iADC showroom, the brand is carefully considering colors and finishes that are best suited to the Chinese market.
Cappellini's art director, Giulio Cappellini, sees the Chinese market as a major opportunity for growth for his company. Currently, China represents 3 percent of its global turnover, and the brand already has a presence in the country's largest markets, including Beijing, Shanghai and Chengdu. When iADC investors approached Cappellini, the brand agreed to open a showroom: "The market is changing, and the new generation travels all over the world and is very interested in design," says Cappellini of the decision. The showroom will be staffed by Chinese-speaking employees who will go through special training and devise ways to promote their presence in Shenzhen before opening.
Donghia and Rubelli will open two mono-brand showrooms at the iADC—one for the Donghia furniture and lighting collection and the other for Rubelli Casa. "This operation will grant us visibility on the Chinese market and contribute to enhancing the perception of Italian products in the area," says Rosita Pennati, export manager for the new showrooms. "This is a significant undertaking, since China represents an extremely important market for high-quality products, in particular those made in Italy."
Following the success of its Shanghai design center showroom, Arteriors thought opening a showroom in the iADC was a no-brainer. "We've had a presence in China for the last three years through key partnerships with leading design showrooms in Shanghai, Hangzhou and Beijing," says Krista Stelling, vice president of marketing. "These past few years have yielded strong growth, which is why we decided to move forward with the expansion." She also points to China's growing focus on young designers, as well as having a local partner investing in their brand, as reasons why the brand is looking forward to its Shenzhen opening. "The luxury Chinese market is pretty vast, and having a dedicated space will allow designers and architects to explore the materials, finishes and techniques that make Arteriors designs so unique," says Stelling.
This post was originally published on www.businessofhome.com.