13/07/2021
Design Shanghai 2021: Trend Analysis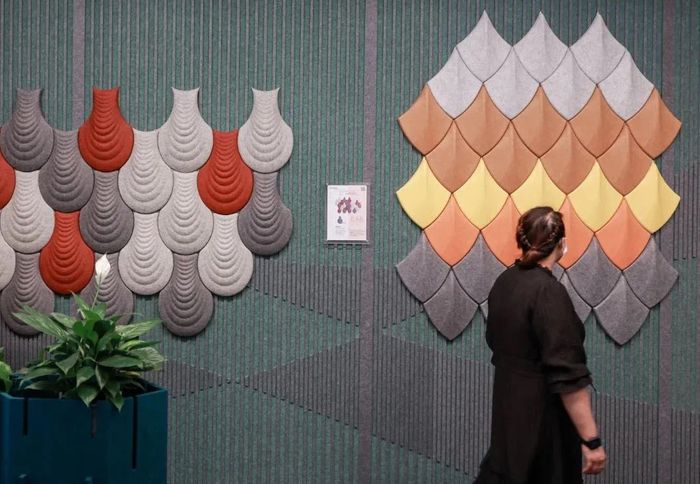 Analysis
2021 was Design Shanghai's biggest edition so far. The show expanded by 25% to display pieces by over 400 local and international brands and designers from 30 countries and regions, aiming to explore the synergies between Eastern and Western design.
Built around the theme of Regenerative Design, this year the trade show discovered upcycling innovations and focused on the new role designs and designers play in improving our quality of life and environment as we move towards a post-pandemic e ra.
14 promising young local designers were spotlighted for their fresh take on original Chinese design. Their works were presented in the TALENTS section, curated by cutting-edge designer Frank Chou, championing the motto "Letting Design Grow" to inspire young designers. The Neooold exhibition, curated by Chinese designer Chen Min, displayed works from 12 international artists, designers and makers that combine traditional artisanal skills with contemporary design, including Aldo Bakker's Filigree Cra collection.
What does this mean for you? Keep sustainability on top of mind while investing in recyclable and sustainable innovations, as this will remain key. Think big and long-term by providing modular solutions and personalised interiors. Focus on directions that prioritise nature and outdoor lifestyles, as well as emotive designs such as mood- boosting colours, soothing curves and playful statement pieces.
Sustainability highlights
Brands and designers are exploring how design can have a positive impact on people and the planet, with long-term approaches and eco-friendly alternatives.
Awarded Design Shanghai Picks, Burgeree's acoustic panel uses 100% PET polyester fibre, without any chemical additions or waste emissions in production, to celebrate its soundproofing and anti-flaming quality. With bamboo's growth cycles shorter than wood, Dasso explores the material's potential by using sustainable and recyclable bamboo in furniture and flooring.
Kids' furniture brand PUPUPULA keeps durability, adaptability and longevity in mind. It creates minimalist modular designs that can easily fit into any interior for long-term use, thanks to sustainable and natural-toned materials.
As the coffee industry continues to boom, Kafftec utilises the waste from coffee grounds to make cups, furniture and accessories while replacing usage of petroleum-based materials by up to 60%. French flooring brand Tarkett's iQ Surface carries long life performance with recycled material from production and post- use homogeneous vinyl for a partially translucent terrazzo effect.
CuiZhihua Studio showcased in TALENTS focuses on application of recyclable materials and traditional handicras such as kintsugi and urushi to repurpose discarded porcelain in
vases and candle holders for its Fragment series.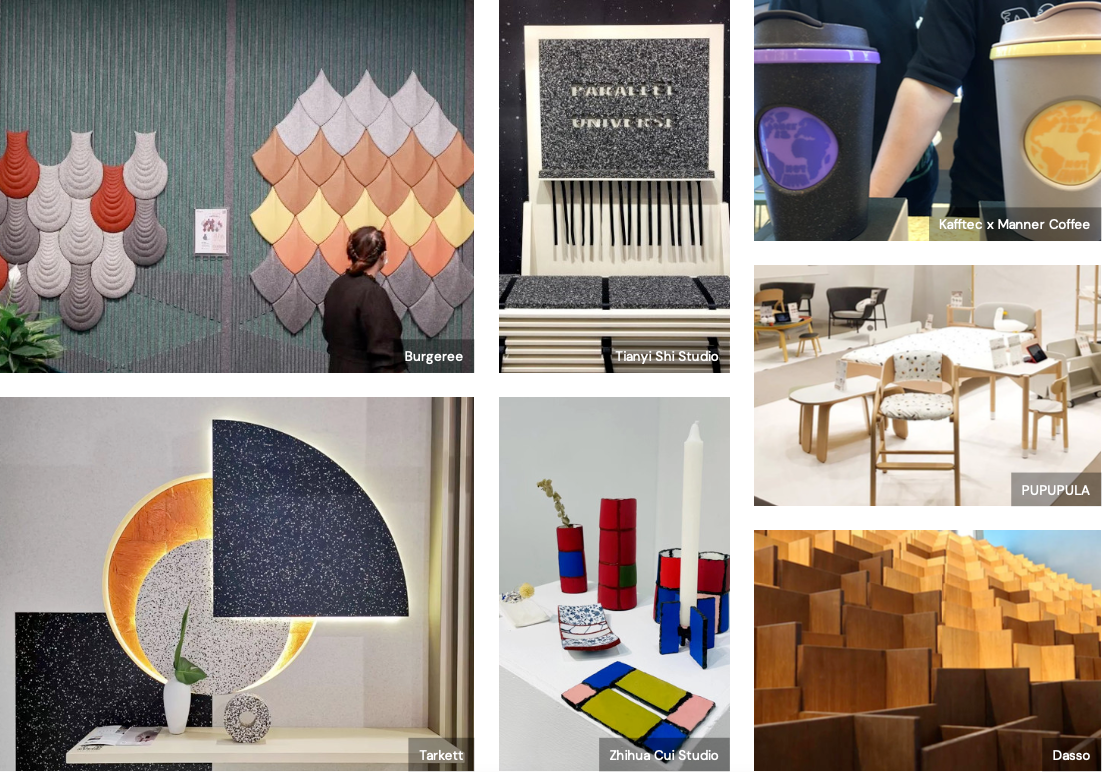 Neo-Chinese aesthetics
Inspired by historical references, traditional Chinese designs are reworked for a contemporary spin with unexpected combinations and influuences.
Chinese brand Shang Xia reimagines contemporary fine living by introducing brick tea walls and bamboo carvings into its exhibition area to create unique light and shadow effects that make sustainable details and balanced aesthetics stand out. The new Da Tian Di tea table, made of carbon fibre, gives a fresh edge to tea rituals for a minimalist and lightweight utility.
PUSU also focuses on tea culture and redefines Chinese-style high tea by providing a holistic tea lifestyle and experience, from drinkware, refreshment and giing to high-end bespoke furniture and spaces, to create a mindful and elegant spiritual moment.
Prioritising the exploration of contemporary Chinese furniture, first-time exhibitor U+ combines Eastern and Western design concepts for its Chu Yun No.1 table. With a circle, hemisphere and inverted obelisk integrated into a steel and geometric structure, the table evokes an otherworldly object from a parallel universe, marrying function with aesthetics.
For textiles, Fuli Tapestry Carpet partners with Chinese-American designer Juju Wang to create the limited-edition Fortune Pack. Inspired by ways of obtaining health and wealth, the artwork represents a collection of symbols such as a flat peach, goldfish and dragon that are associated with an abundant life.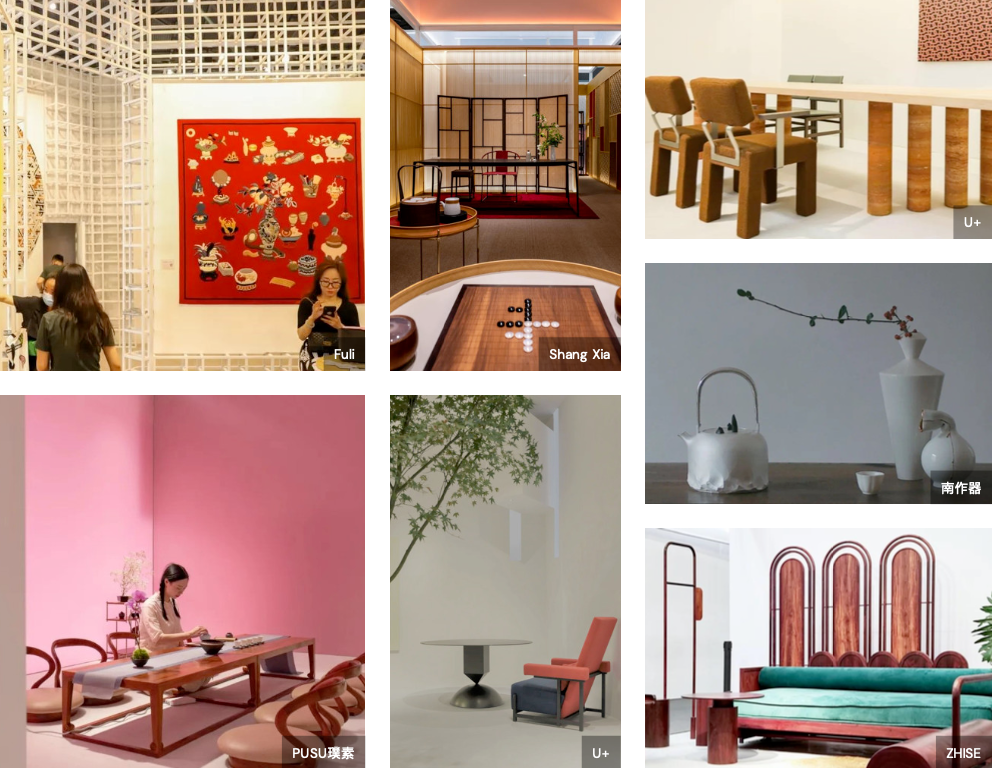 Outdoor lifestyles
The outdoors is an important area to invest in, as consumers are valuing time outside more than ever and seeking product categories for their new lifestyles.
Specifically designed for outdoor use, Hay's lounge bench features a curved frame in green powder-coated steel, which can integrate into a natural landscape or urban setting. New York- based lifestyle brand Departo emphasises its signature pieces, from ceramics and linen textiles to folding furniture, that work well both at home and on the go.
VINEKO plays with light and shadow for its outdoor ranges, but also in its booth design. The portable Luma lamp allows so light to pass through and diffuse via metal mesh, creating a sense of ambience and mood lighting for a homely look.
Inspired by a natural landscape, KUN DESIGN provides a series of abstract yet lively outdoor collections to fit into contemporary living. Earthy pastel colours, so forms and subtle textures resonate with the desire for soothing moments.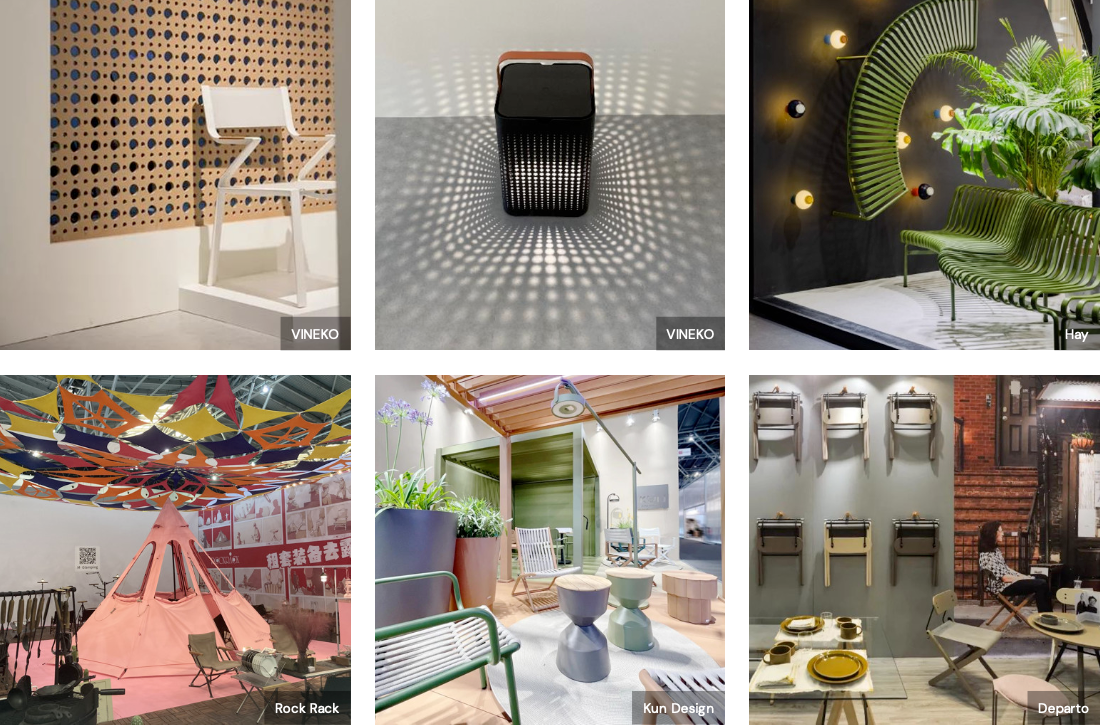 Nature-inspired
Biophilic designs that explore ways of bringing the outside into the home are gaining popularity among consumers, as nature provides benets for their mental and physical wellbeing.
Brands and designs create products with flourishing greenery for a calming, refreshing feel. Jim Thompson and local natural lifestyle brand Foundhome offer escapism through all- over botanical wall coverings and rustic rattan pieces for an indoor jungle look.
Fuli references light and shade, rivers and tides as well as land and soil in the motifs of its Discovering Nature Collection to encourage people to be nourished and energised by our planet.
Versace Ceramics takes cues from the brand's womenswear collection Trésor de la Mer to create patterns of sea life such as corals, starfish and shells on large-scale ceramic tiles. This mix elevates fashion and interiors to a sustainable, modern luxury.
Similarly, Roche Bobois takes on an ocean theme when presenting its innovative S/S 21 Corail dining table in an immersive setting. With its form echoing coral and shells and a base made by 3D-printing concrete and steel, each piece is distinctive and meets demand for customisation.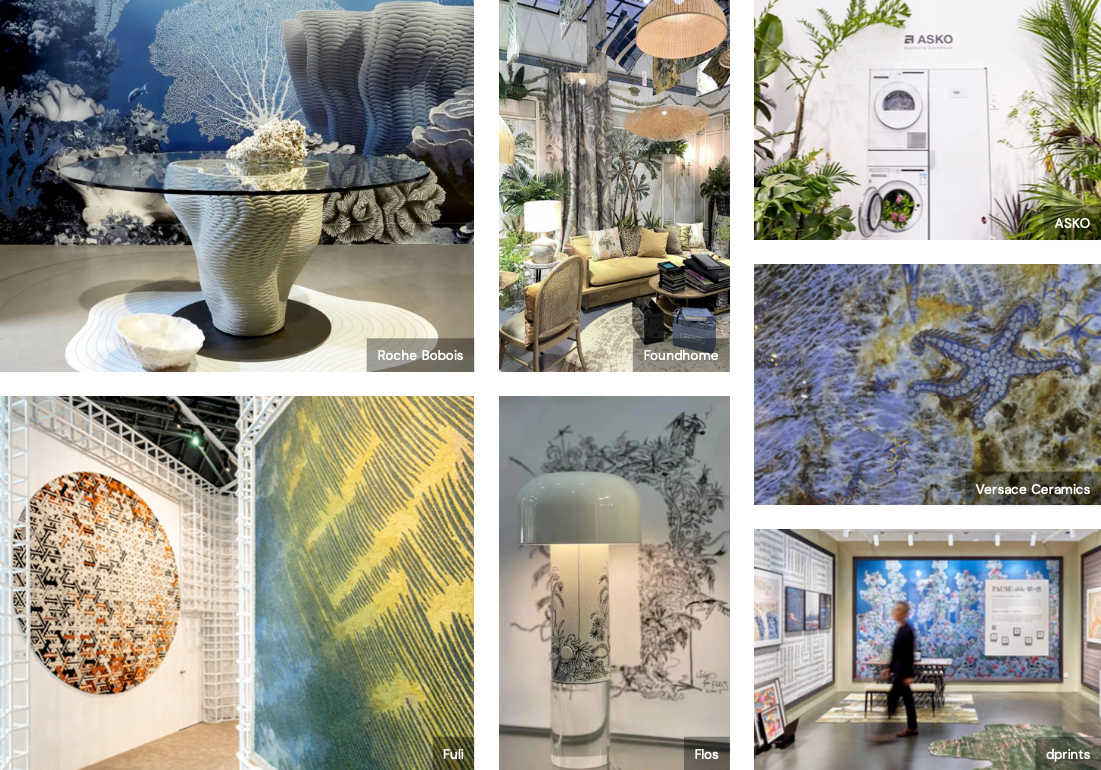 Flex structures
Brands provide modular and modiable solutions that can be adapted suit to constantly changing consumer lifestyles for the #exiblehome.
USM Haller showcased its A World of Plants system for the first time. It can incorporate more organic forms into existing flexible, functional and lasting configurations to tap into the growing trend for indoor gardens and plant parents. Designed to appeal to Gen Z, Jian Ze's modular cat furniture Jenga Cabinet in delicate pastels offers flexibility through add-on components with geometric cutouts that let pets play.
Made from 100% recyclable polypropylene for a lightweight and solid quality, MATSU's multifunctional X-brick can form various constructions for different scenarios, promoting the idea of "work in motion" in a freestyle way.
UFOU Studio partners with Silent Gliss to provide home office solutions. The adjustable desk allows for regular subtle movement and adapts to changing needs as children grow, while so dividers can define space for privacy. Similarly, Narmal conveys its flexible space- dividing concept with an affordable and reusable partition system that can be quickly assembled and fit into any commercial interior.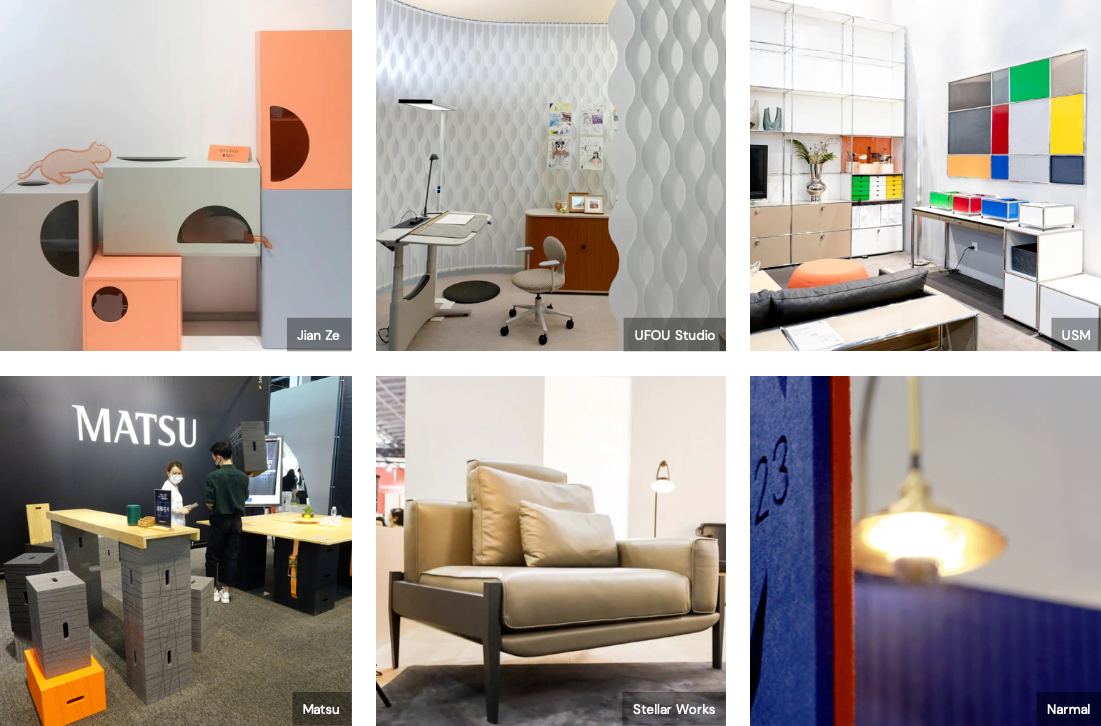 Soothing curves
Undulating and circular forms add a soft and playful edge to furniture and lighting, bringing a welcoming feel to designs.
Plump silhouettes and curved lines are essential to build a relaxing ambience for homely comfort. So tactility and contrasting colour-blocks define Frank Chou's new Orbit sofa, while bulbous forms and wave-like undulations turn Roche Bobois' Bubble sofa and bed into an enveloping sanctuary. Verpan integrates modularity and adjustability into its Cloverleaf sofa to support lounging.
The Yǎng Chair, designed by Chen Min for Jian Ze, rethinks how to make sitting safe and feel good, soens hard materials via smooth curvatures, vibrant shades and an ergonomically simple structure.
Inspired by flower petals swaying in the breeze, the Nightbloom collection by Marcel Wanders for Spanish company Lladró embraces crasmanship and captures organic rounded forms in matte porcelain.
The chubby Babyfather lighting collection from a collab by Shanghai-based Studiososlow and fashion brand Feyfey WORLDWIDE explores the relationship between humans, garments and spaces via inflatable fabrics.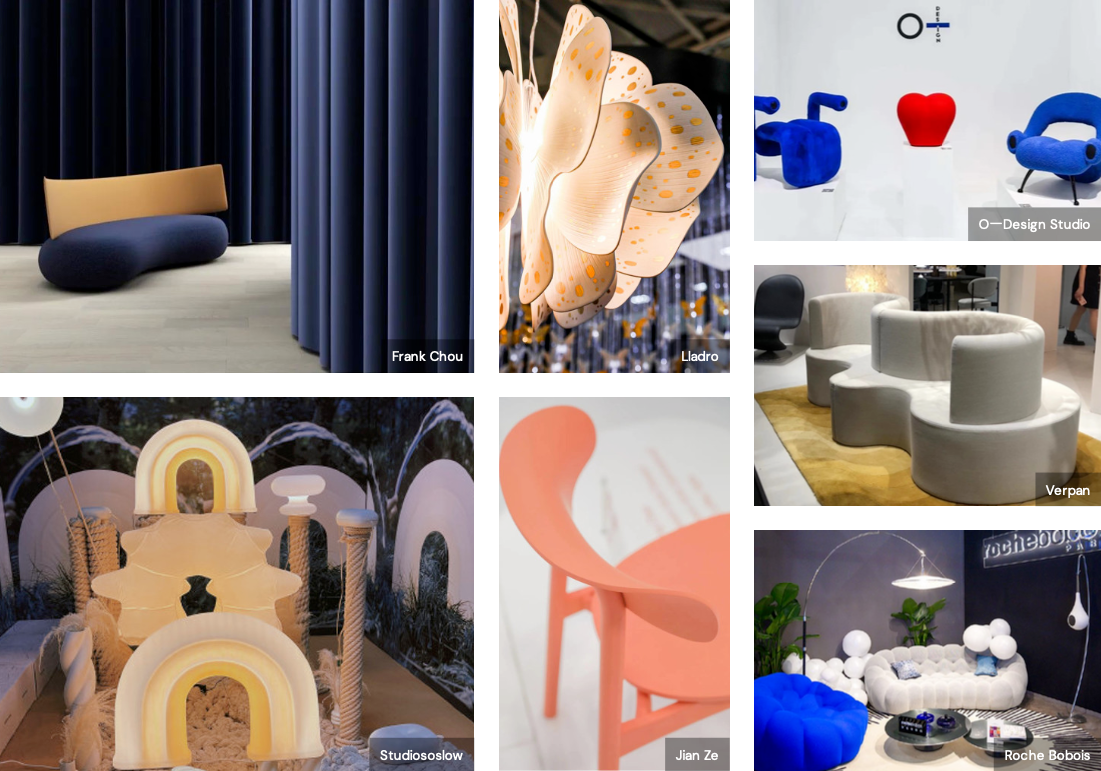 Soft industrial
Elevate industrial aesthetics by integrating utilitarian details and experimenting with colours, materials and forms for a sophisticated look.
Industrial style moves into a soer direction that takes on a more soothing appearance with rounded silhouettes and simplified forms, as seen in Camino's floor lamp collection.
Brands and designers try out unexpected combinations with materials that add warmth and balance to interiors. &Tradition and Cui Zhihua Studio play with metal, wood and fabrics in everyday items to emphasise functionality, while Insteel's cabinet juxtaposes mute-tinted metal with hazy ripple- look glass for a comforting effect.
Colour pops and considered finishes that enliven industrial looks give a personal and striking makeover to everyday furniture and lighting. Vineko's streamlined Lotus line and Anglepoise's Paul Smith edition have a fresh sense of glamour with saturated hues on simple construction.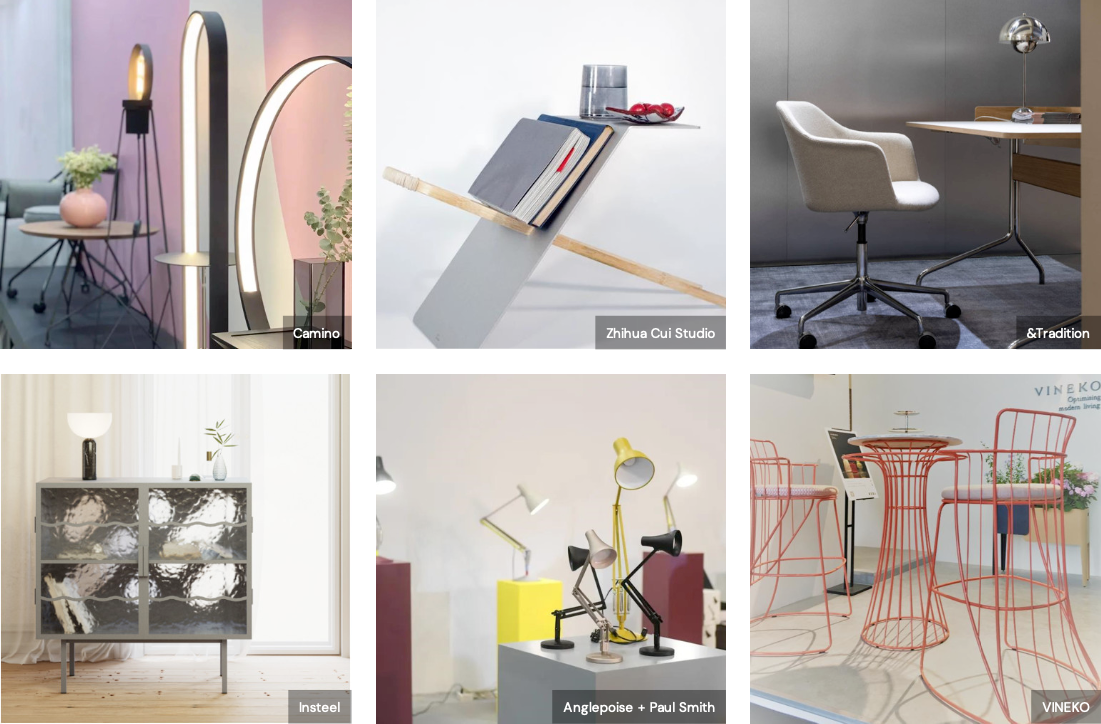 Playful expression
Eclectic designs use bold colours and whimsical forms that raise a smile while tapping into the desire for personal expression.
In collaboration with YA SPACE, the first exhibition space in China dedicated to Memphis design, the trade show's Collectible Design Hall showcased one-off pieces and limited- edition works represented by renowned galleries. From quirky Look At Me mirrors by Corsi Design and the colourful Bagatelle folding screen by Dan Friedman to Nobody's Perfect Chairs by Gaetano Pesce, a surprisingly playful and artful edge upgrades everyday items while challenging notions of taste.
Shang Xia launched two neo-Chinese-style limited-edition chairs in collaboration with Paris-based artist Camille Blatrix. Named Duo Mao Mao (hide and seek), the design features an illustrated person hiding under the chair, bringing a humorous and disruptive interpretation to the signature furniture piece, which is more accessible to a younger demographic.
Born of the dream to inject Dadaism into our everyday lives, French-Chinese Maison Dada displays animated homeware pieces with asymmetrical shapes and vibrant colours for its Summer in Paris story.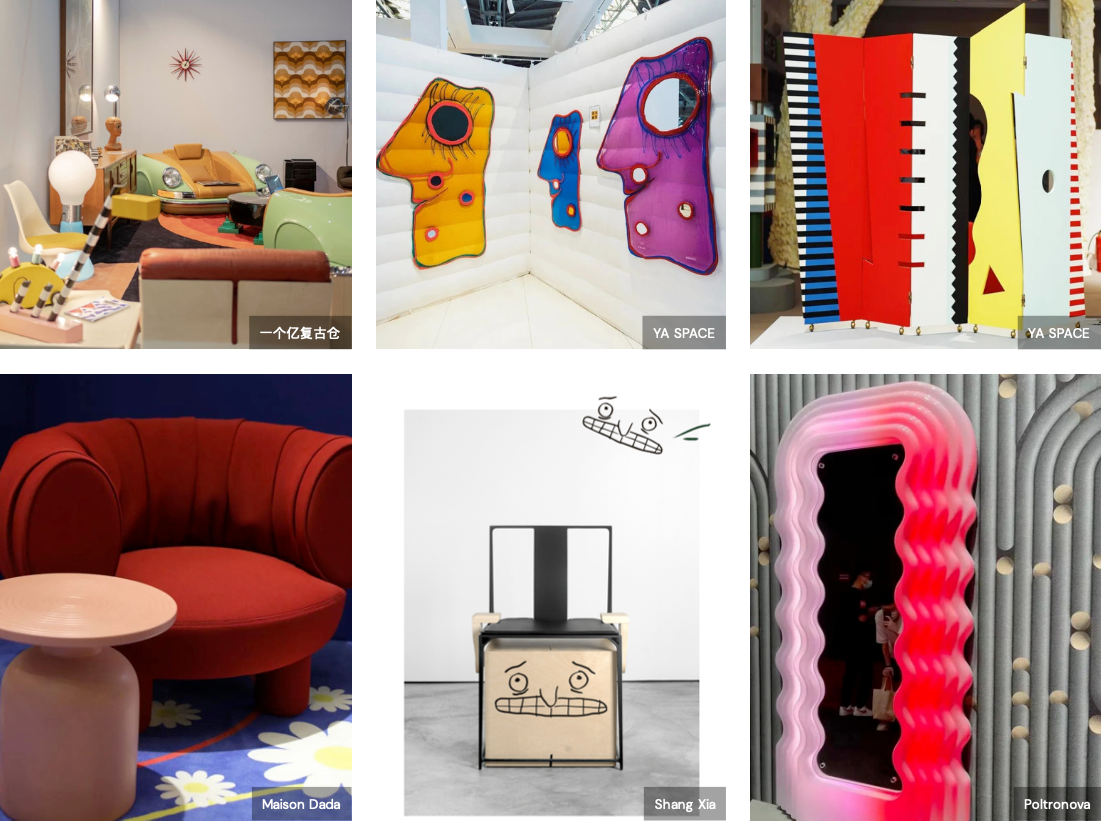 Joyful colours
As the world recovers from disruption and uncertainty, pop colours bring a sense of optimism to interiors, from saturated mood- boosting brights to restorative pastels.
Wallpaper* magazine and Tmall play with the effects of layering transparencies and statement digital hues of green and yellow for futuristic visuals and a hyperrealistic appeal that works well for screens and IRL.
Jung provides soothing pastel and vibrant bright options for electric switches. Verpan offers its elegant Pantop collection in a palette of bold colours that complement one another.
With a priority of minimising energy consumption and waste in production, Cement Design features recycled materials with eco- credentials for cement floor, wall and ceiling solutions with a textural finish. The material is available in 120 customisable shades, adding a sense of warmth and interest to interiors.
Villeroy & Boch's ARTIS and Laufen's KARTELL also offer mood-boosting palettes and colour- blocking in their bath lines to bring joy to everyday basics.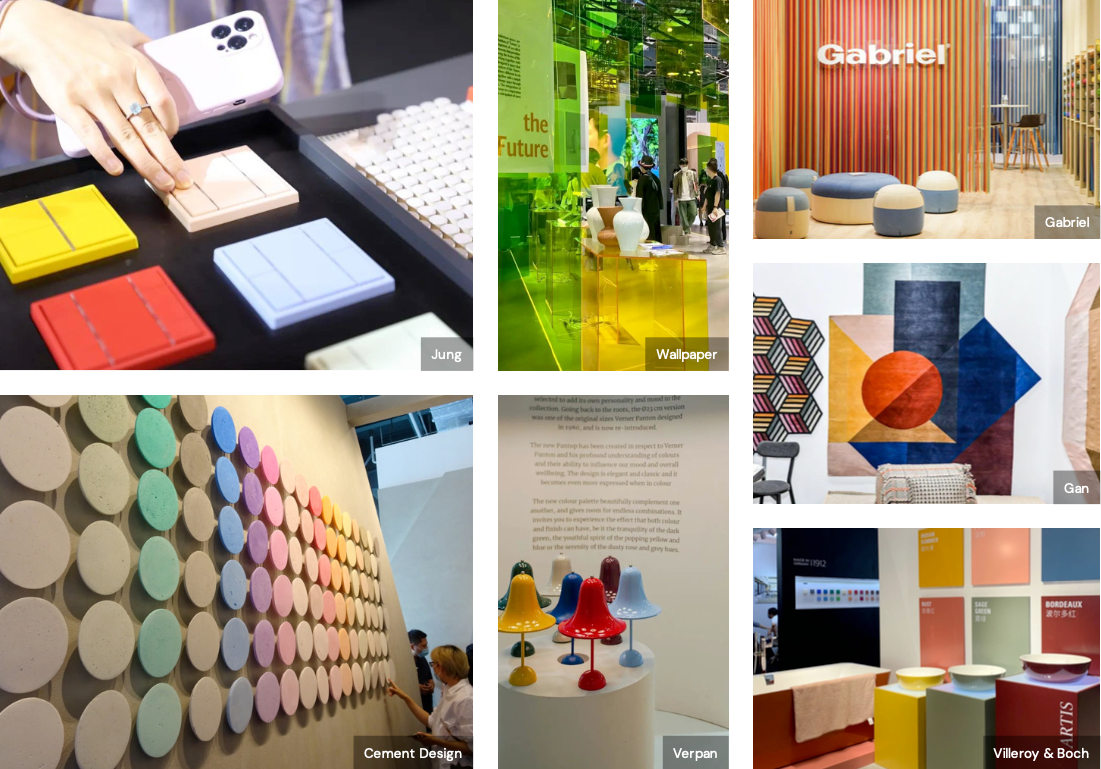 Dramatic black
Furniture and lighting take on a modern feel, with a variety of products using different dark-tinted materials to celebrate textural and intriguing dimension.
Patterned black is key to add a tactile and luxurious look to residential and commercial settings. Spain-based COMPAC gets a pattern makeover that mimics monochrome marbling in its quartz collection. Another Spanish surface brand, Techsize creates an industrial- look 'gallery' with its near-black slate products that allow visitors to view and touch, taking on a lived-in finish that will improve over time.
China-based Yemu 1978 uses dark black timber discarded by furniture manufacturers to celebrate the hyper-textural, dramatic appeal of naturally imperfect marks and burls on the surface.
Chinese brand Stellar Works' new minimalist and industrial Host collection by Sebastian Herkner features an all-black movable freestanding rack with a mirror and shelving that can be shown off when not in use, ideal for contemporary home living and hospitality spaces.