02/06/2021
INNOVATION IN CHINA TODAY - THE BRANDS AND DESIGNERS TO WATCH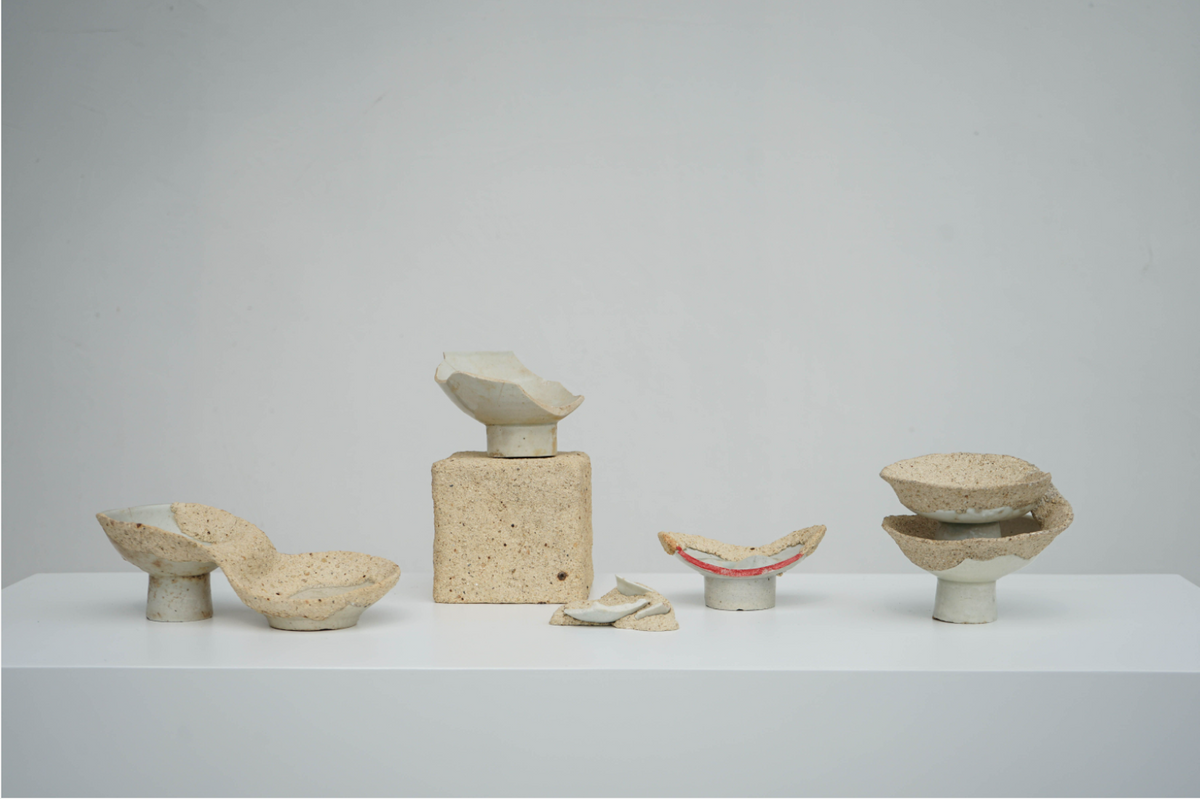 As Asia's largest and leading international design event, Design Shanghai is an extensive showcase of the world's top design brands and a distinctive platform for bridging the gap between East and West through networking and trading, helping brands build long-term business relationships with Asia's most influential architects, interior designers, real estate developers, purchasing managers and private buyers. Returning for its 8th year from 3rd - 6th June 2021, Design Shanghai continues to set a precedent and industry benchmark for the flourishing design community in Asia.
From day one, Design Shanghai has been dedicated to identifying and nurturing emerging Chinese designers and providing them with a broad platform to showcase their work. Over the past seven years, Design Shanghai has witnessed the extraordinary growth of hundreds of young designers, many of whom have become pillars of contemporary design in China themselves. Chinese brands are gaining in recognition globally, and as one of the world's largest industry events, Design Shanghai continues to be a platform for successfully launching on an international scale.
TALENTS
Frank Chou, Founder of Frank Chou Design Studio returns to curate TALENTS for the second year, a unique platform connecting new-generation designers with the wider design industry. Featuring a laser sharp showcase of 14 of the best emerging designers in China today, Design Shanghai's TALENTS section is on a mission to nurture the country's next generation of design talent. The showcase continues to promote, support and recognise the extraordinary wealth of young talent that exists in China today. The second edition of TALENTS will be focused on discovering and nurturing China's new design talent as well as revealing the diverse design languages of China's next generation of designers across multiple disciplines from commercial to conceptual design.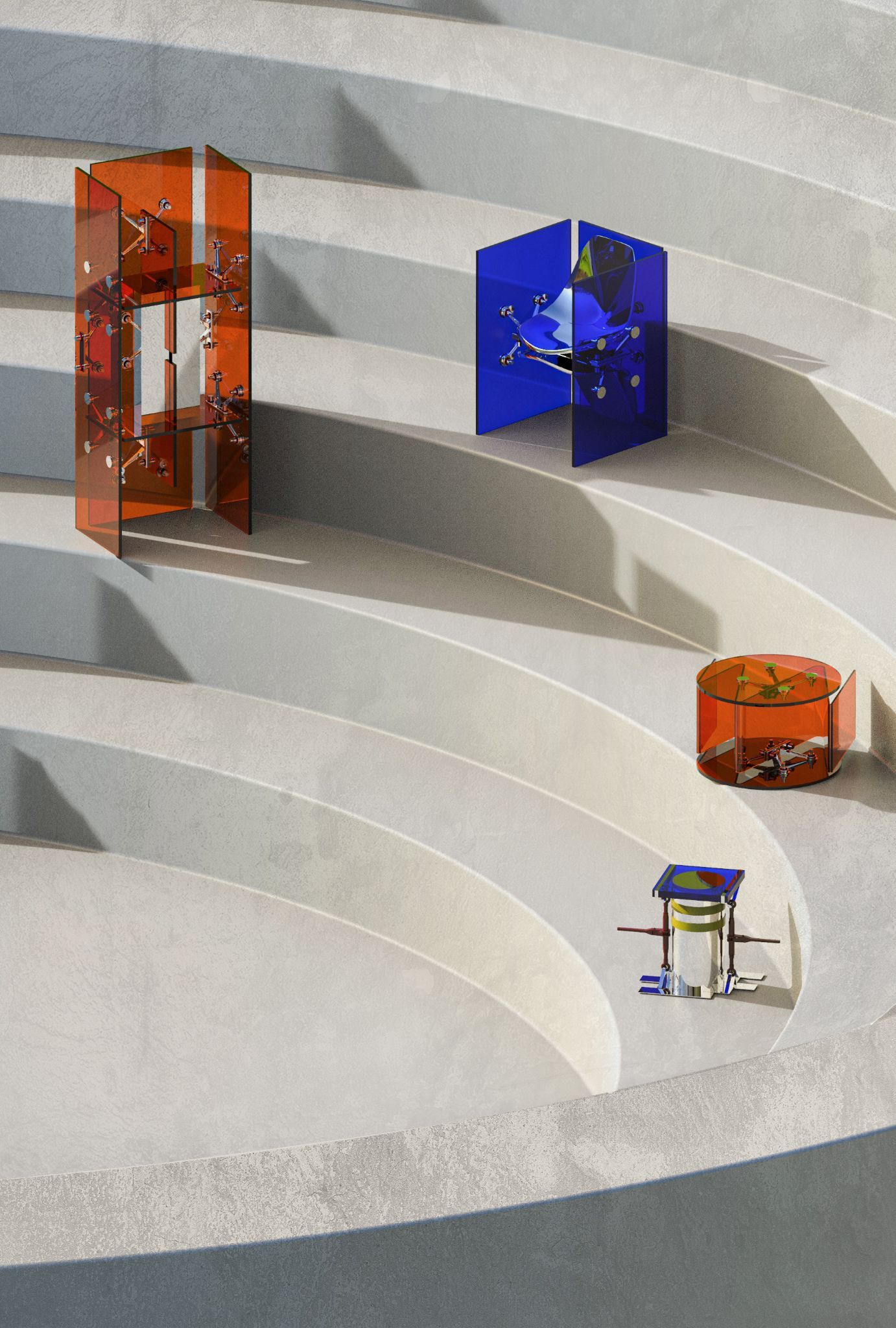 No public-private boundary by Cometabolism Studio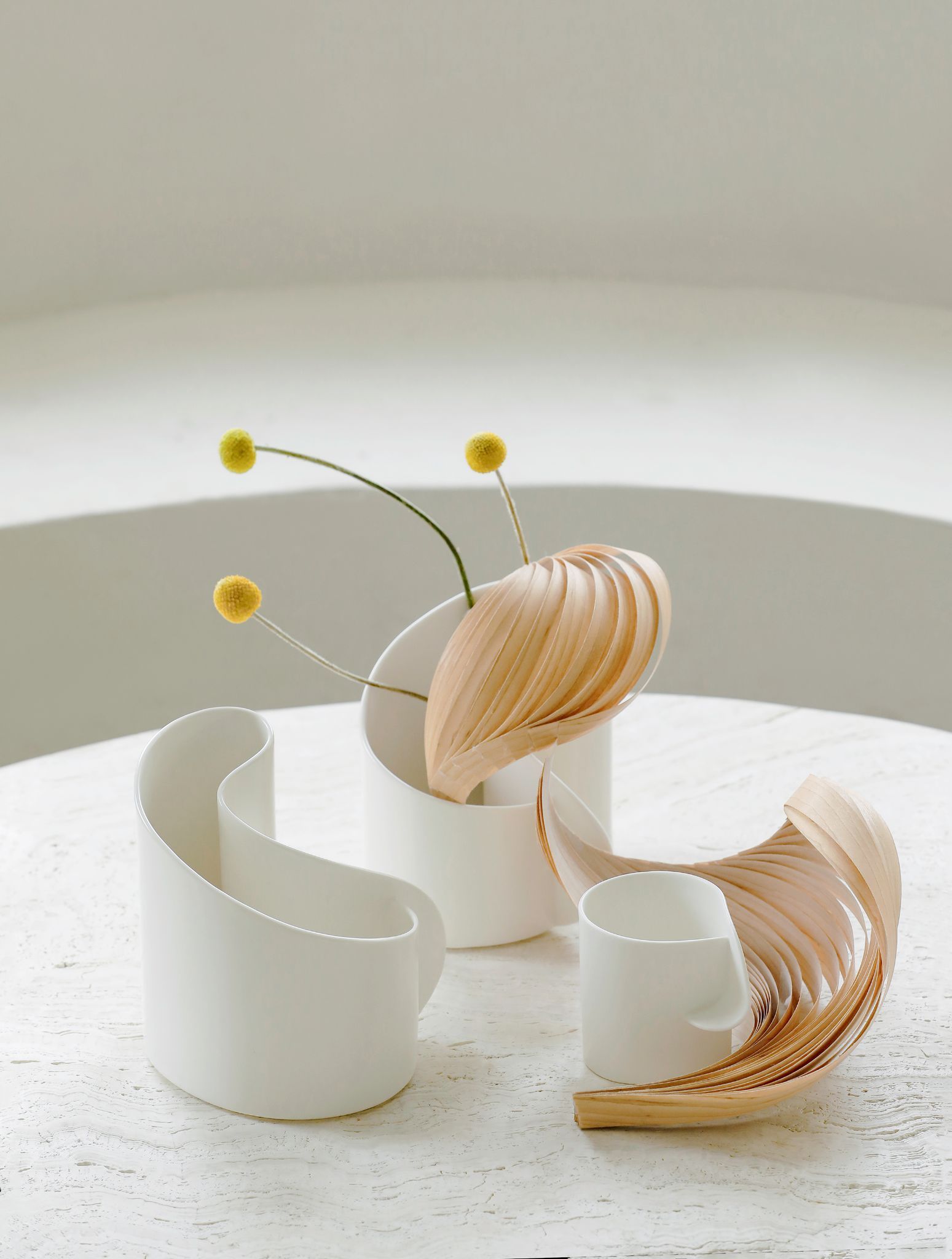 The Rolling series by suomudesign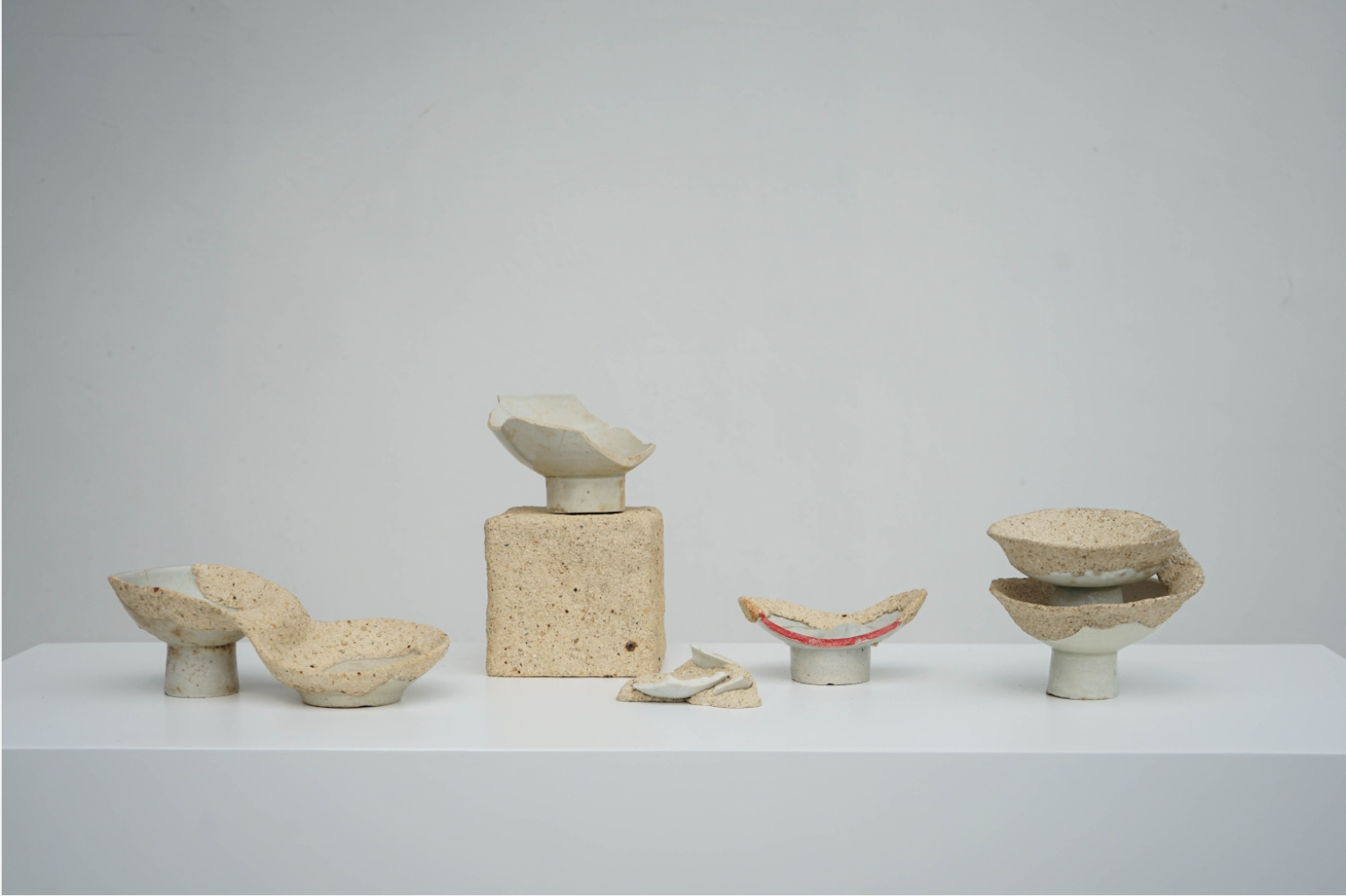 Shadowy Bloom by Emotive Soil
The second edition of TALENTS will again be carefully curated by Chou. The influential judging panel includes Aric Chen, Xu Wang, Chi Wing Lo, Jamy Yang, and Baohong Shen. Among the final 14 selected TALENTS, will be newcomers craft and design studio Emotive Soil, design practice Mohno Studio, product designer Dorisofia, furniture designers Bang Office and YANN design studio. Beijing design studio Cometabolism Studio will explore design and space from the perspective of public art and Leijie Zhou will focus on digital algorithms and 3D design. TALENTS will welcome design innovators Cui Zhihua, Jolida Xuan, Doris Wang, and multimedia artist Mian Wei. Suomu Design will present thoughtfully crafted ceramics and both Studio Sain and Paart Product Workshop will explore function, aesthetics and materiality.
CONTEMPORARY DESIGN
In the Contemporary Design Hall, Shang Xia will showcase new tableware and tea sets in a curated 'Tea Space' in celebration of the Chinese tradition. The luxury fashion brand from Hermès has become synonymous with high-quality products that are a contemporary twist on traditional Chinese aesthetics and crafts.
Leading design brand Stellar Works will reveal its latest collaboration with German designer Sebastian Herkner alongside lighting and furniture pieces designed by Neri&Hu, Michelle DeLucchi and Nendo. Dedicated to the design, development and manufacture of contemporary Chinese furniture, first time exhibitor U+ will showcase its Shan Qiu Zhi Ge Sofa Collection in the Contemporary Design Hall. Emerging Shanghai based contemporary furniture brand, Donxi will present collections specialising in natural materials. Red Dot Design Winner 2021, Ivini will showcase their collection of contemporary luxury indoor and outdoor furniture made from high quality European materials. ZAOZUO, the brainchild of Chinese graphic designer and entrepreneur Shu Wei, will showcase their modern, sophisticated furniture and home decor aimed at urban families.
Inspired by nature, Kun Design will present a fresh collection of outdoor furniture, lighting and interior accessories.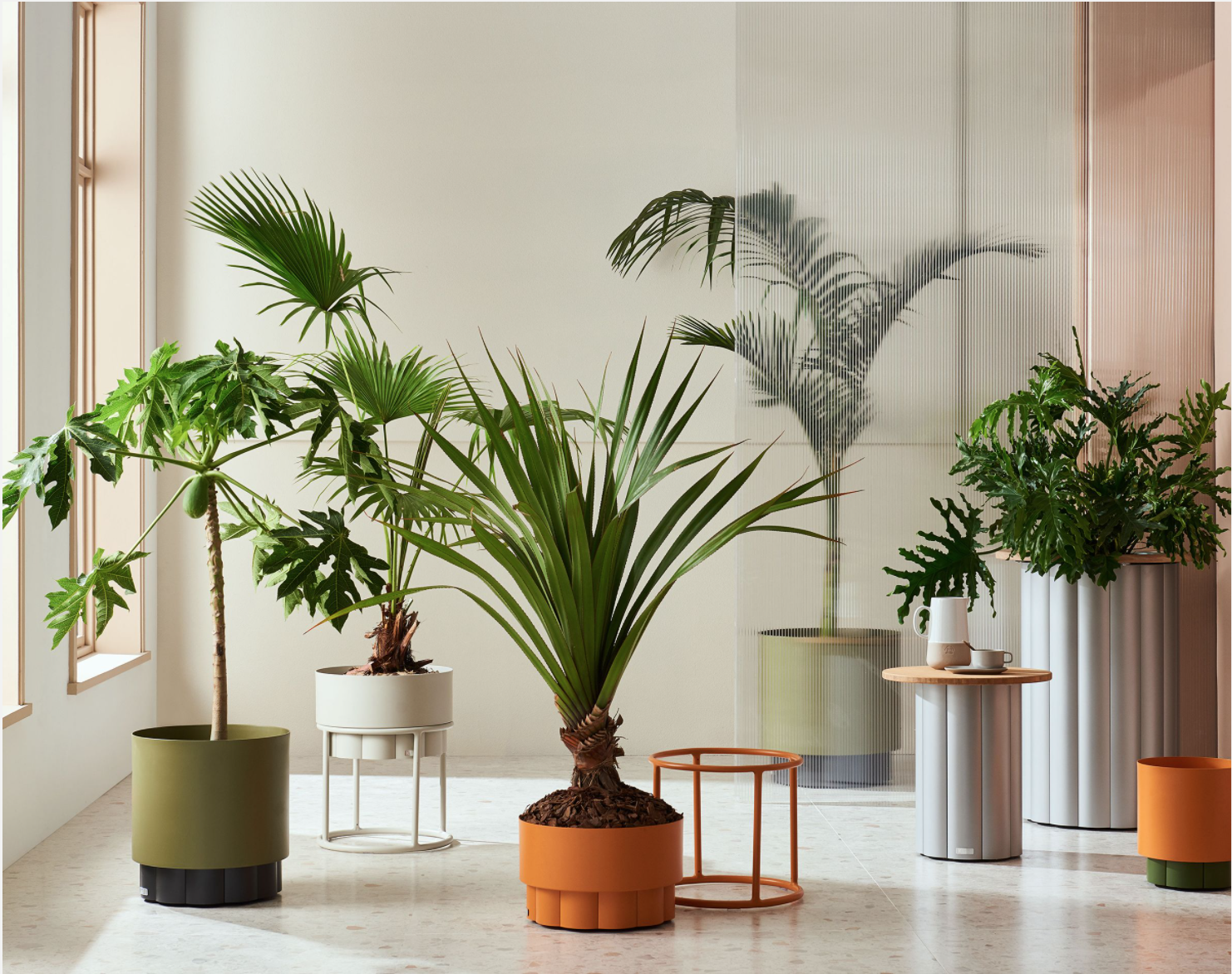 Kun Design
Specialising in mid-century Danish design, YBJY collaborated with dealers and auction houses in Denmark and Sweden to bring classic furniture design to China through a curated showcase of recognisable antique classics. In the Collectible Design Hall, China's first ever Memphis Group exhibition space, YA SPACE will feature classic works from the Memphis Group alongside the latest Meta Memphis collection, a collaboration with Italian artists, blurring the boundaries between art and design. They will showcase extraordinary one-off pieces and limited edition works from international and Chinese designers represented by renowned design galleries including hero pieces from world-class architect Aldo Cibic such as CASABLANCA cabinets, MAX bookshelves, and Greene Street chairs. Ya Space is committed to sharing the inspirations of Memphis design masters and artists, as well as interesting and collectible post-modernist design works.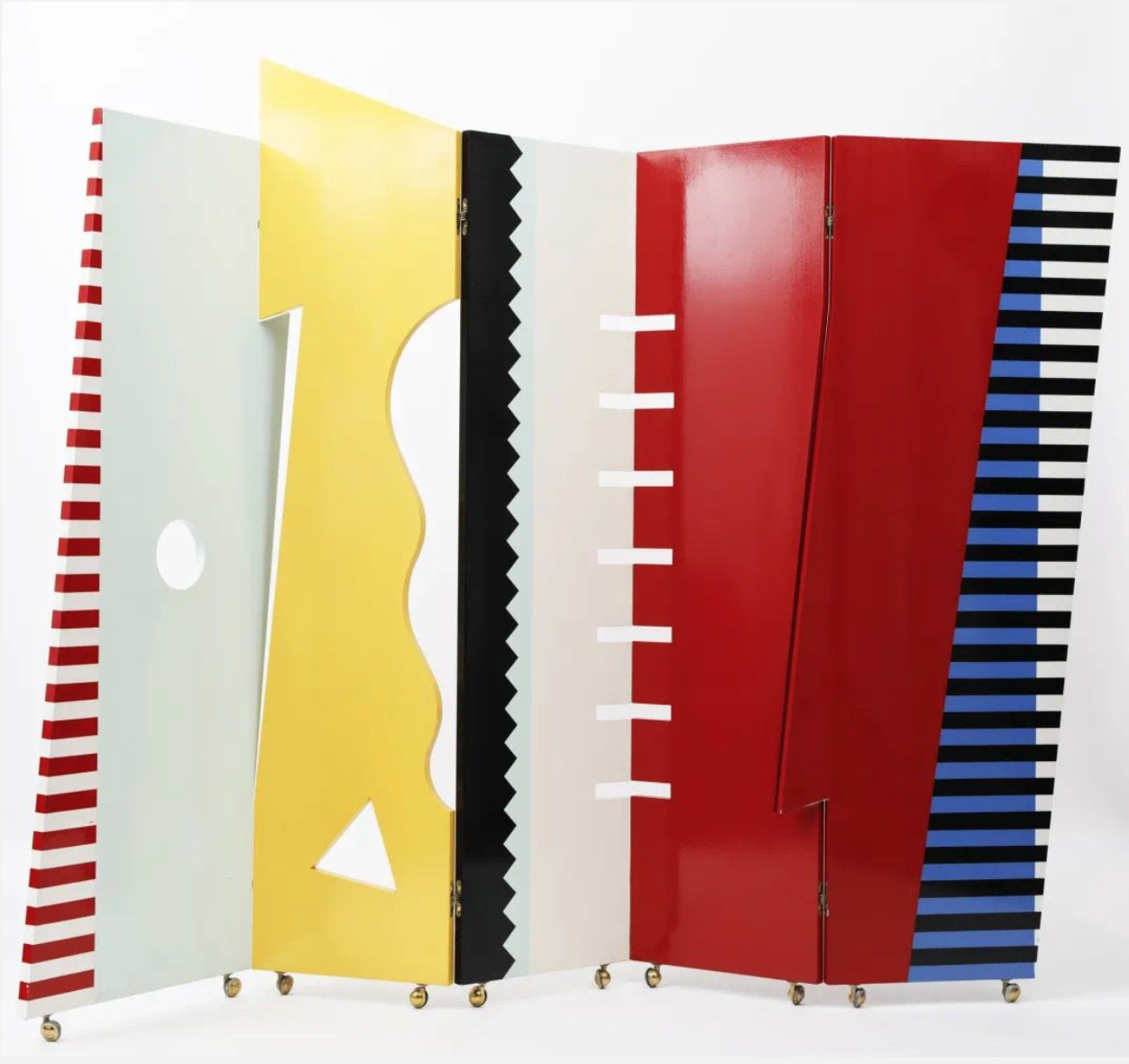 Dan Friedman Screen Presented as part of YA Space's Collectible Design Hall
CLASSIC & LUXURY
Founded by Wu Daijie, art director of MCCA Contemporary Art Center, Boking will present in the Classic & Luxury Design Hall. A studio of contemporary artists working with unique forms and transparent materials, the showcase will include a variety of creative and original artworks. Shanghai Fuli Tapestry Carpets will display a collection of luxury, contemporary carpets founded on traditional techniques.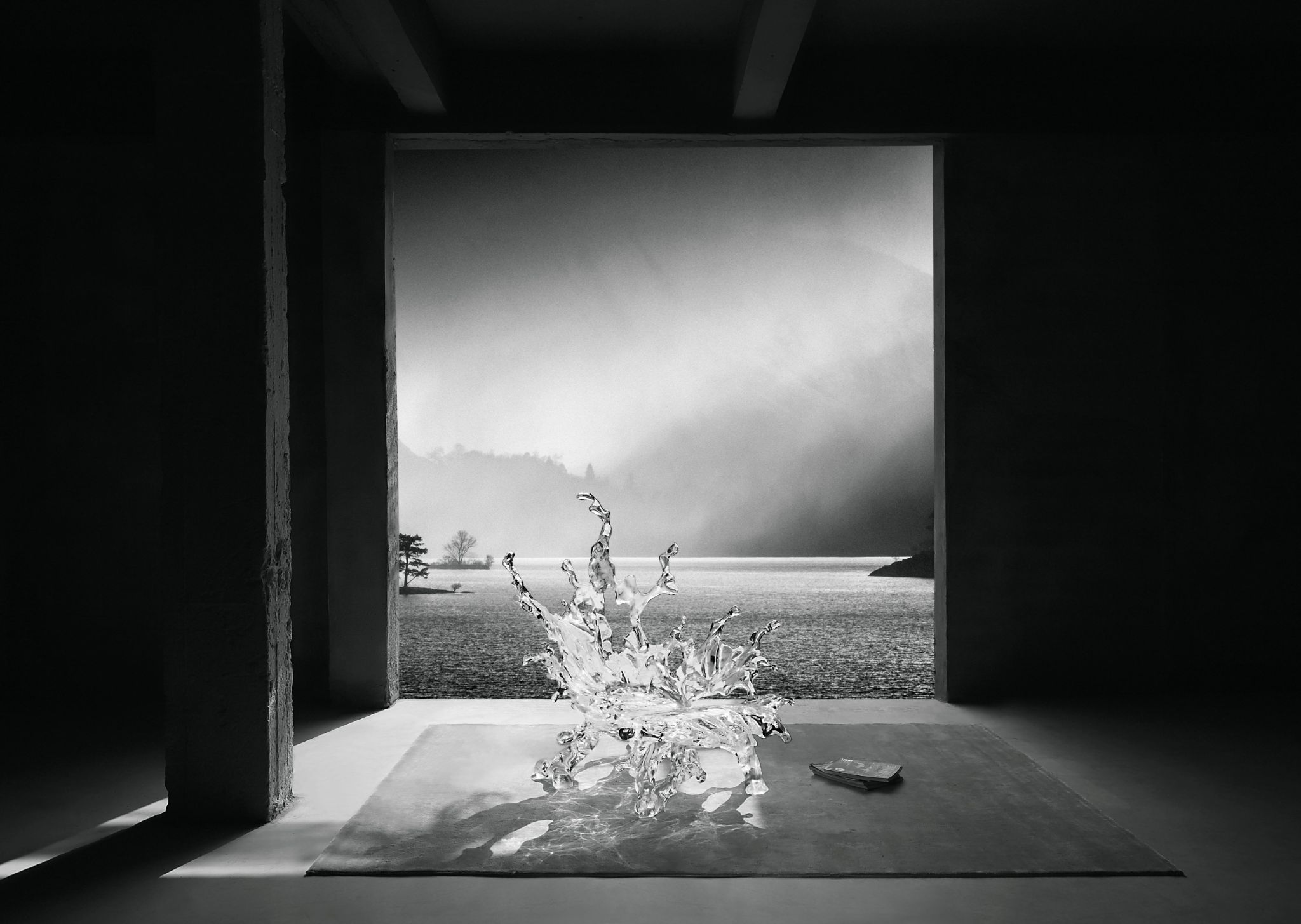 XUANYE by Boking
CONTEMPORARY CRAFTSMANSHIP
Industrial designer and Loewe Foundation expert judge, Chen Min has curated Neooold, a collection of 12 pioneering designers, craftsmen and artists pairing traditional artisanal craft techniques with contemporary design. Neooold breaks through the confines of various traditional categories of creation and aims to explore the purest exercise of human skills. It redefines creation as the integration of exquisite craft, refined art and advanced design to show the innovation of traditional crafts in multiple dimensions.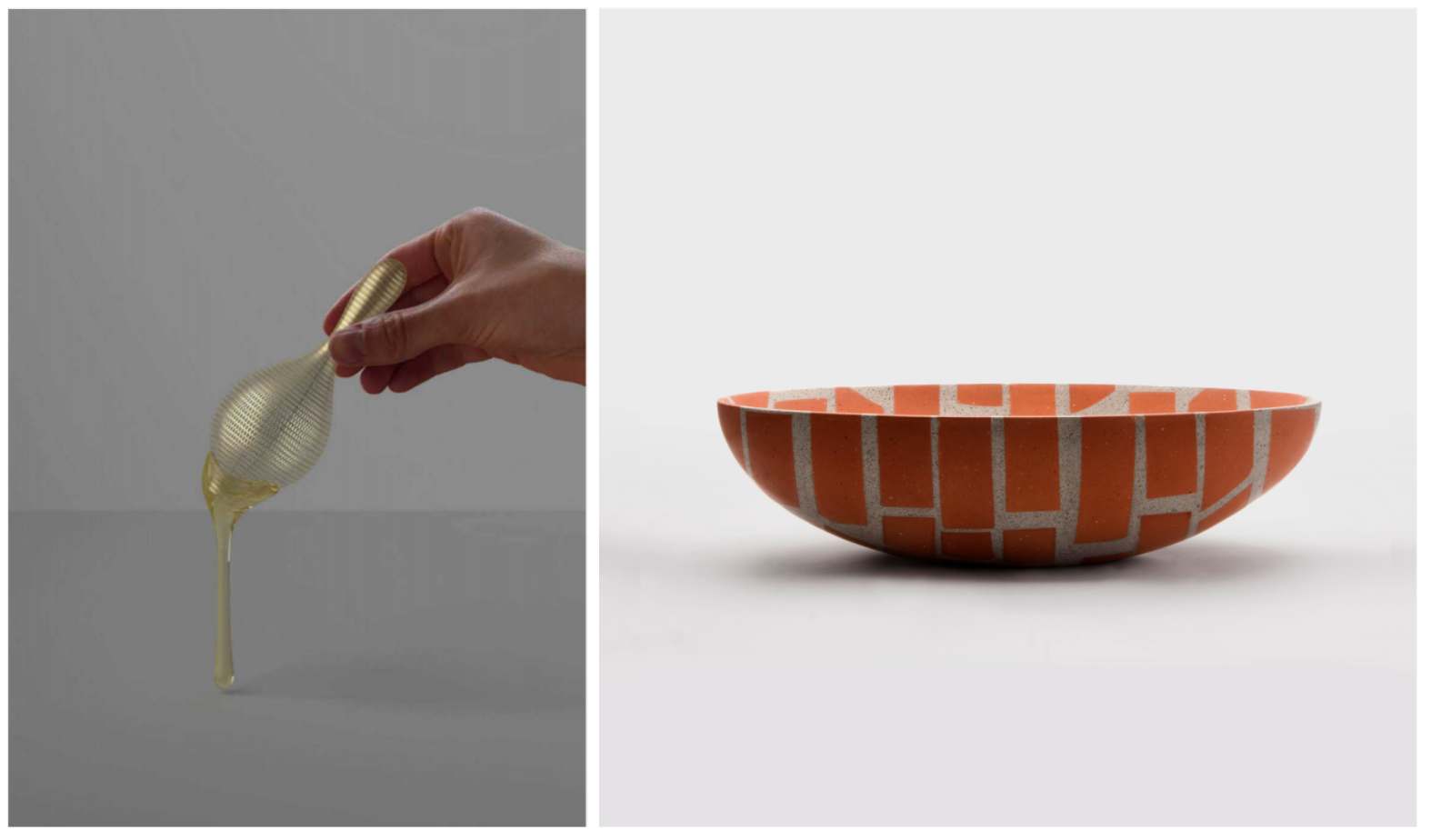 Aldo Bakker's Gold Filigree Honey Stick and Rock Wang's Red Brick Oval
Conceptual Dutch designer, Aldo Bakker will present a delicate gold Filigree collection, using a prized and complex technique to create a twist on three everyday kitchen items. Taiwanise industrial designer Pili Wu will showcase a ribbed ceramic contemporary tea set emulating the typical plastic objects found at every Taiwanise street vendor. Founder of Qiaomen Design Studio, Taiwanise industrial designer Rock Wang has reimagined a commonplace material in a series of contemporary forms in his 'Red Brick' Collection.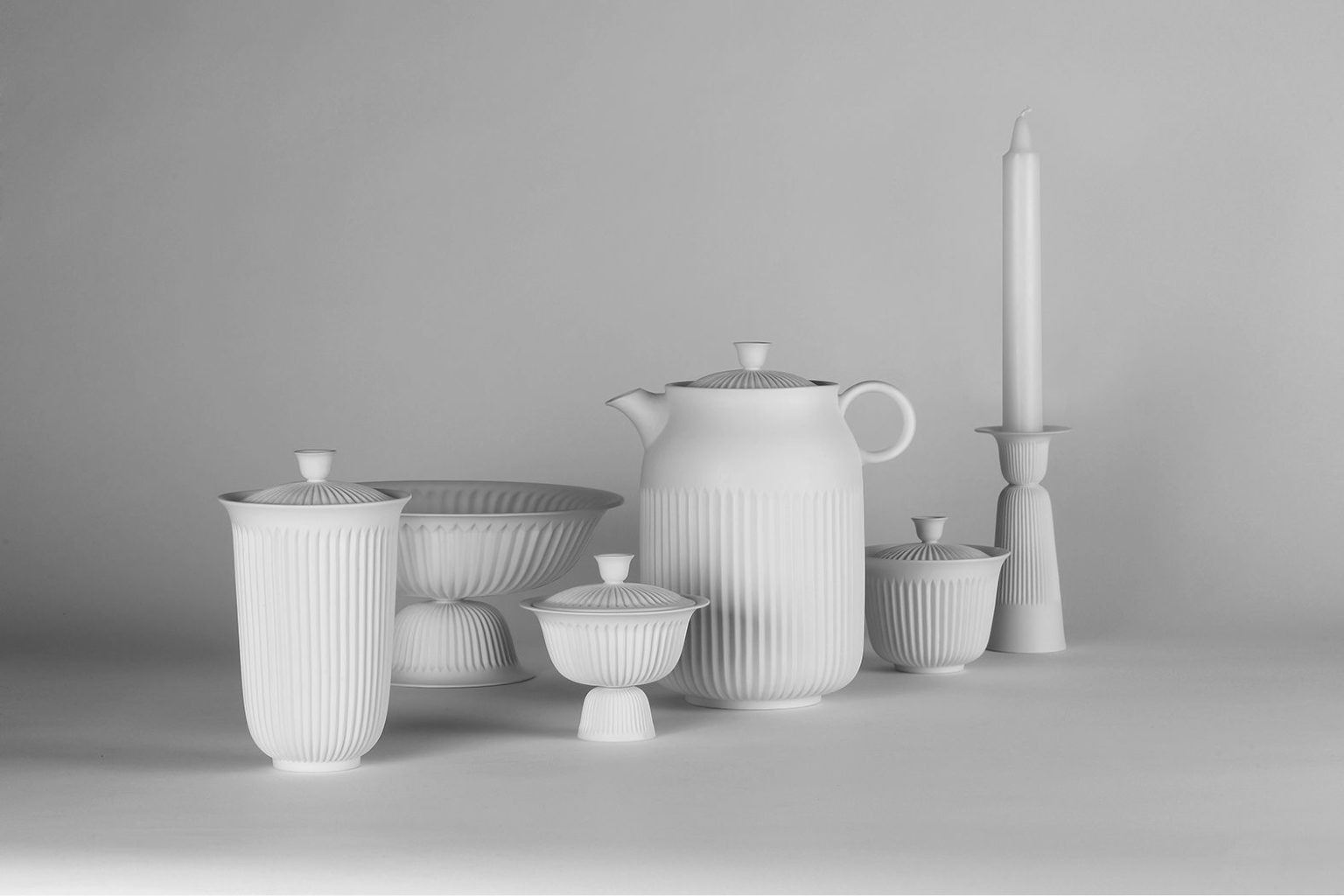 Pili Wu's 'Plastic' Tea Set Collection in Ceramic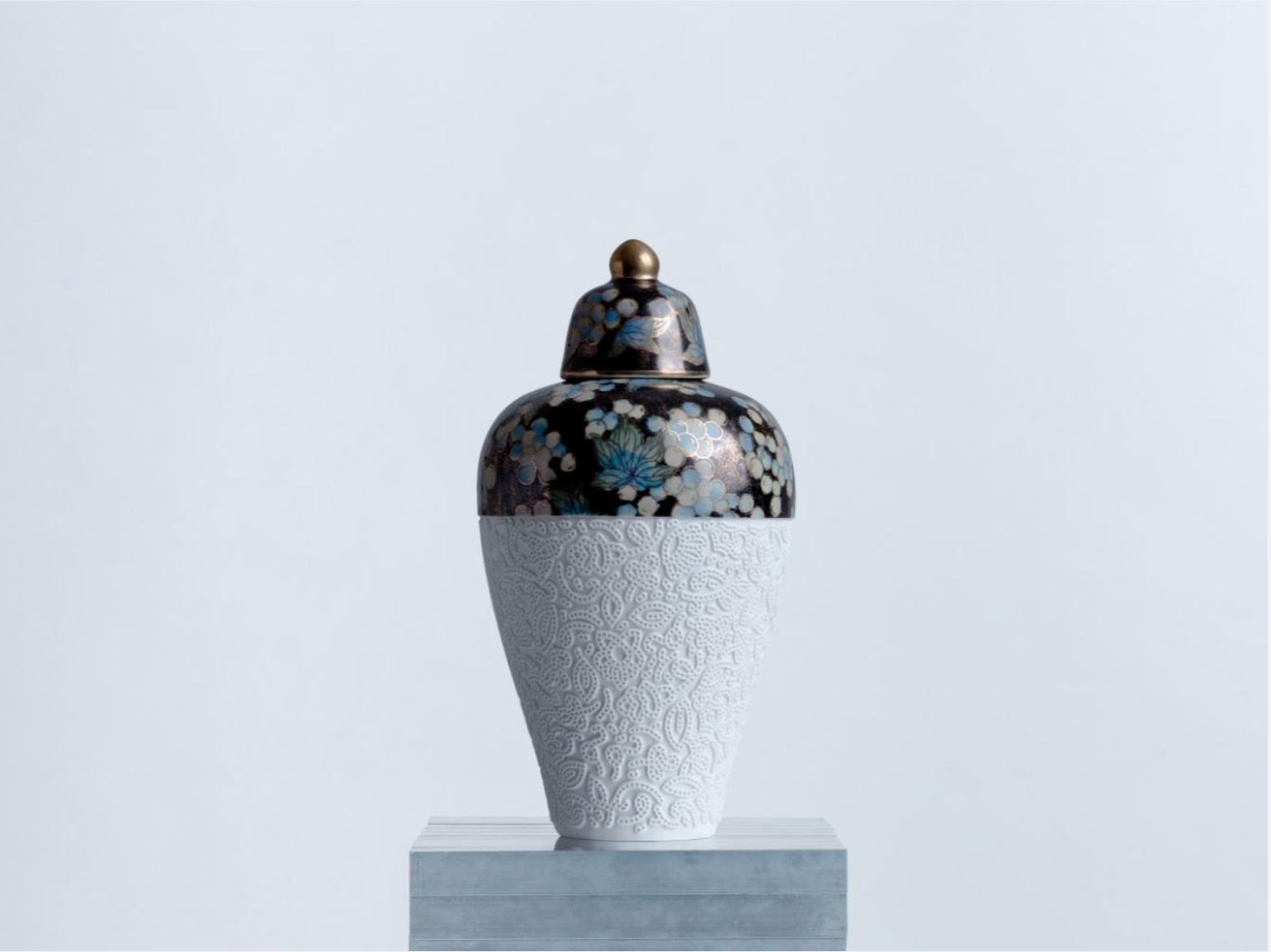 Hans Tan's porcelain vessels, 'Sarong Party'
Japanese designer and jeweller Dan Tomimatsu will showcase 'Veil', a sleek vase designed to hold a flower as it slowly metamorphoses and dries. Also from Japan, Norihiko Terayama has designed colourful neon lamps inspired by sea-weathered fishing nets and traps. Singaporean designer Hans Tan repurposes antiquated porcelain vessels in his 'Sarong Party' collection and Studio Thonik will present a woven wedding dress using the time intensive Yunjin brocade technique. Raw Color will bring a collection of innovative laser-cut handmade papers made from wood and product designer Henny van Nistelrooy will present a layered carpet concept. Mixed-media artist Hao Zhenhan has combined ceramic and textile to create a series of vessels and Neooold's own Founder and Curator Chen Min will present 'East', an artwork created using modular design techniques and a wood bending process.
THOUGHT-PROVOKING INSTALLATIONS
Alongside the main exhibition halls, visitors can experience curated sections and innovative installations. The Seesaw Roundtable located in Contemporary Design hall, is a metaphor of harmony and balance, but implies rules in daily use. Created by Isabelle Peng Zhao, Isabelle aims to explore the relationship between humans, objects and society through her installation. The installation's position of sitting heralds differences in group status. In order to eliminate disparity in class, people often need to seek psychological stability through language, gestures or expressions. Seesaw Roundtable hopes to "play" the hidden rules in the pursuit of harmonious social tacit understanding, and reconstruct the definition and boundaries of traditional furniture by activating artistic possibilities in common objects. In the main body of the device, the round table is static, and the seesaw-shaped chair is unstable. Their conspiracy lies in how the user controls himself, considers each other, and achieves a dynamic balance.
Chinese architecture studio ORIA will present their installation Touch, a reflection on society's misplaced relationship between reality and the ideal. The misplaced circle center and perspective ladder encourages conversation about ourselves and real life. The ascent up the ladder requires thought about climbing and a concentrated focus on our own body. It is an examination of ourselves. ORIA believes by examining our own action, we no longer regard life as a simple framework, but to look upon the action in and throughout life.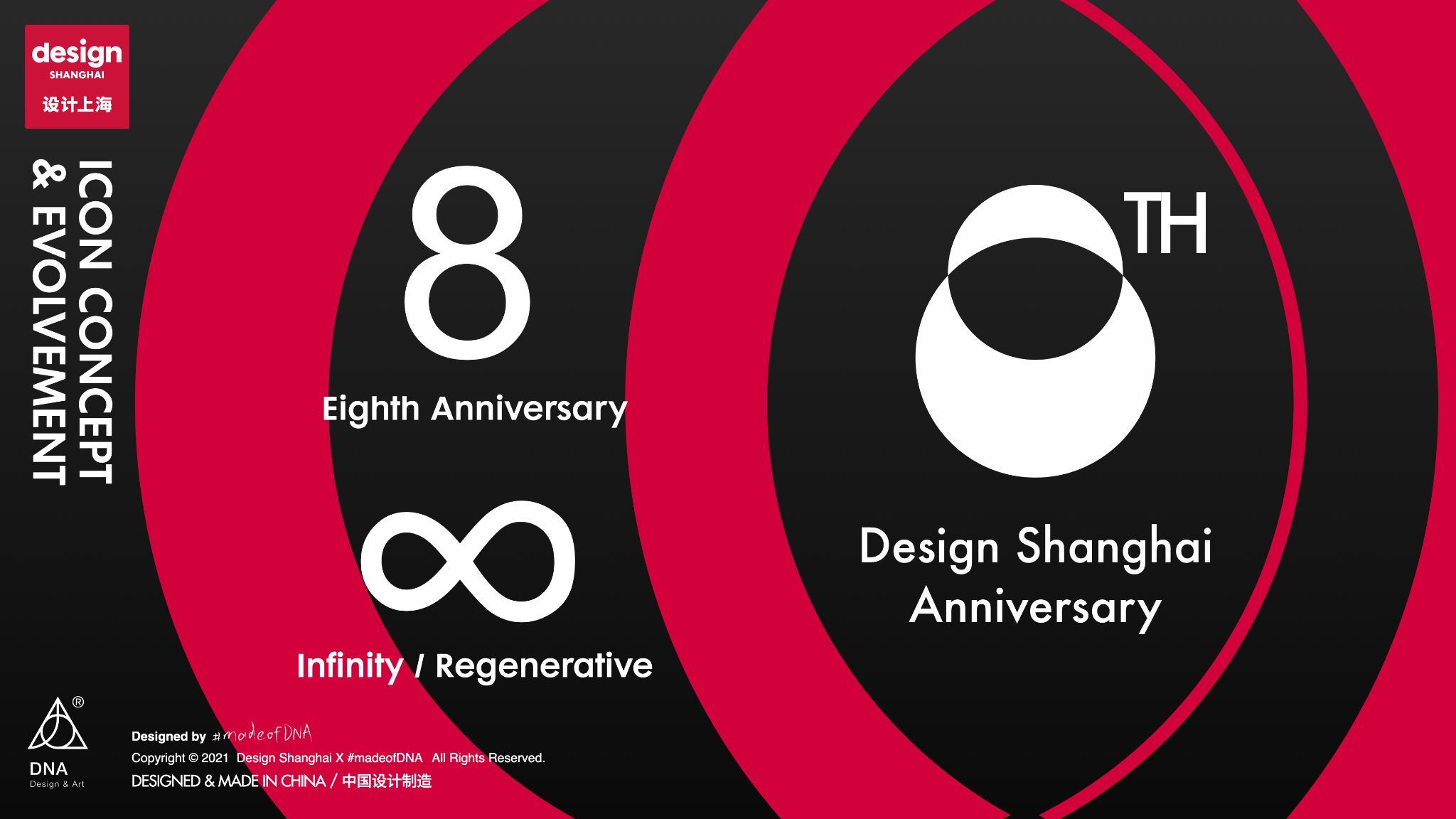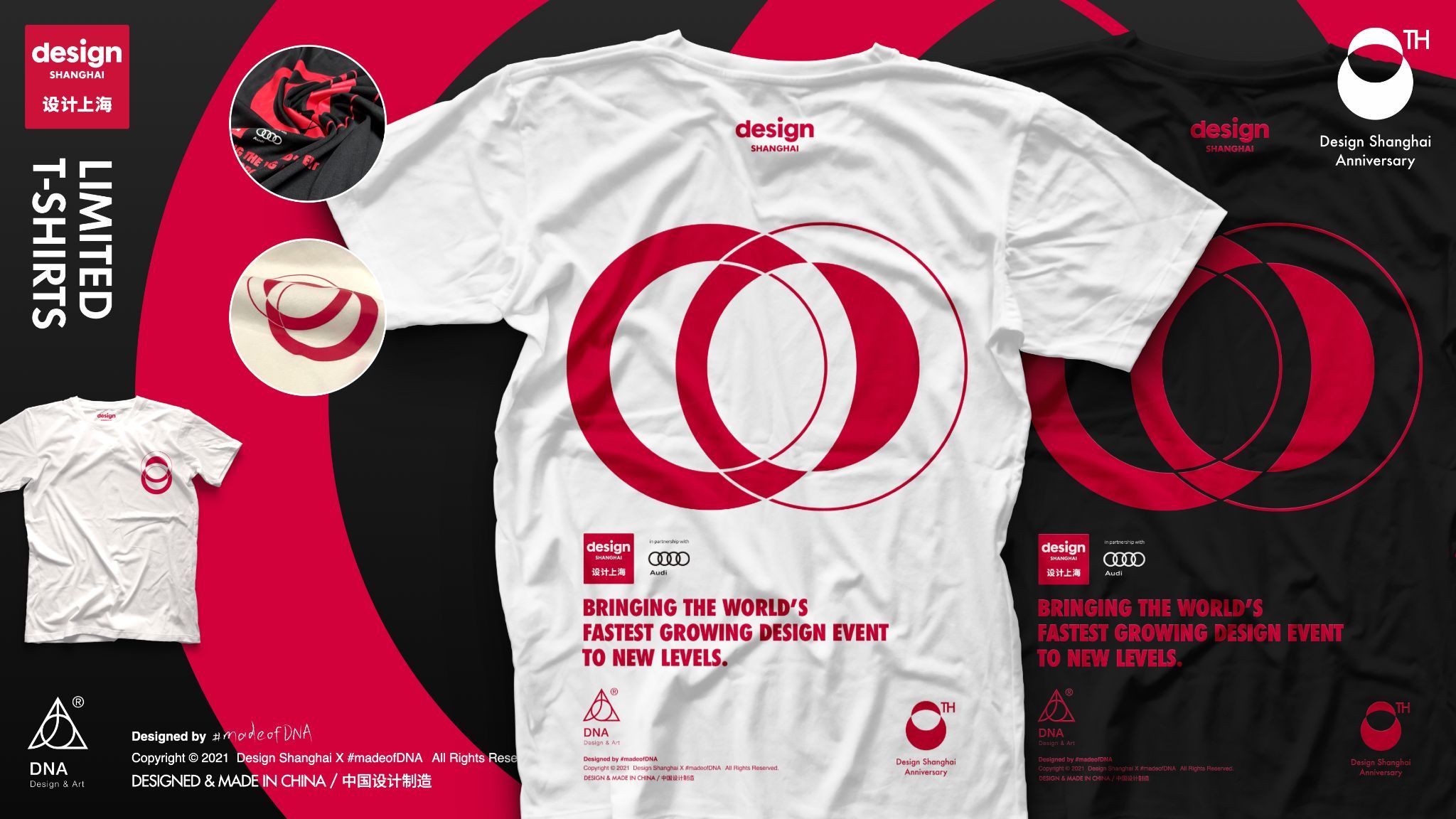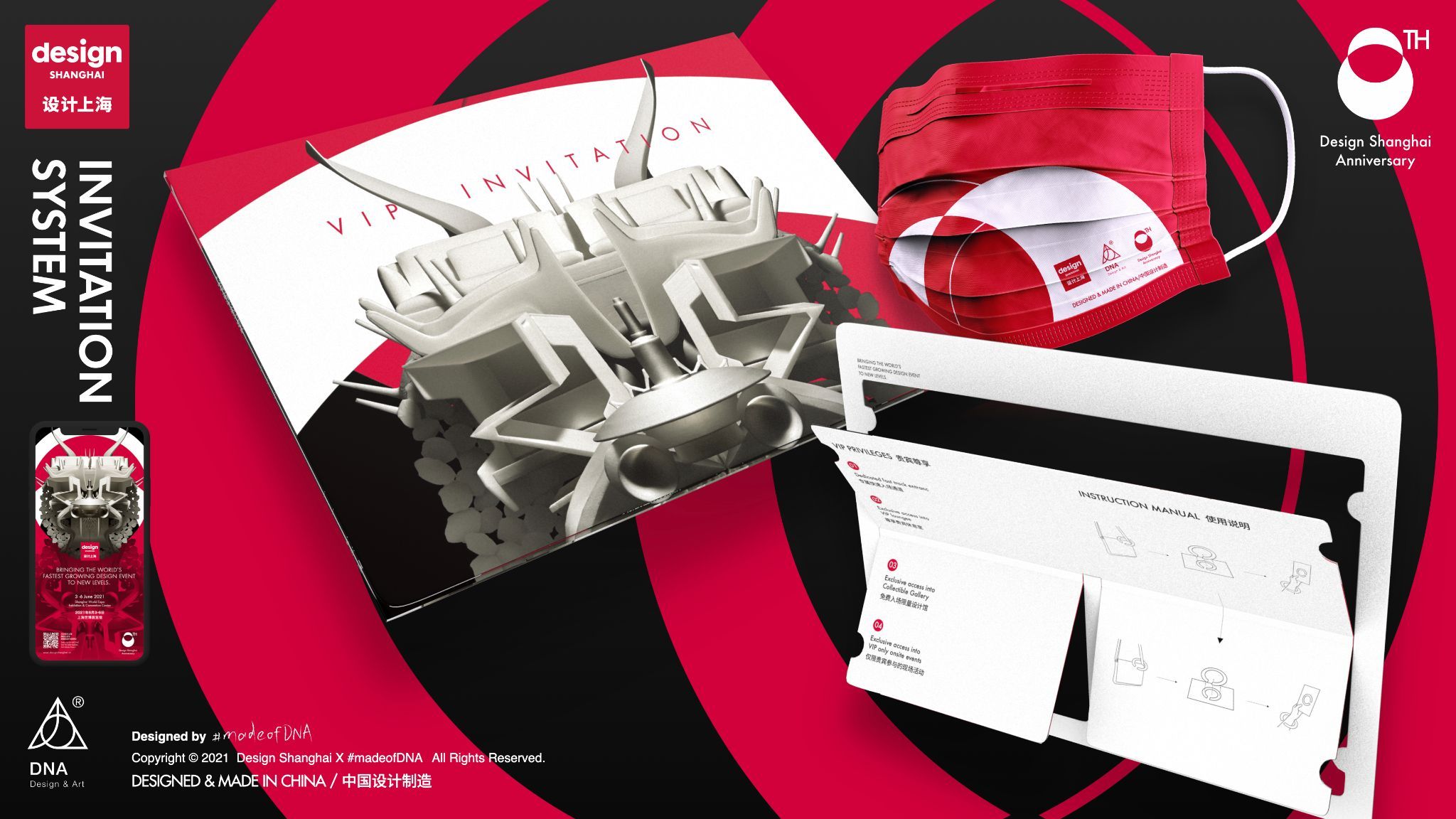 It's our first time launching the Design Shanghai peripheral products including facemasks, bags, T-shirt.

the idea behind the design is:
∞ is the symbol for infinity/ Regenerative
8 - Design Shanghai 8th anniversary
it's a combination of ∞ and number 8
DESIGN SHANGHAI CITY TAKEOVER
Alongside the main event, Design Shanghai will present the city-wide Design Shanghai Xintiandi Design Festival 2021, organised with Shanghai's top 20 cultural landmarks and destinations. Open to the public from May 28 to June 14, the festival will showcase 20 thought-provoking design installations across the city from leading Chinese designers, curators, studios and architectural practices from a range of design disciplines. This year's festival is themed 'Neo Essentials' exploring new ways to design for and to live in a post-pandemic era as we return to everyday life.
INFLUENTIAL CHINESE VOICES
The 2021 Forum seminar programme will feature cutting edge thought leaders and influential design innovators delving into the topic of Regeneration.
Jiang Qiong Er - A New Chinese Aesthetic of Sustainability
Founder of enormously influential homewares brand Shang Xia, Qiong Er is a designer, retailer and creator of blueprints for modern living in China that marry contemporary attitudes with the transcendent power and beauty of ancient Chinese craft tradition. How can the urgent need for sustainable and Regenerative design be accommodated in this template?
Elaine Yan Ling Ng/ Fabrick Lab - Material Solutions of Zero Waste and Maximum Beauty
Elaine's work at the Fabrick Lab is a harmonious blend of regenerative design, emotive resonance and functional precision. Her CArrelé tiles, formed from waste eggshells, perfectly exemplify the spirit of Regenerative design.
Illusory Materials - 3D Printing Adds 4th and 5th Dimensions - Time and Colour
This is a 'must not miss'. Working in San Francisco on expanding the boundaries of 3D printing, Jiani Zeng and Honghao Deng have created an entirely new landscape of possibility for products that live, breathe and change form and colour according to location and function.
The Design Forum will also feature Audi Hour - a series of talks focusing on the topic, 'How Audi Lives Sustainable Design'. Led by Yunzhou Wu (Senior Interior Designer Audi China) and Scott Zhao (Head of Audi Innovation Research) who will share how Audi is living progress by strongly committing to sustainability and design.
FOLLOW US:
Website: designshanghai.com
Instagram: @design_shanghai
Facebook: @designshanghai
Twitter: @designshanghai
#designshanghai
FOR ALL PRESS ENQUIRIES: Bacchus PR
Sarah Ward | Senior Account Director | sarah@bacchus.agency
Andrea Covington | Head of Design & Property | andrea@bacchus.agency
DOWNLOAD DIGITAL PRESS KIT LINK HERE
NOTES TO EDITORS
LOCATION
Shanghai World Expo Exhibition and Convention Center 1099 Guozhan Road, Pudong Shanghai, China
OPENING DAYS/TIMES
3 June 2021 Thursday (10:00 - 21:00) Trade day
4 June 2021 Friday (10:00 - 18:00) Trade day
5 June 2021 Saturday (10:00 - 18:00) Public day
6 June 2021 Sunday (10:00 - 18:00) Public day
VISITOR REGISTRATION: https://ali.infosalons.com.cn/reg/DSH21/registeren/login?type=ZHVCD7
ABOUT DESIGN SHANGHAI
June 3rd – 6th 2021
Shanghai World Expo Exhibition & Convention Centre
Design Shanghai, established in 2014, relocated to Shanghai World Expo Exhibition & Convention Centre in November 2020, celebrating its 7th anniversary with an expanded physical footprint and new content. Set across eight remarkable design sections, Design Shanghai is Asia's largest and leading design event attracting more than 400 participating exhibitors.
Designshanghai.com | @design_shanghai
ABOUT Clarion Events | Clarion Events Shanghai Limited
Clarion Events is one of the world's leading event organizers; producing and delivering innovative and market-leading events since 1947. In more recent times, the firm has grown into a truly international business, with a portfolio of events and media brands across a range of vertical markets. Clarion provides a range of services to the design, fashion, furniture, and interiors sector through market leading brands including Top Drawer, Premium Berlin, Lighting Design Awards, and January Furniture Show.