07/03/2019
Design Shanghai Kicks Off Sixth Edition With Exceptional New Materials And Record Attendance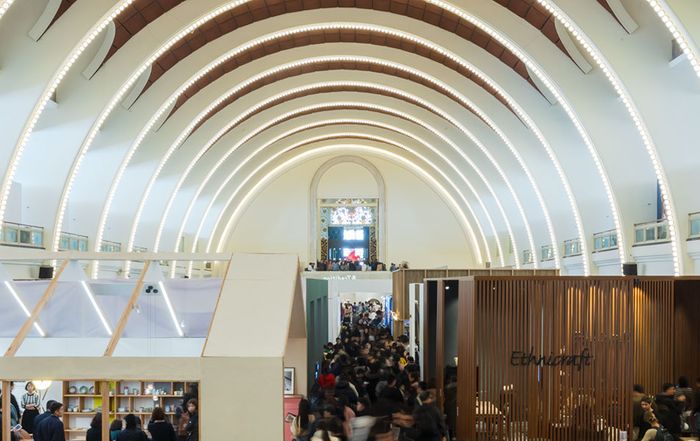 Asia's leading international design event opened yesterday at the famous Shanghai Exhibition Centre. Design Shanghai continues to break new ground for the sixth edition of the show with record breaking attendance of over 14,000 VIP guests attending the opening day of the show.
Design Shanghai turns the city into a design hub for four days, attracting over 400 international brands from 32 countries and providing a platform for exhibitors to present the best and latest products to an audience of over 70,000 architects, interior designers, developers, retailers and design enthusiasts from across the region.
The show aims to explore how eastern and western design philosophies can work together synergistically across the five design sections: Contemporary, Classic & Luxury, Kitchen & Bathroom, Workplace and New Materials & Applications.
"Design Shanghai is pleased to bring over 400 international and local brands together in one place at this year's show. Each year we welcome thousands of visitors from all over the world to witness Asia's biggest design event and Design Shanghai's sixth edition has been no exception. Guests from over 70 countries join us in Shanghai this week to gather a snapshot of this emerging design market" - Mike Dynan, Managing Director Media 10 China
"Shanghai's fast-growing architecture and design community provides a perfect backdrop for us to mount Asia's largest design event, this year's show growing 20% in size compared to 2018. We're seeing increasing interest from some of the most respected global design brands who are responding to the region's growing appetite for world-class design. This year's Design Shanghai embarks on a new frontier with the introduction of the New Materials and Applications Hall. There's also a strong focus on digital design and China is at the forefront of this. It's certainly an exciting year for our show!" - Zhuo Tan, Design Shanghai Show Director
The New Materials and Applications Design Hall showcases over 30 brands, each taking on the challenge to explore innovative processes and materiality. Highlights include Chinese brand Buzao's experimentation with electroplated stainless steel and Lewu Design Studio foamed silica gel that gives old furniture new life.
"Expression through design is very popular here in China. This year Buzao participates in Design Shanghai for the first time and our hope with our work is to break the routine of fixed definitions for design and express ourselves by experimenting with new materials and processes" Peng Zeng, co- designer Buzao.
Design Shanghai welcomes a number of new exhibitors to this year's show including Copenhagen- based brand &Tradition who take pride of place within the Contemporary Design Hall with their latest collections.
"Asia's design community has really matured over the past decade and there is a growing market for quality international design brands. With this growth, &Tradition felt this was the perfect moment to bring our brand to Asia and we're pleased to be able to do so at Design Shanghai. This highly-respected event provides us with a great platform to promote the brand and to communicate with our partners in the Asia-Pacific region. We're committed to providing full-service to our APAC customers and have set up Asia head-office and warehouse in Shanghai in order to shorten the lead time and give our clients direct access to our products and services" Martin Kornbek Hansen, &Tradition Founder and Managing Director
Other international brands presenting new collections at Design Shanghai includeFisher Paykel, Knoll, Poltrona Frau, Roche Bobois, and Swarovski. Leading Shanghai-based design brand Stellar Works brings a strong presentation to this year's show with new collections launching in the Contemporary Design Hall and a special exhibition of reissued vintage pieces by iconic Danish designers Vilhelm Wohlert and Jans Risom.
The show also includes a number of large scale Feature installations across the Exhibition Centre by local and international designers including Timothy Oulton and Zaha Hadid Architects.
The Design Shanghai Forum in association with Kohler runs alongside the exhibition, providing a platform for debate around this years' topic - Technology, Craft & Creative – Friends or Enemies. Design Shanghai also brings design into the city with the Xintiandi Design Festival for the third year. Hosted by four curators Zhengguang, Sun Xinxi, Du Xinyue and Simone Chen showcasing their individual interpretations of this year's chosen topic - Social Origin: Building Connections in the Real World.