29/03/2023
"Róng - Weaving" Design Exhibition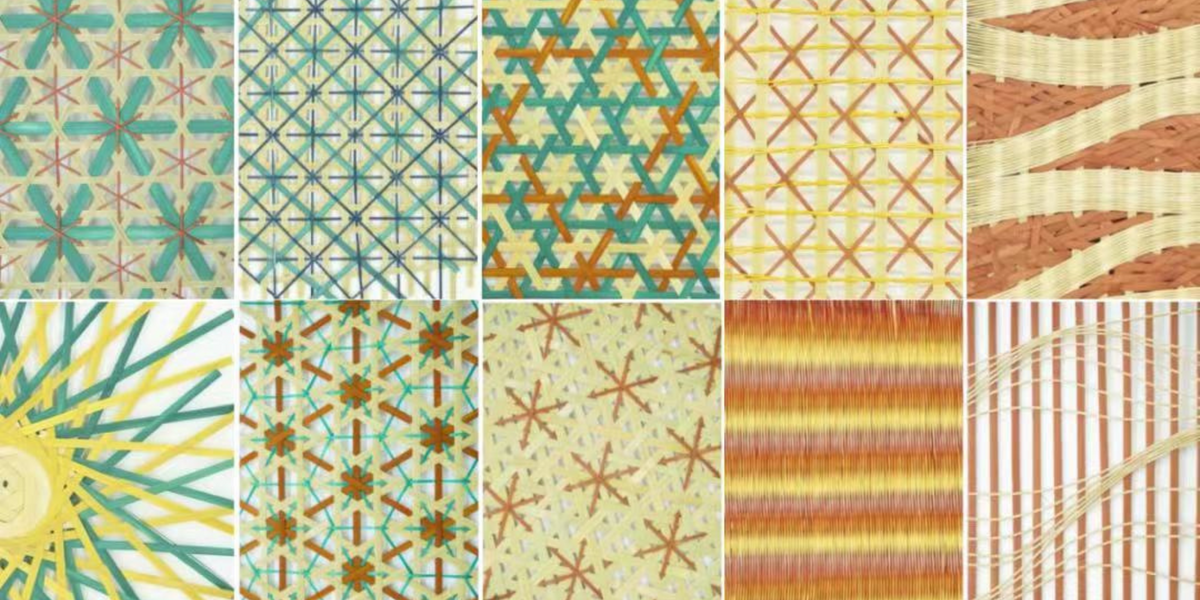 Róng is a process of creating contemporary design language, deconstructing traditional handicrafts and reintegrate them into design. Róng Design Exhibition, five years for a cycle. Set up different topics for each year. The first five-year, five Chinese traditional materials, as bamboo, silk, mud, copper and paper. The second five-year, five Chinese crafts, as joints, coloring, weaving, calsting and so on. It has spent one year on the deconstruction of weaving in Chinese traditional handicrafts, inviting 28 designers to create works for two years, bringing traditional weaving into the future.
Roarc Renew Architects
Established by Robben BAI in 2016, RoarcRenew is a design firm with courage and curiosity in its soul and practice.With every project, RoarcRenew always tried its best to explore and innovate so that we were not restricted by established rules, and we are proud to rebuild an interesting order with spirit of fun at its best. RoarcRenew is a small and independent design firm with few restricting boundaries. RoarcRenew dynamically keep employee number at about 10 in past few years, so the team is stable with excellent capability on various field, ranging from construction, interior design and product design. With years of collaboration and run-in practice, RoarcRenew had built a team of reliable craftsman. Furthermore, we have our own test shop for steel, timber and stone, making it possible for an immediate idea testing and verifying practice without delay.This world is full of ordinary projects, but RoarcRenew intend not to add one of them with our hands. What our focus is architectures closer to nature, space with more kindness and products with a fun soul.
Recycling of Herb
Material:Wheat straw, steel and cloth;Size:950*460*450mm
The original aspiration of the design is "Recycling bring out best of nature". Wheat is one of the three major grain crops in the world. As we get ear from the wheat every year there were quite a lot of "useless" straw left in the nature. We use the recycled wheat straw as our raw material, fill them in the aligned mould and get desired shape with steel plate moulding, a straw chair comes into shape after these processing. What's particularly interesting is the special treatment to the cross sections of the chair. For one side of the chair, the cross section was cut neatly and carefully polished, showing rootstock in the profile. For the other side of the chair, the growth texture was reserved to demonstrate great vitality of the wheat. As a young design firm in China, Roarc Renew would like to contribute the recycling of nature with interesting and pragmatic designs that not only environment friendly, but also have its unique logic and implications.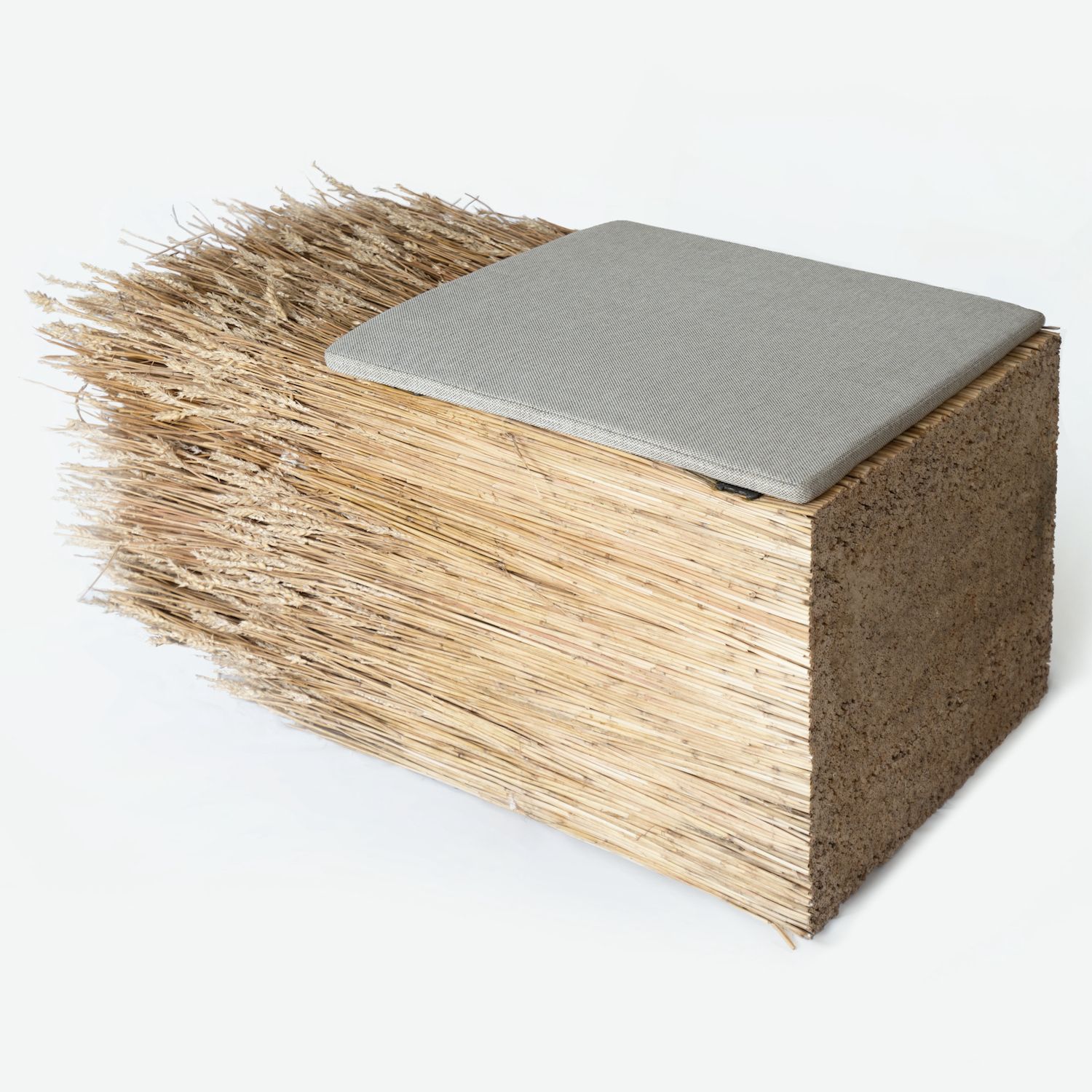 Bi Rongrong
Bi Rongrong, born in 1982, Ningbo. Currently lives and works in Shanghai. After completing the MA of Chinese Traditional Landscape Painting at Sichuan University, she obtained the MA of Painting Department of the Frank Mohr Institute in the Netherlands. Her works have been exhibited in various important art institutions and public art projects,including Centre for Heritage Arts & Textile (Hong Kong), Shanghai Museum of Glass, K11, Shanghai Pearl Art Museum, Sifang Art Museum (Nanjing), Cass Sculpture Foundation (UK), A Thousand Plateaus Art Space (Chengdu), Vanguard Gallery (Shanghai), Hangzhou Triennial of Fiber Art, Shenzhen-Hong Kong Bi-City Biennale of Urbanism\Architecture, Shanghai Urban Space Art Season, etc. She was the winner of the Spirit of Ecstasy Challenge in Muse, the Rolls-Royce Arts Program. In her current practice, besides painting, Bi also explores and creates works in various media based on drawings and painting, such as textile, site-specific installations, and animation. Her works are interconnected with each other, driven by some kind of life energy, and the works give birth to works that together generate a well-structured and vibrant artistic organism.
Re-encode—Pattern XI-∞--LED Fabric 2
Material:linen thread, viscose, wool yarn, cotton thread, wooden frame, LED and accessories, acrylic panel, metal connector;Size:63x73x16.5cm
In this work, I have transformed some fragments collected from different cities during my journey through different techniques and media, including the intangible cultural heritage handcraft Xiaoshan Lace, weaving, and LED animation, trying to link tradition and today's technique language. In the LED animation, I decompose the traditional patterns expressed in the fabric, reassembled in the dimension of time, constantly generating new possibilities. For me, the most fascinating thing in urban landscapes is the infinitely evolving vein relationship between things behind the surface. Inspired by this, I have been exploring and expressing some linkages between things, between time and space in my own works.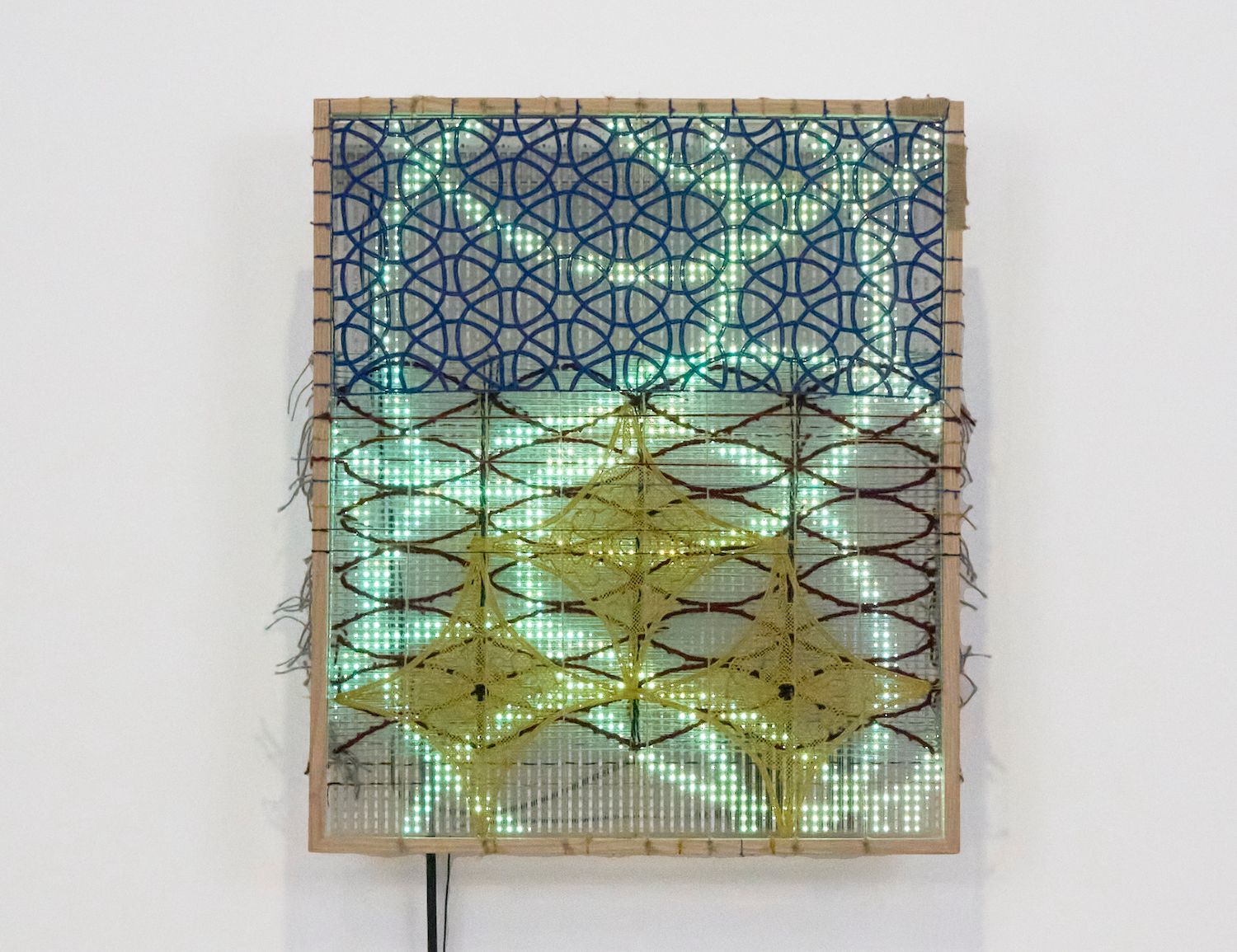 Derek
Founder and Chief Creative Director of Maxmarko;Founder of Brand CHEN DARU and Brand Puwuu;Commissary in Charge of Chinese Furnishing Art;Tutor of Central Academy of Fine Arts Graduate Practice;Expert of China Building Decoration Association Soft Furnishings Branch;Deputy Secretary-General of China Interior Decoration Association Furnishing art Professional Committee;Expert Judge of RAYLI No Boundaries • Light Luxury Lifestyle Design Competition;Vice Chairman of Design Committee of Beijing Furniture Industry Association
CHENDARUI, as Chen Darui's "free place", exists. Sensibility and strong desire for expression hidden throughout are awakened here. With the boundary by users or market demands, it gives full play to unlimited imagination and uses more contemporary language and more sophisticated skills to create better, so as to give it more possibilities and wider space to exert. CHENDARUI is more focused on critical exploration, which is not a simple form of furniture. Not from the perspective of furniture, but a bit like art works, it is keenly aware of changes in the times. There are complex relationships between people and things, and between things and times. These key clues are expressed through design to show the world. That is, take action before having the idea. Finally, it is endowed with a certain use function, which better reflects the original state of art and design, spirit and material, and impacts the traditional concept in the form of non-furniture.
X Worm Light
Material:Metal, resin, comprehensive material;Size:360*300*1470 mm
It extracts elements from traditional classical cultural processes and re-creates them through contemporary technologies. After trying different weaving techniques, it selects the "random weaving" form of rattan wicker weaving, then generates parametric models and adopts photocuring 3D printing production. Under the premise of maintaining the "random weaving" form, it explores the route of rapid generation and explores new directions for traditional weaving in the current industrial products market.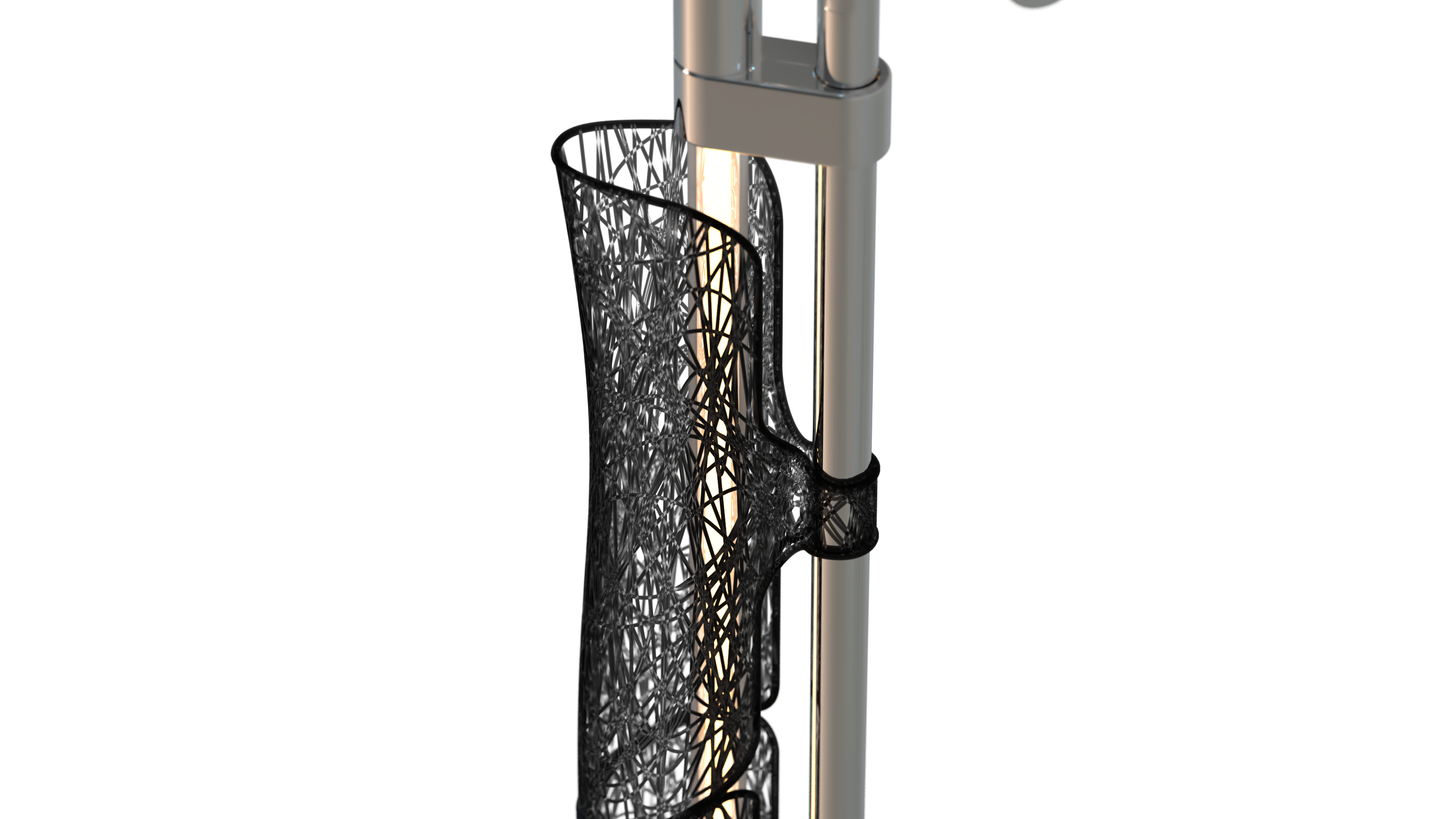 Tin Gao
Tin Gao, from Wenzhou, China, free artist. Tin Gao's work powerfully intertwines the tensions of nature and humanity. Various media from cooking ingredients to handmade textiles, these fluid cultural symbols, raw and exuberant organic materials are brought to a broader historical and artistic context after thought-through and experimented. Reweaves the intricate connection between the Anthropocene and intrinsic materiality, reflecting the subtle dramaturgy that exists in human - object entanglement. The artist's personal narrative resonates with collective memories and offer enlightenment.
GROWING
Material:Ramie;Size:Variable size
Two roles growing up together, they touch, communicate, feel. Planting, watering, cutting, washing, sun burning, spinning, crocheting, steaming, When they have been made, time inside the line, time cover by them. Time besides them, time between us.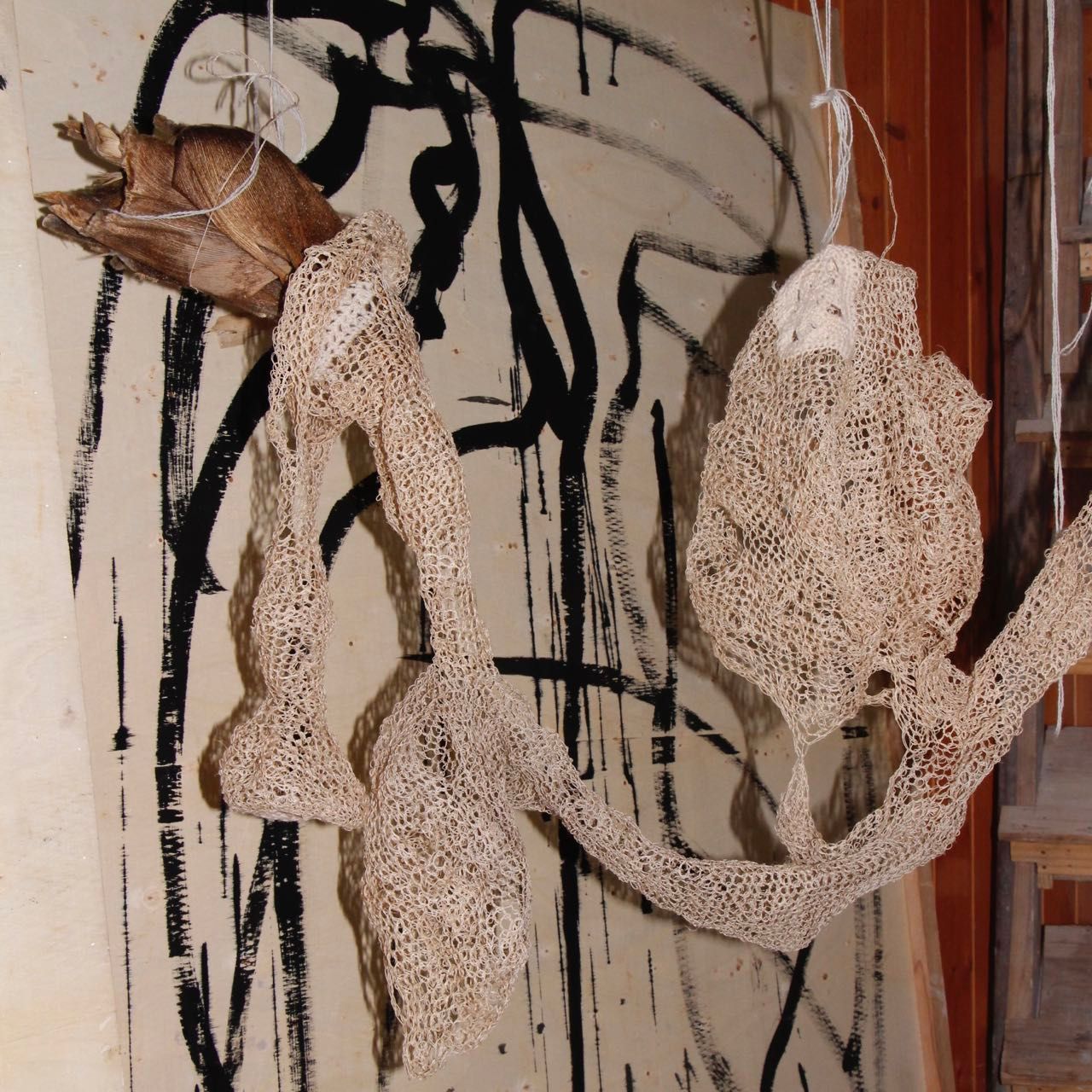 Mona He
Mona He finished bachelor study from Central Saint Martin at 2016 and then work as a product designer for Neri& Hu. After one-year-work as the art director for experimental project Booth Shooting Star at 2019, she established Studio Monana at 2020 and initiated projects explore the spheres of object design and installation arts. To be inspired by many fields ranging from industrial scale to craftsmanship, she presents insights cross over cultural, historical and objective landscape. Multiple storytelling measures like video and exhibition are immersive experience. The designer always maintains her experimental activity each year reflecting on each theme, which is the essential part to compose a DNA of her design.
Sofa of Knots
Material:pvc;Size:1200*1400mm
Chinese knots have appeared throughout its long history in garments, homes, armaments, carriages and horses. They have played a functional, decorative and even symbolic role. We have rediscovered Chinese knots that have lost much of their use today.
We realised that the appeal of the knot lies in the sublimated use of a dry two-dimensional material (a rope). And our design was based on this thought, to see if we could build on this and give it a new use. So we came up with inflatable.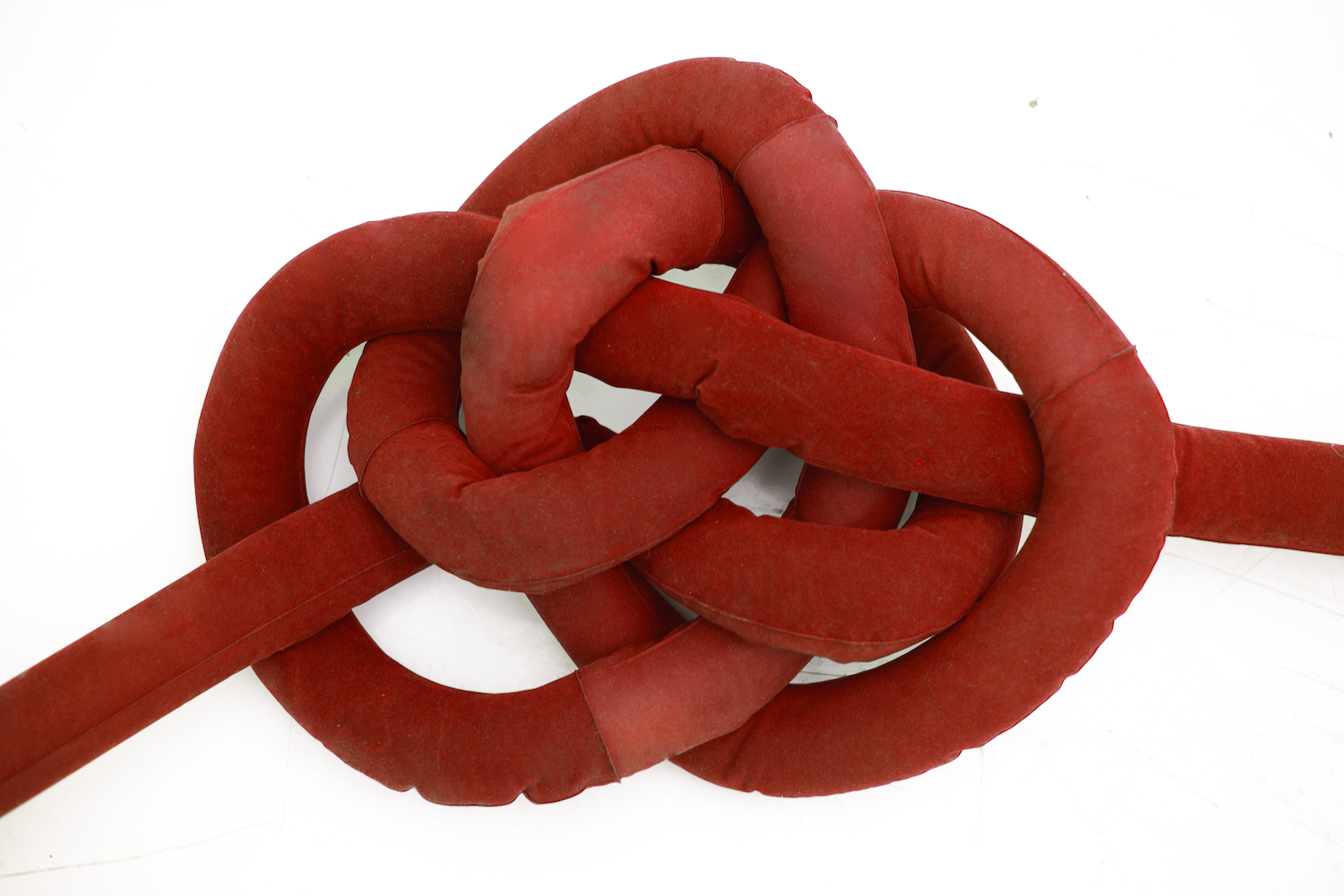 Liang Chen
Founder of MINGDU DESIGN; Chief Designer. Liang acquired his bachelor's degree in Industrial Design from Luxun Academy of Fine Arts and master's degree in Product Design from University of Fine Arts Hamburg. He worked as designer in several products and furniture companies in Germany. In 2016 Liang founded MINGDU Studio in Hamburg, designing and developing products for many a company both in Europe and in Asia. He published theoretical studies on design, such as "RONG" and Tibetan Spinning Craft and Social Design in Germany, which are archived by several renowned universities and institutes. His works have won multiple international design awards, such as Red Dot Award Best of the Best, iF Design Award, German Design Award, etc., and he himself was also invited to Milan Design Week and many other design Exhibition in Germany, France, Singapore, China, and so on. In 2020, he was selected as The Best Emerging Chinese Designer by AD and Design Shanghai.
MINGDU DESIGN was founded by Designer Chen Liang in Hamburg, Germany in 2016. MINGDU specializes in the design of furniture and home products, and meanwhile makes innovative explorations in the fields of bookbinding, interaction design, spatial design, etc. It focuses on the integrating potentials of tradition and modern, of culture and technology, and of the East and the West. With its studios in Hamburg, Germany and in Shenzhen, China, MINGDU brings the best out of the quality design resources and production edges of the two regions. In addition to providing professional design services for enterprises, MINGDU is also committed to design research and social design.
Woven Light Series
Material:Bamboo, Stainless Steel; Weaving Craft: Qian Lihuai; Size:370*300*1650 mm;330 550*1650 mm
The Woven Light Series features hand-woven bamboo pieces embedded into a metal frame, coupled with a four-axis linkage structure and light projection, presenting a dynamic interplay of light and weaving, resulting in a completely new visual experience. Not only is the Woven Light Series a lighting fixture, but it is also a dynamic installation that combines traditional craftsmanship with mechanical structures, redefining weaving through a modern design language.
Qiu Hao
Qiu Hao was born in 1978 in the city of Taicang.In 2001, after his college study of interior and space design, Qiu Hao launched his first ready-to-wear line "Neither Nor", After five seasons, in 2003, Qiu Hao opened their first ONEBYONE Boutique in Shanghai with his business partner. In 2004, Qiu went to study for an MA course in Fashion Women's wear at Central Saint Martins in London. Two years later, he returned to Shanghai to officially establish his own eponymous label "QIUHAO". Qiu Hao's knitwear collection was presented at the Palais de Tokyo during Couture Fashion Week 2008; this collection also won the prestigious Woolmark Prize, and Qiu Hao thus joins a group of top designers such as Karl Lagerfeld, Donna Karan, and Giorgio Armani in the Woolmark Hall of Fame.
-BONSAI Limited is a garment-designing company founded by designer Qiu Hao in Shanghai. At present, the company specializes in the design, production and sale of women's fashion collections under the brand name QIUHAO™, which was created by the designer himself. Embracing a design style that features both functional and visual minimalism, Qiu's modern and exquisite collections showcase top-quality material and flawless workmanship.The design and a section of the production facilities are housed in a 1930's art deco building in the bustling Bund area at the heart of Shanghai. BONSAI epitomizes its core value of "slow fashion and elegant thrift" through each and every collection.
Untitled
Material:Metal
The Knitting is a simple structure of the order of repeated use. This knitted Cardigan is a regular oversize garment hook, also known as the sealing hook, we are often used in the mini size of the hook for the skirt waist and collar. A large winter coat is more commonly used. We use the hook up and down, left and right different combinations, repeated arrangement, just like the method of knitting sweaters, woven into a cardigan with a pocket.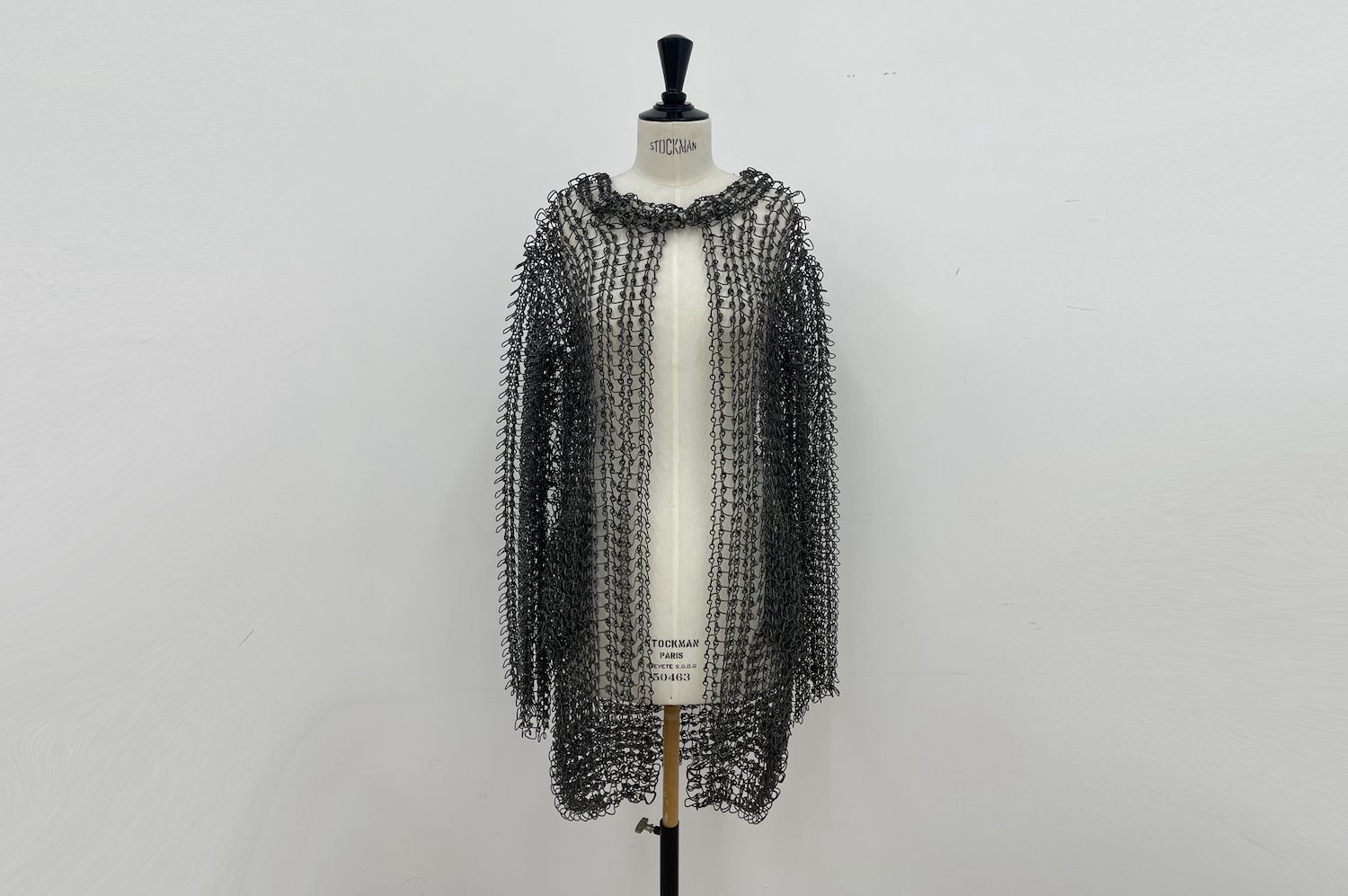 Shi Xiaoxi
Shi Xiaoxi is a founding partner and Creative Director of 2-LA Design, member of IDSA, TEDx speaker and Tsinghua X-lab EiR. His award-winning work ranges from product design, fashion design to furniture design. He also won top10 Chinese designer in year of 2016 and has been a jury member of the GOOD DESIGN AWARD since 2019.
2-LA Design is an award-winning and global recognized design team founded in California. Success stories include brand defining experiences for NBA special edition sneaker, industrial design for Roche Bobois, Development of world first 3D knitted shoes. All of the insightful solutions are grounded in a strong creative thinking and solution with a comprehensive understanding of the balance between design and business. This knitting project is a collaboration with GKS (Guangdong Smart Knitting).
Impossible Knit
Material:polyester, TPU;Size:400*480mm;210*340mm
This project is a textile exploration through which we use new knitting material and technology to extend traditional knitting technique to a new level. We ran various knitting tests with a mix of polyester thread and meltable TPU thread, then use heat to melt TPU part to create the visual effect of knitting pattern being embedded in translucent film. In terms of utilizing, we use plastic bag as a symbolic medium to show the mingling of modern and traditional. This exploration is our way to discuss a potential of traditional crafting integrating into modern technology.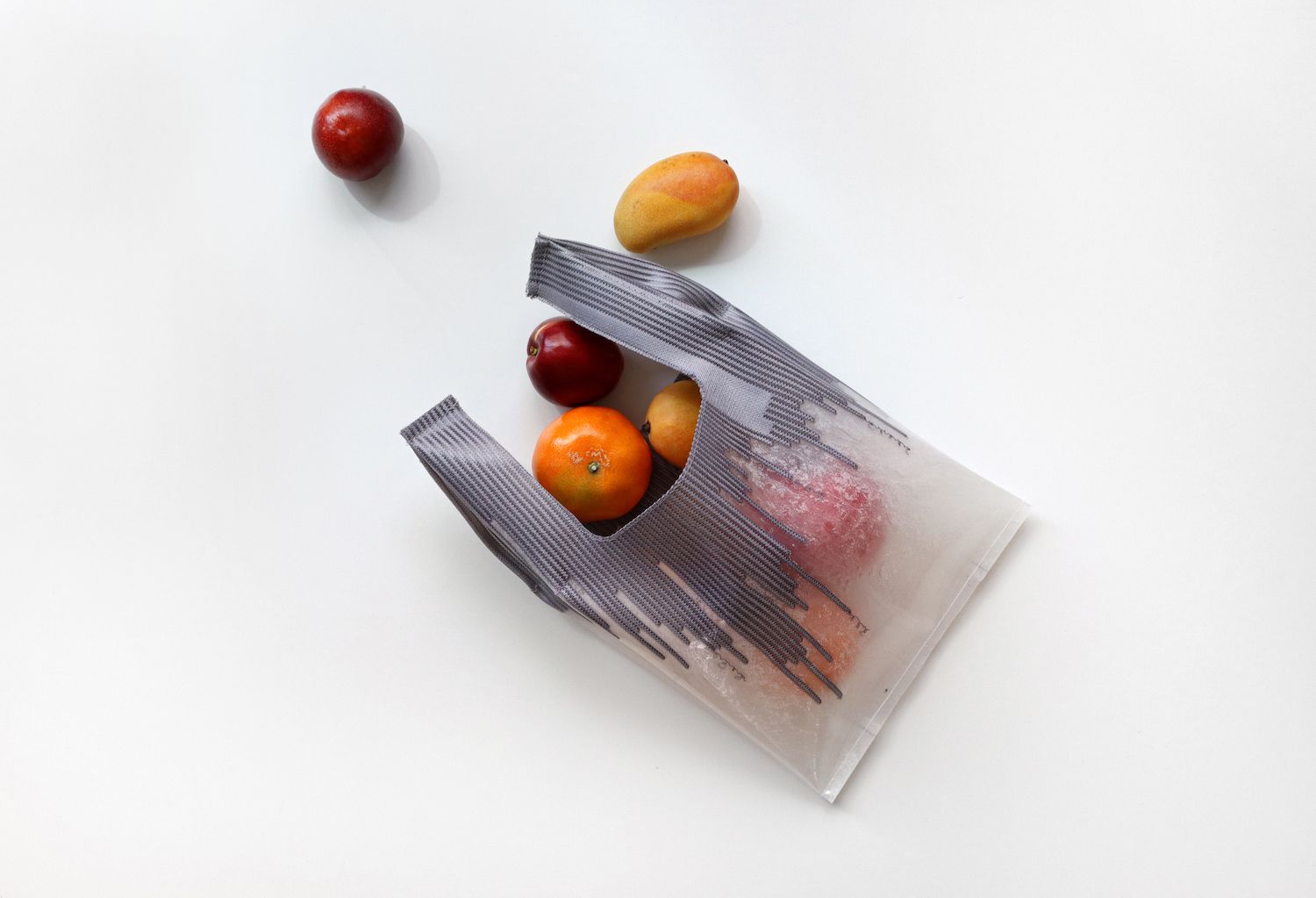 Sun Yue
Sun Yue (b.1991) was born in Liaoning, China and now lives in Hangzhou. She studied Fashion Design at the Academy of Fine Arts, Tsinghua University, and then went to study at Parsons School of Design at New School in the U.S. She received her MFA in Fine Arts in 2017 and established Key-Craft Sculpture Studio in 2018.
Curve of lost frames
Material:stoneware pottery;Size:420*600*800mm
This project revolves around the concept of "bamboo weaving". Sun Yue extended her imagination originating form the orderly layered weaving process. The twists and mutual supports of bamboo strips contexture a stable structure though still remaining relatively independency, as if the boundless universe is formed by the weaving of thousands of planets' orbits through time and space, and also as a metaphor of every individual performing its own part in this modern society. Sun Yue tried to set up this dialectical interconnection by choreograph a small unit of clay experimentation, and transformed this microcosmic interpretation in an abstract way with the touch of sensibility and instinct. Clay is constructed by the primeval method of coli-building, three kinds of clay are intertwined in the process of layering. In the process of building up the structure, the orbits of three bodies of clay are established through time and space. Meanwhile the existence of artist's body is also recorded within the negative space of the structure existing as the fourth party of the whole sculpture.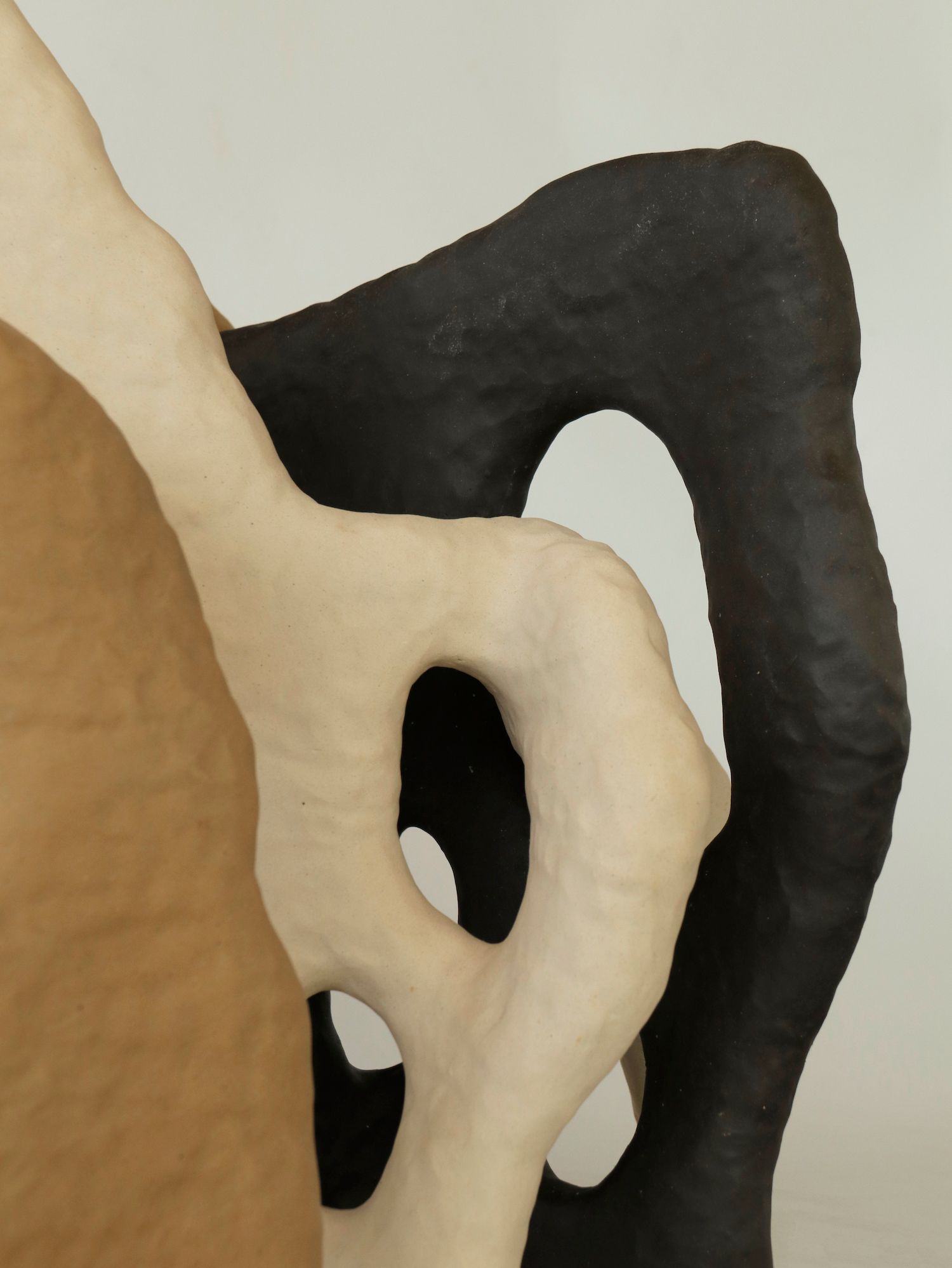 Kwan Tam
Kwan Tam was in Hong Kong, originally window display designer. Kwan started to learn ceramics in Shanghai in 2013. In 2016, she joined a workshop and residency program at Guldagergaard, International Ceramic Research Center in Denmark. And at the same year, she moved back to Hong Kong and setup KWAN-T studio. Kwan is a designer maker. She intends to explore new ways of seeing ceramics, and to bridge the gap between sculpture and utilitarian object. She wishes to create a dialogue between traditional craft and modern technology without losing the human touch in the creative process. Her design background has a strong influence on her ceramic works, and most of them are reflected upon the essence of form, structure and functionality. She wants to strip off the unnecessary through abstraction, hoping the simplicity and purity of her works could bring a timeless beauty to the daily life. website: www.kwan-t.com
Wisp
Material:porcelain;Size:
"Wisp" is a quest of lightness and harmony. I wanted to express the simplicity of geometric structure through filaments of clay. Layers of hand extruded threads hold up the form and create a sense of rhythm, placid and yet spontaneous. The structure itself manifest a transformation of technique and aesthetic, a reconstruction of a quintessential form.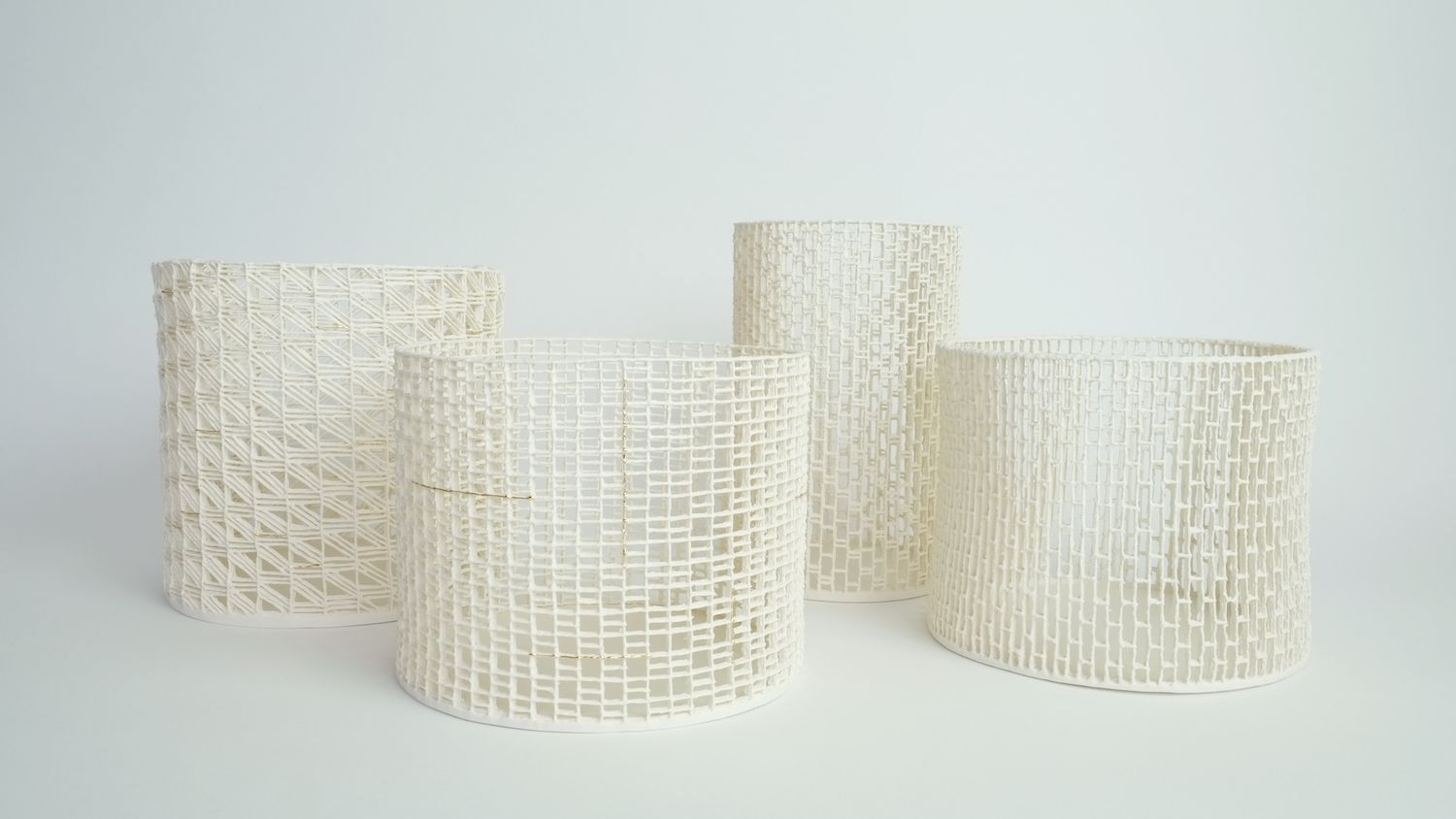 Wang Hongchao
Born and raised in China (1989) and educated in the United States and Switzerland. Hongchao graduated from ECAL Master of Design for Luxury & Craftsmanship under the tuition of Nicolas Le Moigne, Thilo Brunner, Jaime Hayon, and Bethan Wood. Hongchao co-founded his design practice Benwu Studio with designer Peng You (RCA) in NYC since 2012, with a set of successful collaborations with clients such as Hermes, Vacheron Constantin, Cassina, Isabel Marant, Mini, Baccarat, BMW, Berluti, Swarovski, Cartier, Perrier Jouet, Remy Martin, Martell, Lane Crawford, Nestle, SKP, Xander Zhou, Descente and Nike. Besides running his practice, he is one of the senior founding members of the Industrial Design Department of XJTLU with publications in Books and Magazines by Phaidon, Laurence King, AD, Elle Décor, ICON, Wallpaper, IDEAT, and Dwell. Hongchao's art & design works have left traces in Museums and Galleries such as the V&A(SZ), UCCA, Powerhouse Sydney, Museum für Angewandte Kunst of Leipzig, Barcelona Design Museum. Hongchao is Listed by CNN as one of 5 names that Changed the Chinese design context and also listed as top 100 young asian talent by the british Magzine Taltler.
Benwu Edition is an independent designer brand launched by Benwu Studio during Milan Salone del Mobile in 2015. By reimagining daily life, they have created a new generation of sustainable furniture, accessories, and lighting. Inspired by avant-garde fashion, their design concept is to develop advanced and intriguing, functional items. The entire collection focuses on expert craftsmanship, high-quality materials, and technological research, ensuring each product has a story worth telling. They aspire to design playful yet functional home products that match the ever-changing contemporary lifestyle and make the objects in our lives relevant to our era and context. The product line combines artistic flair with meticulous craftsmanship to create new applications. "Artistry" has always been deeply rooted in the Benwu Edition DNA, and they combine it with expert craftsmanship. In 2019, they planned to launch a limited collection called Benwu Edition Limited. This limited edition includes the highest luxury versions of several classic products, targeting the Collectible Design market. Benwu Edition's mission is to constantly broaden its horizons by crossing cultural and disciplinary boundaries, creating a dynamic and artistic series of products. Benwu Edition is an award-winning brand nominated for prestigious awards such as the Frame Award and the Good Design Award. In 2019, the brand was nominated for the Creative Callout Award from Lane Crawford Hong Kong, becoming the only home brand to receive this special award in several years. Many of their products have been permanently collected by museums such as the V&A, the Powerhouse, and the UCCA. chao is Listed by CNN as one of 5 names that Changed the Chinese design context and also listed as top 100 young asian talent by the british Magzine Taltler.
Eskimo Chaise Lounge
Material:teak wood,metal,leather;Size:1700*80*90mm
Eskimo Chaise Lounge is inspired by a handmade Inuit dog pull sled from the 18th century, where they used timber, steel and leather strings to create a vehicle that can support an individual and their cargo. I was quite surprised by how ergonomic and functional this type of sled design can be. Objects that have been fashioned by hand and aged for a long-time can give a sense of nostalgia and reassurance. I always want to be able to convey this shared sense of reliability and comfort to people when designing pieces, such as furniture. I have always had a strong appreciation for the skill, precision and effort in traditional Chinese wood joinery and western leatherwork techniques; it was always an obsession to combine good crafts and create derivatives of new things. The Eskimo is a unique piece. The Chaise structure is made of 5-axis CNC teak wood with a steel metal frame embedded inside to achieve a minimal support solution. The Lounge seat surface is handwoven by leather straps in a particular order, then fixed with brass screws.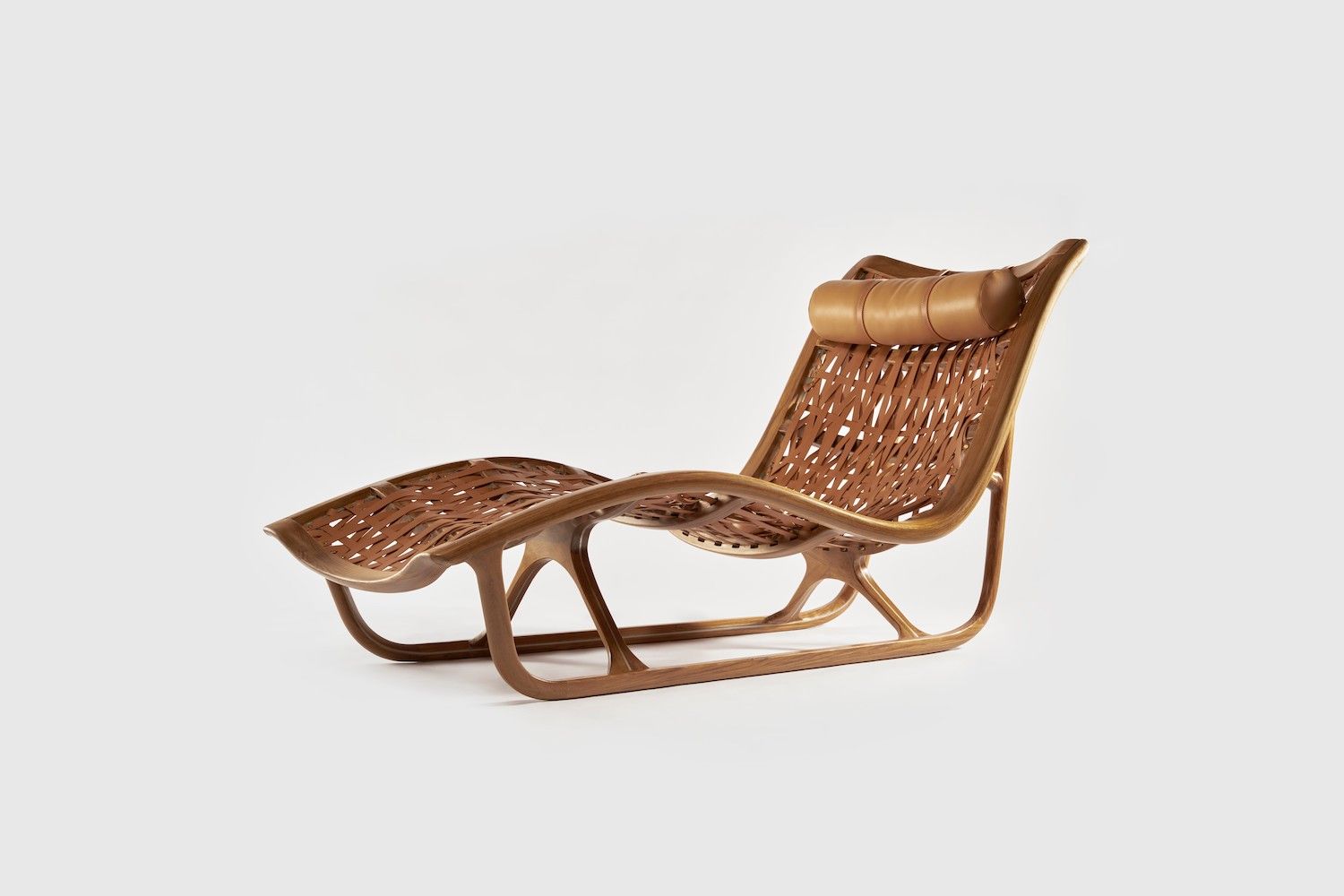 Xu Yanhui
Ms Xu Yanhui, artist and supervisor of Shanghai International College of Fashion and Innovation, Donghua University. She currently lives and works in Shanghai. She is committed to artistic creation with fibre materials. In 2019, she set up the Knitting Library, her own studio. She participated in the touring exhibition "Get it Louder" in China and the exhibition "Pattern" a contemporary Chinese fashion art exhibition at Zheng Da Art Museum. In 2021, she displayed her independent solo exhibition "A Garden of All Things Woven with Yarn". In 2022, she presented her independent solo exhibition "Futureland". She was selected as one of the top ten high-end young creative talents in Shanghai, and one of the 50 Chinese original designers in Vision. Her exploration of artistic creation and academic research focuses on the infinite possibility of the artistic creation of fibre materials. She showed great passion for artistic creation during her study at the University of Edinburgh and her travels in Europe.
Metal Forest
Material:Recycled Stock Yarn, Metal;Size:3600*1600mm
"Metal Forest" is a textile installation that offers a thought-provoking commentary on the complex relationship between nature and human civilization. The installation, fashioned entirely from recycled stock yarn, was conceived as a creative interpretation of a future world where the natural world has triumphed over the built environment, leading to a state of wild overgrowth. The work represents a visionary response to the growing concern over the impact of human activity on the environment, exploring the ways in which nature can reclaim and transform man-made structures. "Metal Forest" invites viewers to engage with themes of sustainability, ecological responsibility, and the intersection of human and natural systems. Through its intricate textures, layered forms, and otherworldly beauty, the installation offers a powerful visual representation of the ongoing struggle between the forces of civilization and the power of the natural world.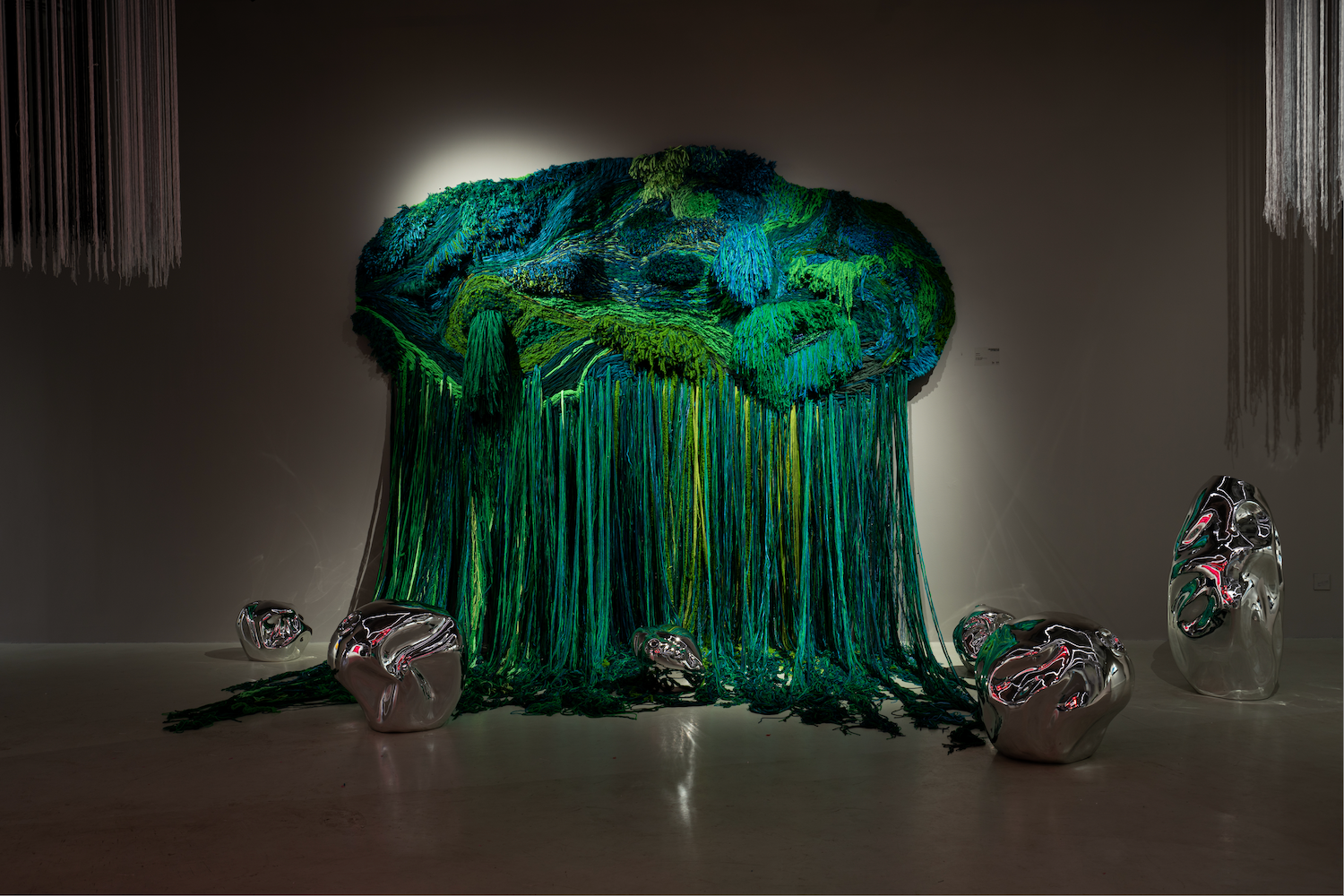 NONGZAO
Gang Xu,Founder and design director of BENTU design, BUZAO, NONGZAO, founder of the Sustainable Design (Materials) Museum. The senior domestic independent designer founded the first domestic concrete furnishing brand - Bentu - in 2011. Over the years, he has been leading design teams, looking deeply into the current state of industrial systems and focusing on urban ecology and humanity development. With humanistic design as a means and sustainable development as a concept, the team he leads has been developing and innovating high-performance concrete processes for many years, ultimately enabling the recycled use of waste materials and promoting green development of the environment and resources. His team has deepened its practice focusing on the concept of sustainable design, leading the way in the Chinese home furnishing industry, and its product designs are renowned at both overseas and domestic level, authorized with multiple design awards.
Yatu Tan,Brand Manager and project designer of Nongzao, MA in Spatial Design from the Royal Danish Academy of Fine Arts. After joining the team Bentu and Nongzao, she currently takes on the role of the principal manager of the Nongzao brand, focusing on the systematic investigation of humanistic and on-site materials and the practice of material development and application. The research involves the following topics: research and product application of raw and waste soil materials, research and application of Yingjing clay traditional craftsmanship and modern techniques, and practice of the "Seeds Project" for the re-cultivation of Xianghe glutinous in Huanggang Dong Village, Qiandongnan.
Weibin Ye,Industrial designer, electrical and mechanical engineer. He is currently the researcher of materials and technology development for BENTU design and Nongzao. He is passionate about the development of different materials and mechanical equipment technologies and applications in product design. Involved topics include: research and application of bio-based plastic substitutes such as coffee grounds and agricultural waste, development and application of recycling materials, 3D printing technology and equipment research and additive manufacturing, research and application of solar energy lighting products and wireless transmission products for mobile communication devices, etc.
Zixin He,Designer of the Sustainable Design (Meterial) Museum. Participated in the digital translation, field research and data collection of the Buyi pattern in the digital weaving project.In exploring the project, she fully understands the culture of the Buyi minority and traditional weaving techniques to ensure the authenticity and cultural connotations of the project.
NONGZAO, founded in 2019, it is dedicated to design and practice as a method to explore the value of situated culture and traditional civilization in contemporary times, with deeply rooted foundation in the field.
We see ourselves as a future builder based on the humanity of agriculture civilization exploration.
Insight derives from the memories of nature's journey, from materiality to spirituality. It is a reflection to post-farming civilization amidst the effect of modernization.
Weaving X-Y-Z - Interpretation of Qianyinan Buyi's Traditional Weaving with 3D Printing Strategies
Material:PLA 3D-printing;Size:110*110*26mm;Φ208*49mm;200*200*3mm
By scientifically deconstructing and studying the structure of traditional Buyi weaving, the weaving patterns are translated into editable, modifiable and diffusible flat geometric shapes. Together with the results of in-depth research into the field of the Qianyinan Buyi minority, Nongzao team has digitised and reconfigured the weaving patterns through different logical relationships, generating random patterns from the traditional weaving motifs through computer programming. The perceptive traditional warmth creates many possibilities in the rational digitisation, which finally integrates with 3D printing technology to become a completely new representation.In the field, a random combination of digitised perceptual graphics is produced by converting sounds, images and perceptions into a quantifiable graphic, with intervening traditional woven patterns. We took the sounds collected from the cotton fields, the looms, the songs of the traditional Buyi Nuo play, the laughing and joking of the labourers and the various ditties of life on site, and transformed them into a computer language, interfering with the original traditional weaving patterns through programming to produce new parterrns, and then by applying them to different products, we found our means of design for the sustainability of traditional culture. Might the linking of sound and picture from the vernacular with the language of contemporary computing create a traditional direction for future inquiry?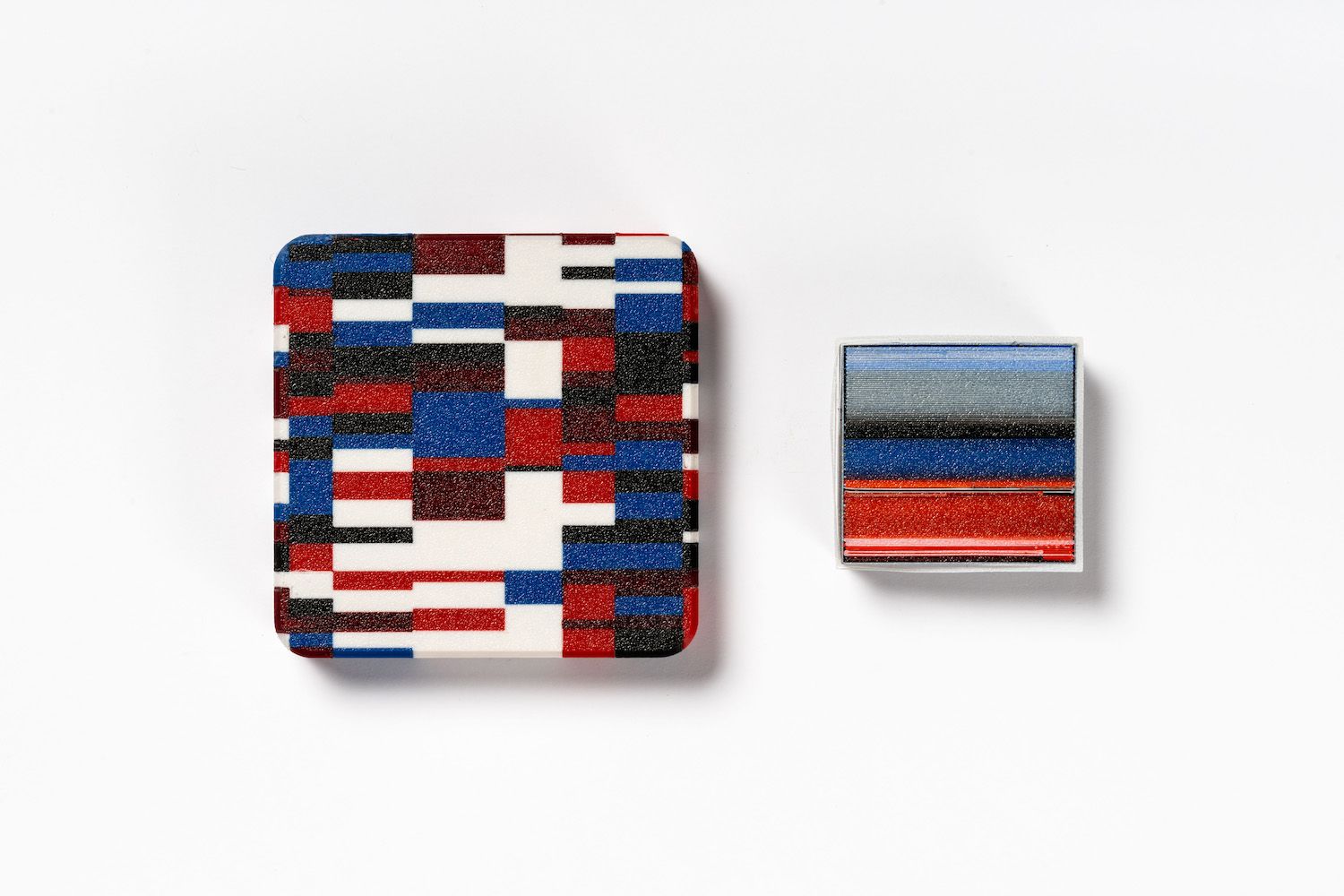 Mugi Yamamoto
Mugi Yamamoto is a Swiss-Japanese industrial designer based in Shanghai. He gathered 10 years of experience at international design agencies in Japan, Germany and Switzerland before co-founding his own studio in Shanghai in 2021. His passion lies in redefining new and innovative products, rather than reshaping existing solutions. Simplicity, perfection and good quality while bearing sustainability in mind are what Mugi is striving for in his work.
Circ is a new industrial design studio led by Mugi Yamamoto and Eric Cross. Based in Shanghai and Adelaide, they work independently and with clients to create new opportunities through product and furniture design. Their design process is characterized by curiosity, experimentation and repeated testing of ideas. Careful observation and consideration of human behavior and hands-on prototyping and building full scale models are an important step towards ensuring their designs are innovative, novel and useful to people and the planet. They have developed products and furniture pieces for major brands in Europe, Asia & North America. Their previous work has won over 26 design awards, including the Red Dot Design Award, iF Design Award and Good Design Award. In addition to working as a design consultancy, they also work on their own experimental projects to constantly grow their capabilities.y, from materiality to spirituality. It is a reflection to post-farming civilization amidst the effect of modernization.
Biānchì
Material:wire,light bulb;Size:
"Biānchì" is an experimental project that only employs a single cable, a lightbulb and Chinese weaving techniques to create a strikingly simple pendant light. The concept takes the traditional characteristics of a pendant lamp - power, light and lampshade and further reduces its elements by transforming the humble power cable into a woven lampshade. The biggest challenge was weaving the whole piece with a continuous string of cable without cutting it and encapsulating the lightbulb on the inside. Nearly two years of research, experimentation and prototyping were dedicated to solve this challenge. The result is an elegant pendant that celebrates the cable as the most essential element of the design. In the field, a random combination of digitised perceptual graphics is produced by converting sounds, images and perceptions into a quantifiable graphic, with intervening traditional woven patterns. We took the sounds collected from the cotton fields, the looms, the songs of the traditional Buyi Nuo play, the laughing and joking of the labourers and the various ditties of life on site, and transformed them into a computer language, interfering with the original traditional weaving patterns through programming to produce new parterrns, and then by applying them to different products, we found our means of design for the sustainability of traditional culture. Might the linking of sound and picture from the vernacular with the language of contemporary computing create a traditional direction for future inquiry?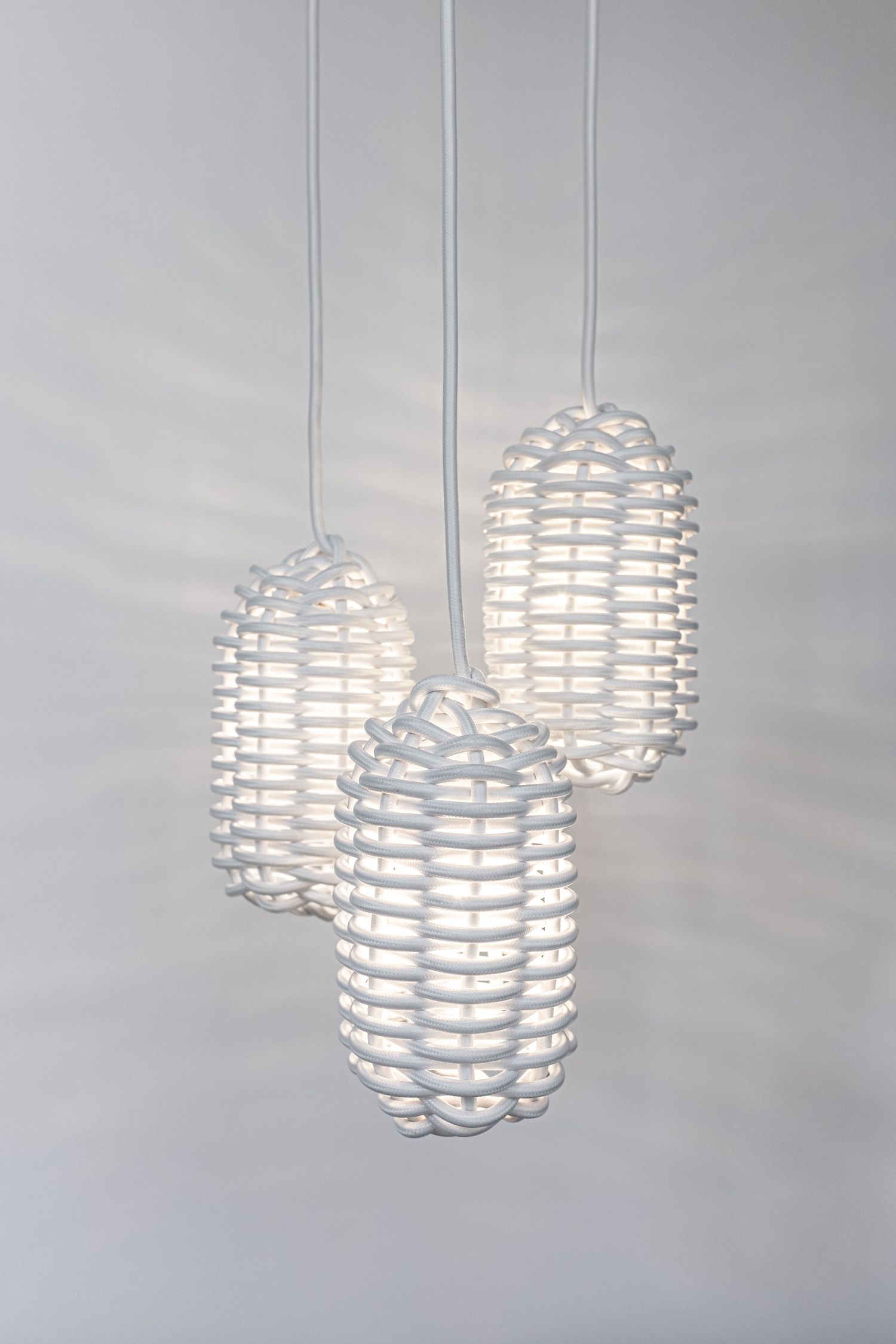 Bill Yen
He graduated from Duke University in 1998 with a B.A. in Economics & Art History and received his M.A. in Architecture from Harvard University Graduate School of Design in 2003. He has worked at Iconomy.com in Boston, Tsao and McKown Architects in New York, Kennedy and Violich Architecture in Boston, and founded Muhadi Design Consulting in Shanghai in 2005 and MRKT Products in Shanghai in 2008.
Founded in 2006, MRT design is a multidisciplinary studio with a portfolio that covers the range from large mixed use developments to intimate residential interiors. Our team is composed of designers with diverse backgrounds and experience. This enables us to provide solutions in fields ranging from spatial design, strategy, and product development. Today, with Lainey Lv, Frank Chen & Sylvia Zeng joining as partners, MRT design has extensive project experience in both China and abroad.
Granular Jamming Weave
Material:PE tube, plastic rope, plastic chain, plastic beads, vacuum pump, glue, fittings
The project has been an exploration of weaving combined with other technologies to produce a structural system. The project as presented is a speculation on a woven object that has dynamic structural performance depending working on the principle of "granular jamming". Historically speaking, weaving, the process of forming fabric by interlacing threads, has been to produce fabric which is mainly associated with being pliable and soft. While there are examples of weaving used to produce strong and resilient structures like FRP (fiberglass reinforced plastic) or bamboo baskets, they remain static in their performance characteristics and loses many of the characteristics we generally associate with weaves and fabric. Our object is a fabric which has been woven with tubes filled with beads and chains. When the tubes with the infill are subject to a vacuum, the loose infill clumps up and forms a structurally stable matrix and want to stay in that shape. Without the vacuum the tubes are flexible and the fabric matrix it is woven into is pliable. One can imagine this as a flat packable object that can be deployed to take an arbitrary shape and then be stiffened after it has taken a particular shape. Compare to a pneumatic (positive pressure) structure which we also tried, the woven matrix can only take on one shape after it has been pressurized.
Process:Several different types of weaving and structural systems were studied and explored:
Chunky knits;Pneumatic structures;Concrete infused geotextiles;Hydroformed steel structures;Granular jamming (via vacuum).After exploring each technique and accessing how they can be integrated into a woven matrix, granular jamming was chosen for ease of integration, novelty and its ability to adjust the structural stiffness via chosen infill and vacuum intensity.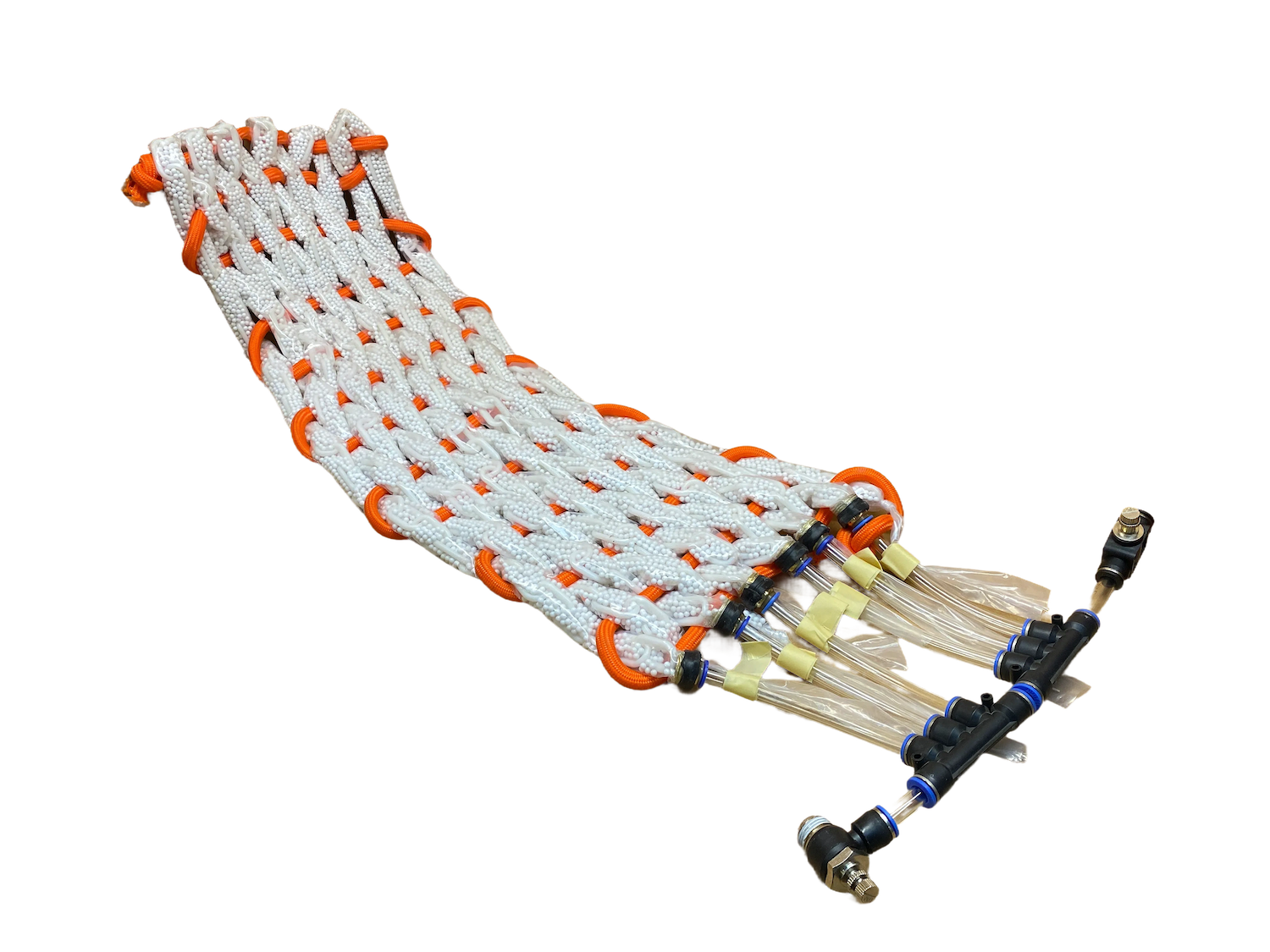 Jinghua Zeng
Designer Jinghua Zeng has a master degree in design from Aalto University in Finland. Her Chinese cultural background and Nordic design experience are intertwined to form her design language. She has participated in Paris Design Week, National Museum of Finland, Stockholm Furniture and Lighting Fair, etc. Her works have won Red Dot Design Award in Germany, MAISON&OBJET Design Award China Silver Award, First Prize of International Wood Festival in Norway, Gold Idea Design Award in China, etc.
Studio Tunne was founded in 2020 by designer Jinghua Zeng. With the combination of organic structure and delicate material crafts, user experience becomes richer and more diversified. Studio Tunne hopes to convey the perception of life and nature through design, and reconstruct possibilities via retrospect and imagination.
BOUNCY CAGE STOOL
Material:Spring Steel, Outdoor Ropes
BOUNCY CAGE STOOL is inspired by traditional fishing ground cages. The ground cage used to be an excellent tool for catching shrimps and crabs. The hand-woven web connects metal rings, which could be folded for easy transportation. However, the mesh is too small to be conducive to the sustainable development of fishery resources, so the ground cage is gradually banned. BOUNCY CAGE STOOL uses different weaving materials to create new application scenarios for this traditional fishing tool. The metal rings made of spring steel have both supporting strength and certain elasticity. The spaced metal rings are connected to form a whole by weaving with outdoor ropes. The bench could be bent and partially folded according to needs, and you could sit on it to experience the fun of rebounding. It could also be fully folded and stored when not in use.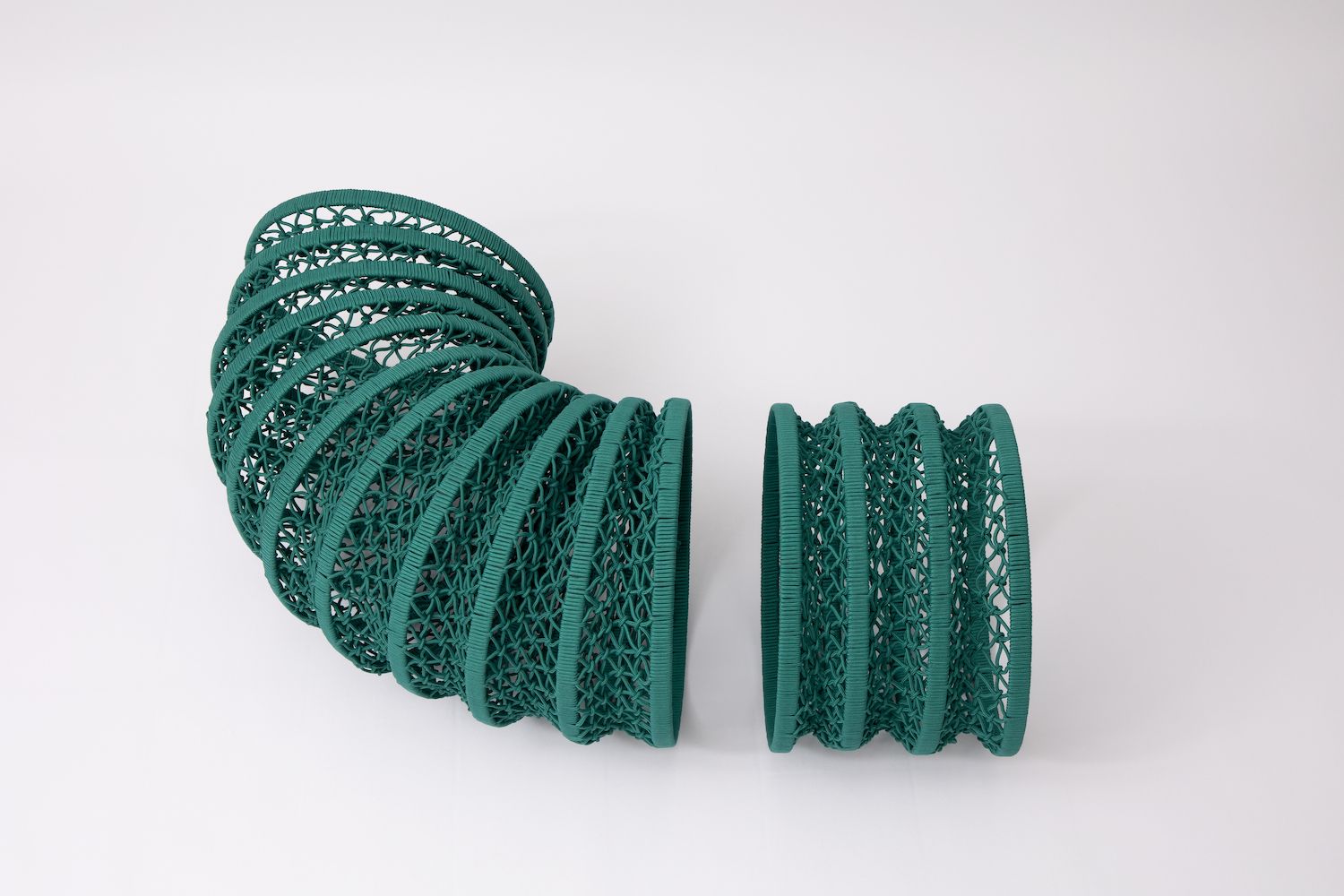 Zhao Zihan
Zhao Zihan, graduated from the Accademia delle Belle Arti di Brera di Milano in Italy. In 2012, he founded the Spazio Z art studio in Milan. He has rich experience in collaborations with brands such as FENDI and Tiffany. In 2015 and 2023, Zhao Zihan's works were invited to participate in the Fuorisalone exhibition at Milan Design Week. In 2021, he established UNICOGGETTO, with works ranging from furniture design, product design, to art installations. In recent years, Zhao Zihan and his works have been active in various exhibitions in China, such as the Shenzhen Fashion Furniture Design Week, the Xintiandi Art Festival, Design Shanghai, and Design Spring.
UNCOGGETTO,a functional art brand founded in 2021,The combination of Unico (unique) and Oggetto (object) expresses the brand's main idea - the commitment to create unique pieces. The brand works with a wide range of artists in such a way to explore the possibilities of de-functionalizing furniture art, the emotional expression of forms and the expression of futuristic works.
The OMEGA Knitting Series
Material:recyclable polymer materials
The OMEGA Knitting series involves three-dimensional knitting formed by continuous Greek letter Omega Ω shapes. Renewable polymer materials are used, which become semi-molten state by heating. The saturated wire diameter is continuously extruded in the Ω shape. According to different shapes of the weave, it winds upward and is firmly formed by the chemical bonds of mutual fusion in the semi-molten state. The texture on the surface of the work is formed by parametric auxiliary calculation, which increases the original and natural aesthetic expression.
Hugh
Born in 1978 in Chongqing, China, Hugh was graduated form Beijing Normal University at major of Arts and Communication. He once worked as a journalist at CCTV, and then took a job at IPG Media group ( a US famous media group) for years. In 2010, Hugh set up TAN China Company, and is responsible for design and the overall promotion in China market. The establishment of TAN China Co., is aiming to promote the heritage of traditional carpet weaving skills, as well as to improve and help the Chinese carpet craftsmen working and living environment.
Tan China is a luxury brand devoted to high-quality life. We design and produce the most exquisite rugs and carpets in the world. Tan Carpet & Home (China) was established in 2010, focusing on the perfect integration of artistic design and processing technologies of modern carpet. In 2010, the company cooperated with the most renowned Chinese artists including Zeng Fanzhi, Zhou Chunya, Ding Yi, Tan Pin, Fang Lijun, Liu Ye, Yang Shaobin, Li Lei, etc. and jointly launched its first series of original products entitled "Chinese Masters", which generated strong response in the industry. In addition to working with famous artists and designers, the company attaches great importance to the building of its own design team and product development. Meanwhile, we provide professional customized service targeting individualized space and offer comprehensive carpet solutions for high-end clubs, hotels and luxury housing projects. So far, the company has developed into an important rug producer and distributor integrating modern design and artistic styles. We have stores and agents in Beijing, Shanghai, Chengdu, Hongkong in China, US and Mexico.
Indepengdent Women Part I
Material:Tibetan highland wool
In traditional Chinese artistic works, the dragon represents the Son of Heaven and male power and often takes the absolute central position. The inspiration for this fabric piece is based on an extremely rare tribute rug from the Qing Palace for the birthday party of Empress Dowager Cixi in the late Qing Dynasty. A flying dragon is coiled around each side of the tribute rug, playing with wish-fulfilling pearls among clouds and bats, but at the center of the tribute rug are two phoenixes, each holding a flowering twig. This is an expression of the rising consciousness of female power represented by Cixi in the rarely recorded traditional Chinese paintings and fabric graphics. It was also from then until the end of the 19th century that the movement of female independence in China began to emerge. On the basis of this traditional Qing dynasty tribute rug, the designer uses the method of ink splashes typically seen in Chinese calligraphy and paintings, allowing the blue ink flow on the rug surface to transcend time and history. Through the creation of this fabric piece, the designer wants to express that Yin and Yang co-exist peacefully in the world and that human history is written by both men and women.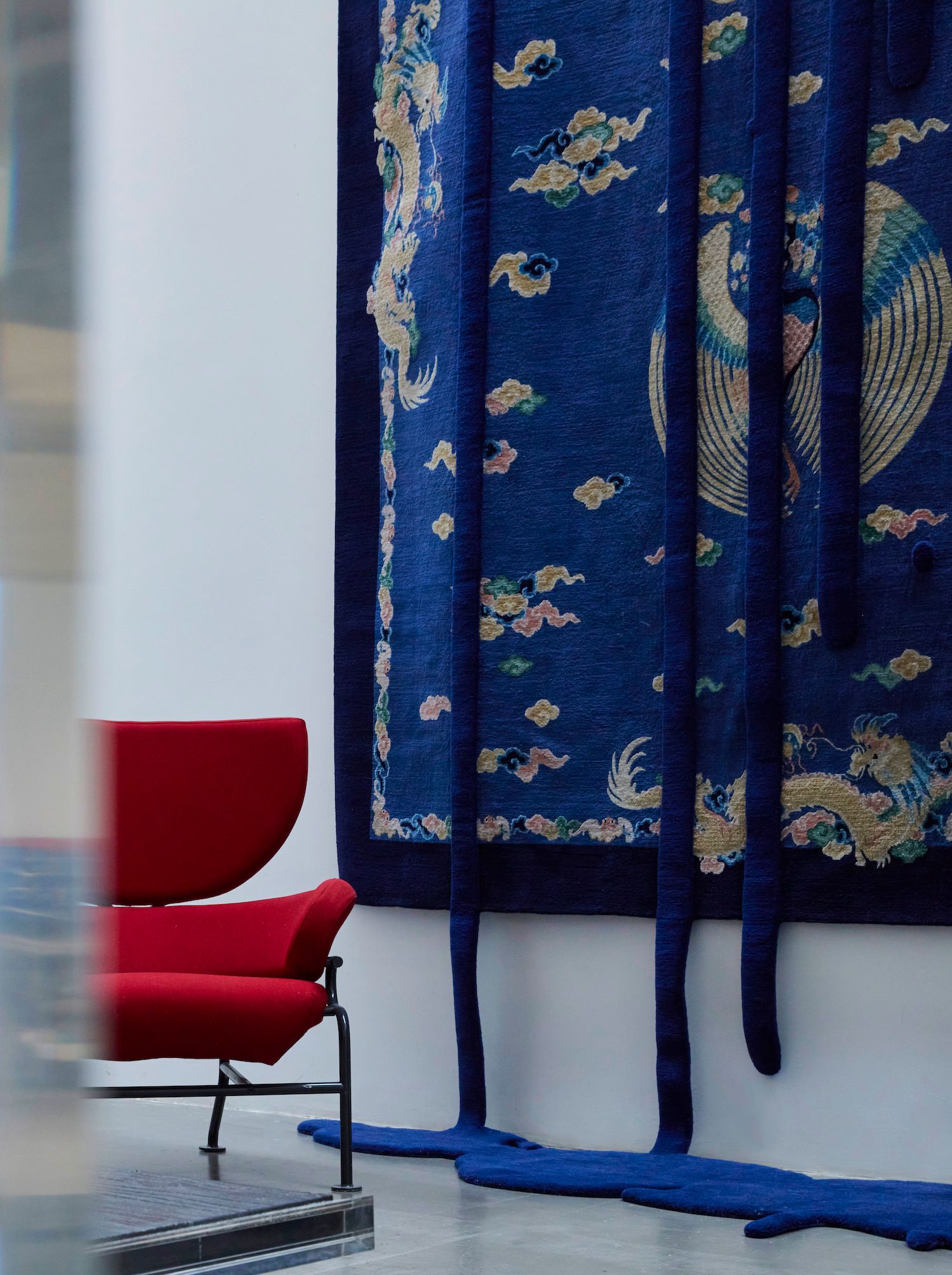 Fan Zhang
Fan Zhang is an Associate Professor at the Central Academy of Fine Arts, School of Design, the Deputy Director of the Jewellery Design Committee at the Gems & Jewellery Trade Association of China and a member of the Society of Jewellery Historians. She is dedicated to ancient craft and culture research and further applies them to contemporary design research. She has received several national honours, including the China National Art Fund 'Young Artistic Creative Talent' in 2019 and 'The Top Ten Outstanding Young People in China's Design Industry' in 2012. Moreover, her work is in the permanent collection of the Museum of Arts and Design (MAD) in New York.
The Twenty-Four Solar Terms of Heaven
Material:pearls, silver-plated red copper, gold-plated;Size:280*160*60mm
The Big Dipper shines and rotates, out of which nebulas and galaxies are formed, time and space perfectly unite, and the twenty-four solar terms are thus born. The Big Dipper changes in position and the stars move in their orbits; the twenty-four solar terms converge into the heart of heaven, where seven stars of the Big Dipper glitter. It leads us to look up and observe astronomical phenomena, look down and observe the geography, look at ourselves and reflect on human relations. The virtual gold thread taken from the traditional filigree craftsmanship is woven into a nebula-like ribbon signifying 'the moving stars and the rotating Plough'. When it's worn around the eyes, twenty-four pearls for twenty-four solar terms dance to the wearer's movement. High time to join us and have your glistening eyes dance to the rhythm of heaven and earth.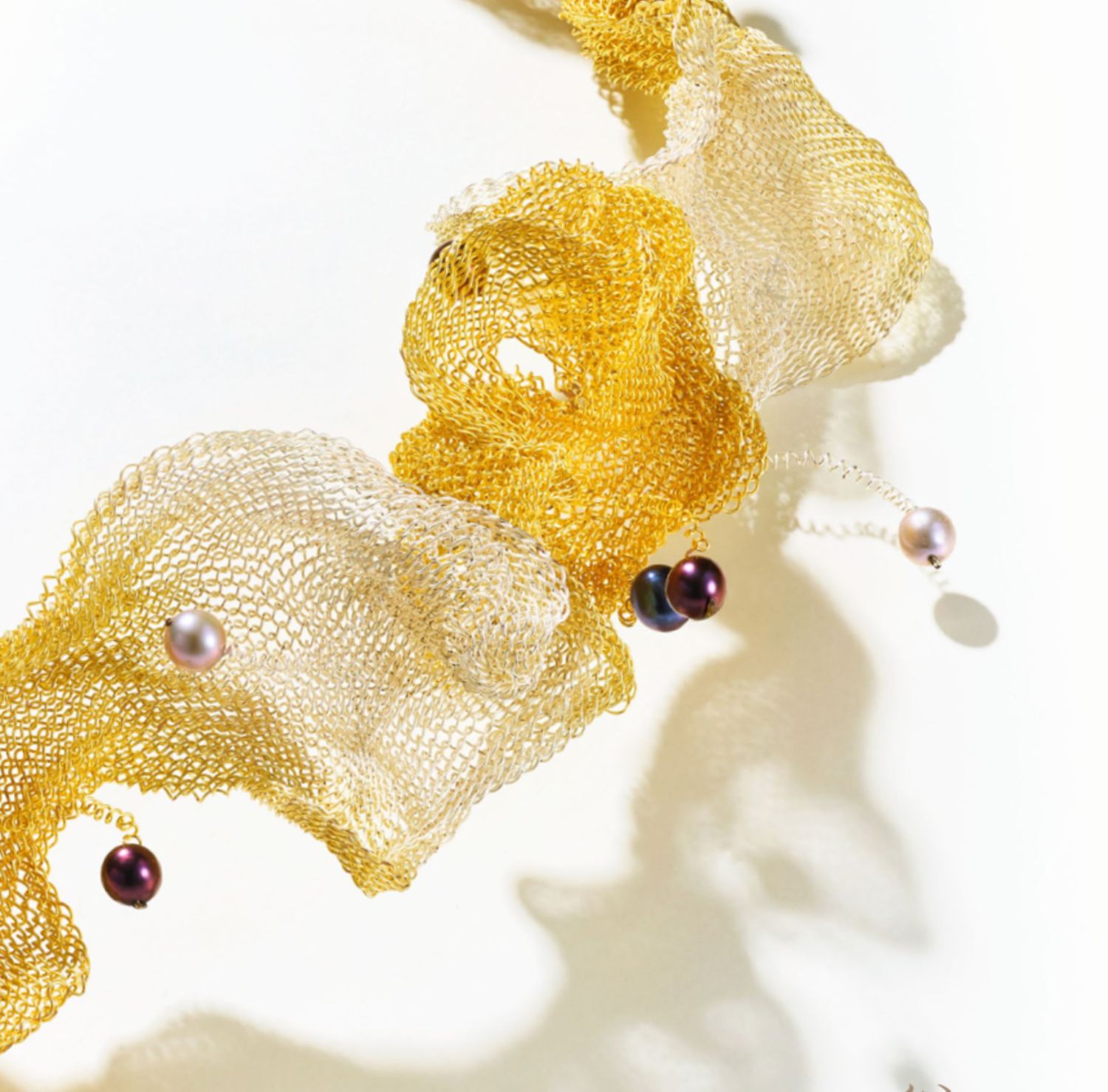 Xiaochuan Zhang
Xiaochuan Zhang is a Chinese famous prominent jewelry artist, graduated from Department of Sculpture in Guangzhou Academy of Fine Arts in 2001. In 2005 she received senior study and training in integrated system in National College of Art and Design of Stuttgart in Germany. Xiaochuan left for Italy and achieved the first master degree of major of Accessories in Domus Academy in Milan, Italy in 2006. After her return to China she set up the "Xiaochuanstudio" and the jewelry art brand named after "Xiaochuan" as well.
The " Xiaochuan Studio" was established at the end of 2006. Over the years, my passion of natural creatures and jewelry has given me the idea of forming the " Xiaochuan Studio". Nature, biology, jewelry, and craftsmanship are all my favorites, but how to integrate them together and find a balance between art and jewelry is what I hope to do through the " Xiaochuan Studio". Handmade jewelry, in today's rapidly developing world, shines with a unique radiance. There is no uniform model, and it needs to be completed little by little with the rise and fall of the sun. Nothing comes easily. The value of jewelry is no longer solely reflected in expensive raw materials, but rather focuses on the needs of the soul. It is not so much about wearing it as playing with it. Let it be closer to our hearts. We have good and close cooperation with multiple well-known art galleries, design shops, and design websites in China.
Vision
Weaving is a special way for humans, birds and even insects to survive and make tools and shelters, and it is also a very ancient one. Under the observation of the electron microscope, the surface of plant pollen presents a crisscross texture full of grooves, which is similar to the weaving texture. Whether they are naturally generated or deliberately woven, the textures and patterns they create give me a kind of admiration for the skills of people and creatures that go as far as the origin of life and the natural world. It became the pattern on the viewer of my new work "Vision".For the audience, the vision is a "spectator". For amber, the vision is a "container", the texture of weaving and pollen wraps and carries "time and space". In the usual sense, viewing requires a wide and unobstructed viewing angle, but the narrow and long gap covered by oppression will make people have a desire to find out, and it can also be compared to space-time observation through the control of space and light through the squeeze of the viewing port.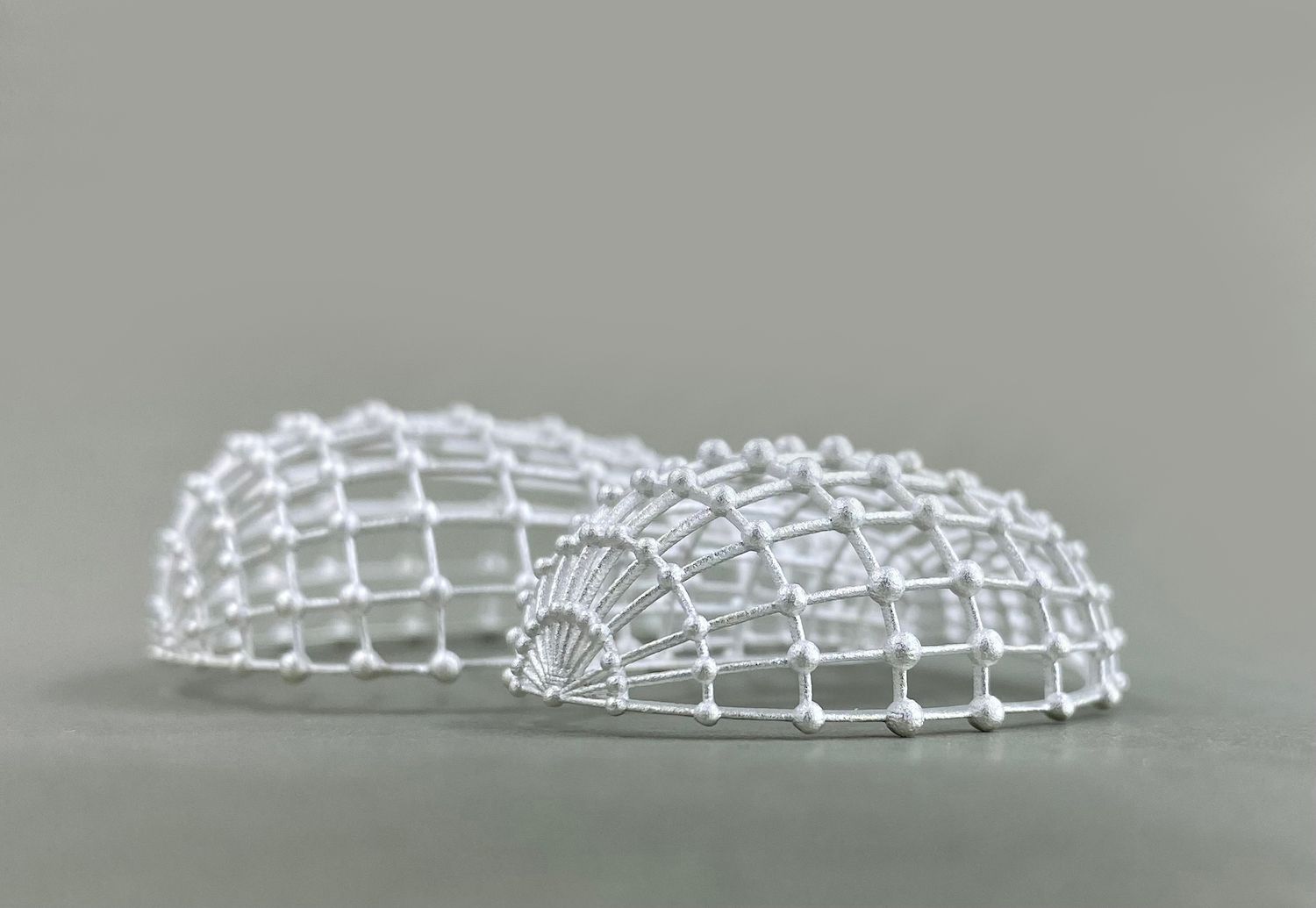 Caroline Cheng
Caroline Cheng is an artist and curator, whose promotion of Chinese ceramic arts over decades has earned renown in China and throughout the world. As an artist, Caroline has held solo exhibitions in Sotheby's Hong Kong (2013) and New York (2015). Her work has been collected by the British Museum, Fitzwilliam Museum in Cambridge, San Francisco Asian Art Museum and the Boston Museum of Fine Art. Cheng has received prizes for her work in the Keramiak Museum in Westerwald, Germany (2010), Clay and Glass Film Festival in Montpellier France (2010), Mino International Ceramic Award 2017 and also received the "Outstanding Achievement Award" from the American National Council on Education for the Ceramic Arts (NCECA) in 2014 and the Japan Good Design Award for Community Development in 2020. Caroline Cheng is the owner of the Pottery Workshop in Hong Kong, Shanghai, Jingdezhen and Dali. Its mission is to educate and promote the art of handmade ceramics. She is also the co-founder of Yi Design, currently working on ceramic waste as a new material.
Paper kiln
Material:Recycled newspaper;Size:800*500*600mm
Throughout history, there have been countless firing methods for ceramics. The kiln can be simply understood as a shell that can keep heat in, so any material can be used: rice husks, straw, mud, hole in ground, and brick kilns. When I received the invitation to weave something, I decided to use recycled newspaper as a fiber to weave a shell and to make a paper kiln. By weaving a kiln, visitors will understand the basic principles of firing. It takes a lot of time for me to have a deep understanding of weaving technology, so I chose to use the principle of weaving and combine it with my own profession to present a different concept of "weaving" to everyone.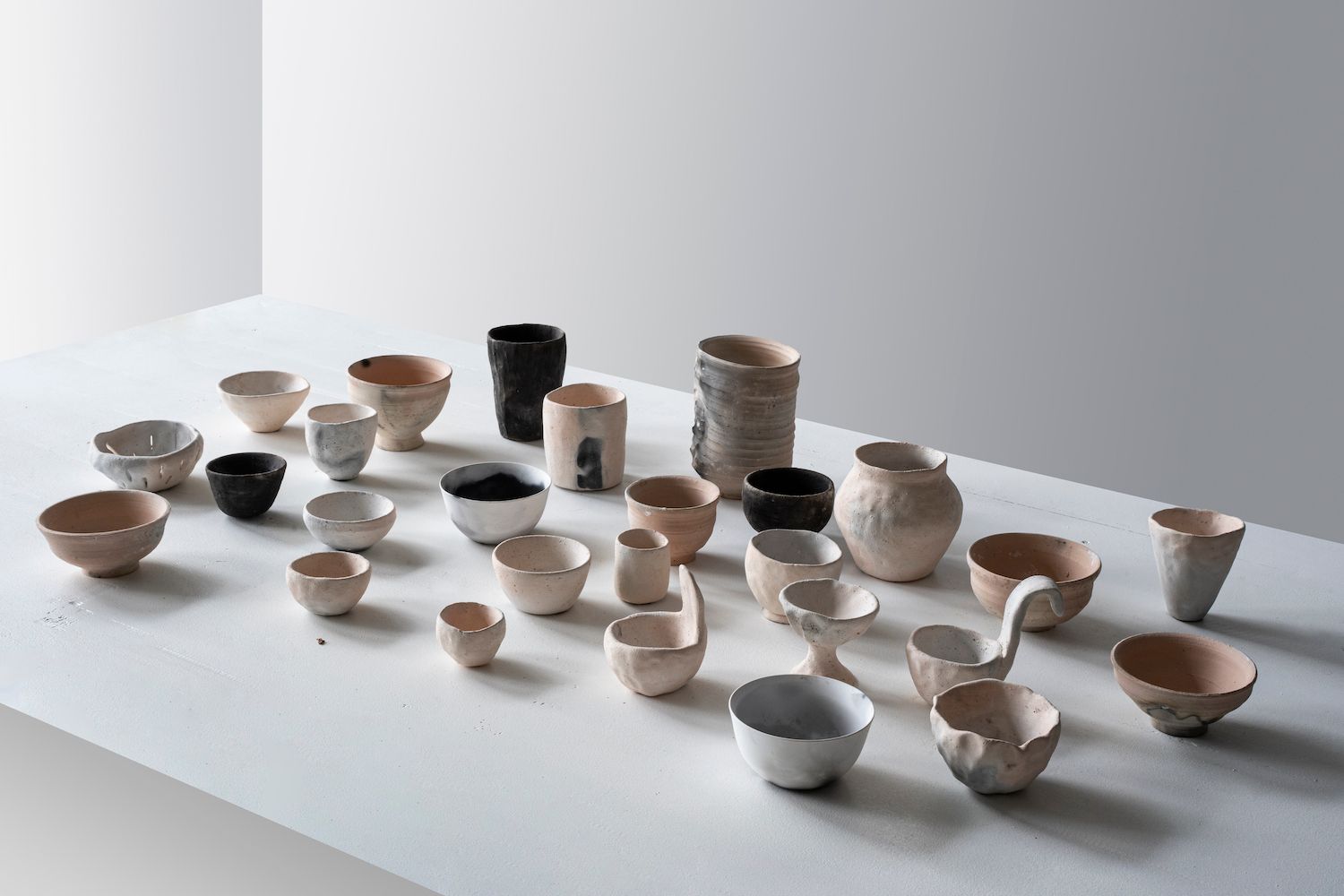 Zhou AnBin
Zhou AnBin, the founder of Dak Haan Design, graduated from the furniture major of Guangzhou Academy of Fine Arts in 2012, he has always adhered to practice and exploration in the field of home life for more than 10 years of study and practice. The designer who has won the highest international design awards successfully in a row, immersed in the study of material technology in the factory workshop from the beginning,then he was in the front line of furniture stores and understand consumers as a clerk, later, he entered the research and development of living space by real estate enterprises. Various cross industry practices and experiences have not constrained the development of his design, instead, it enables him to stand in different dimensions and makes his thinking on exploring and balancing the relationship between products, space and people's life more internalized and profound, and also lays a foundation for his brand road. As a designer with international vision, Mr Zhou AnBin proposes" returning to original self " , advocates starting from our own life and environment,carries forward local life culture,creates international oriented design which belongs our cultural value identity and benefits the public with contemporary aesthetic and international design language.
"DakHaan" is an original home life brand founded by Chinese designer Zhou Anbin in Guangzhou in 2020. "Dakhaan" is proud of its local culture and confident in "design by Canton" & "make in China". Inspired by the warmth in the memory, the beauty in the impression, and the things closely related to our living culture, the design creates a design that is not bound by the established image, style and label and conforms to the contemporary aesthetic and life demands.
Bò ji Chair
Material:stainless steel, wood, leather, ash wood;Size:450*480*750mm
Weaving is a craft process that involves the transformation of thread to surface and then to three-dimensional form. By using laser cutting to create portions of the surface and combining the bending of thread and surface with weaving, traditional weaving techniques are transformed into ergonomic three-dimensional blocks. The design of the Bòji Chair chair is inspired by the most common rural object, the " bòji" (winnowing basket). Its classic weaving structure is reflected in the three-dimensional surface of the chair, which not only meets functional requirements but also enhances the structural stability of the chair, while being both aesthetically pleasing and durable. The innovation of the Bòji chair lies in the use of metal sheet laser cutting technology, which precisely controls the range and accuracy of the weaving. This not only preserves the beauty of weaving but also allows for mass production, reducing the threshold for manual production. By using this method of industrial production, we hope to not only inherit the beauty of weaving but also bring users higher quality chairs.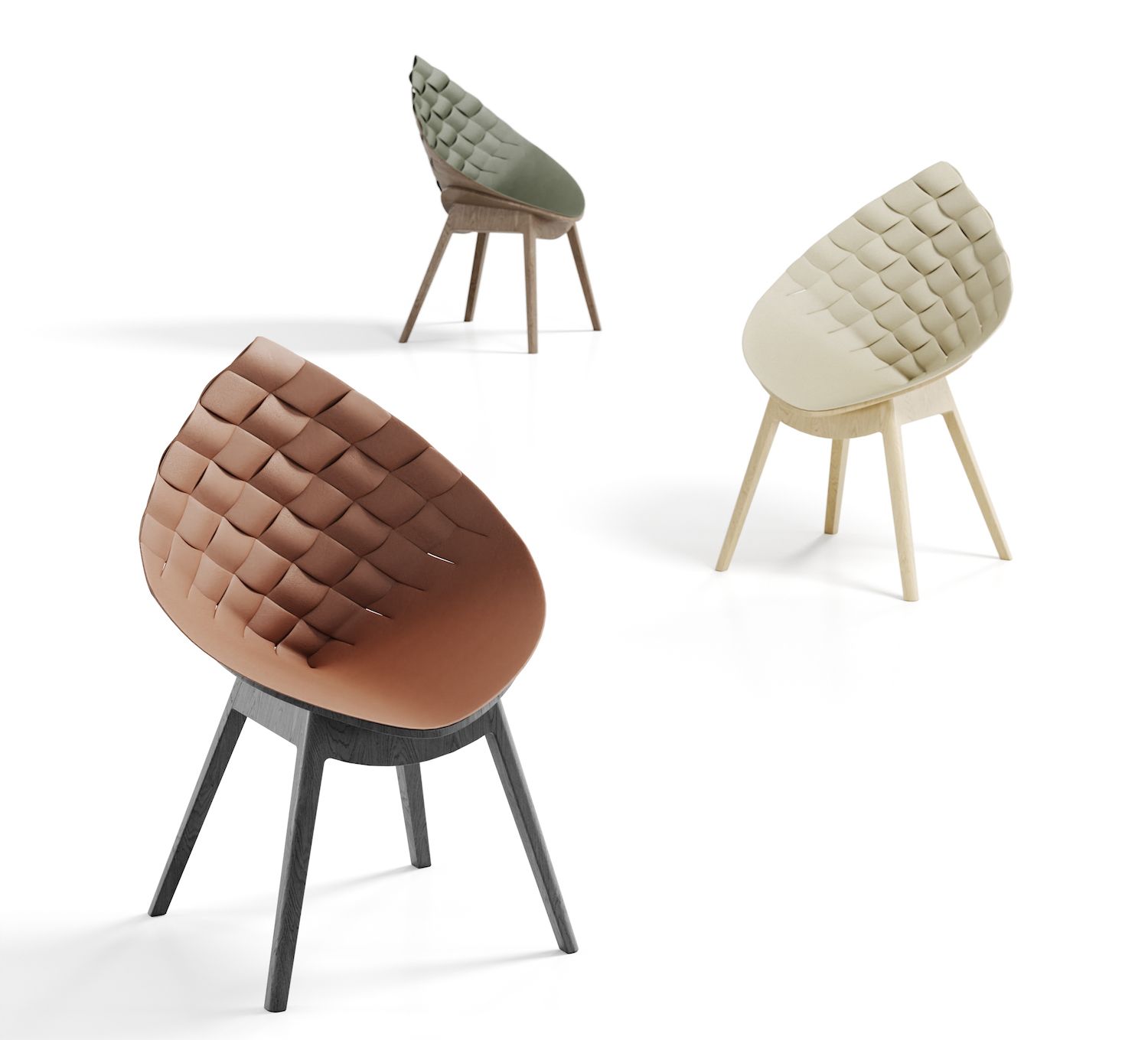 PINWU
PINWU Design Studio was found in base on Yuhang, Hangzhou, China, 2004. The three founding designers, Lei Zhang (China), Jovana Zhang (Serbia), Christoph John (Germany), focus on the deconstruction of Chinese traditional handicrafts and materials, applying in different areas such as art installation, furniture, traffic, space, product, graphic, brand strategy, curating and so on. The mission of PINWU Design Studio is overturning the traditional design language and creating contemporary design works base on the deconstruction research about Chinese traditional handicrafts and materials. We call it "FUTURE TRADITION".
Infinite in time and space
Material:stone
Weaving can be a philosophy and way of thinking. Idea of creating stronger, bigger, lighter object by joining threads and forces. Weaving is also a playful thought that can highlight patterns, color combinations, merging materials, miss-matching in general. My fascination with stones goes far in the past. Ever since first time I saw paper thin marble i was thinking of weaving them. Stones are not something that naturally goes hand in hand with weaving craft. This experimentation is about expanding limits of what is typical "weaving material" and finding solidarity with stones to become one of them. Structure it self is created by repetitive movements that forms one circular structure reming us of its infinity. Like a dancing choreography, each stripe is twisting along same movement. Central light is there to underline the beauty of nature stones, their age, colors, transparency...