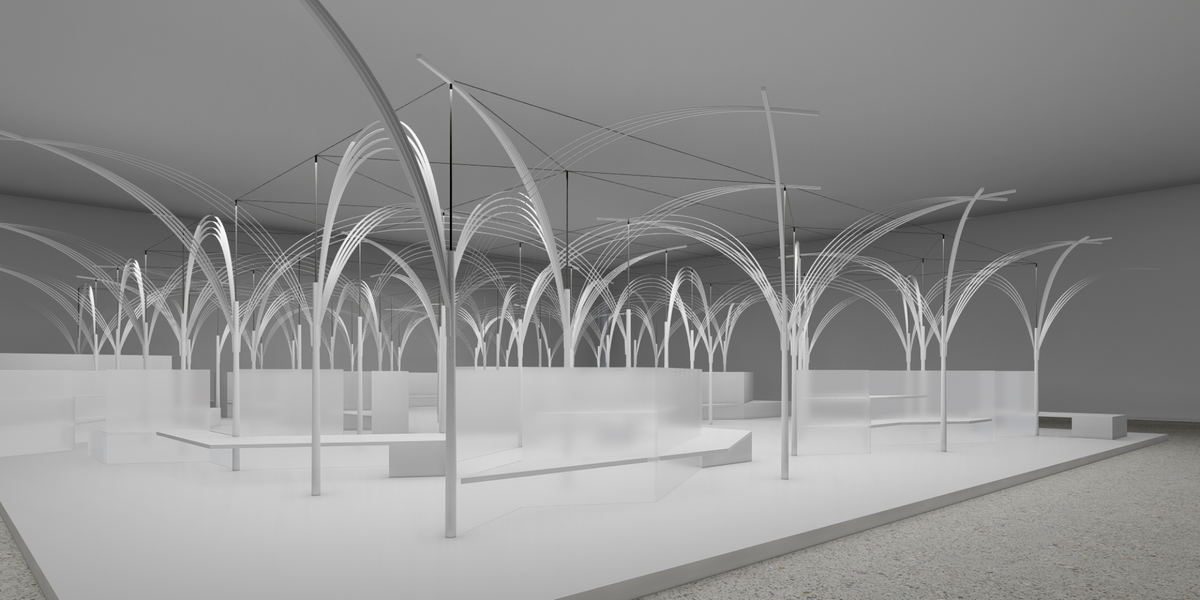 When martial arts movies and TV dramas were popular, everyone had a dream of the Jianghu. In Chen Min's dream, the Jianghu should have bamboo and wind, with layers of curtains hiding wine and treasures, and sword shadows blurring secrets. From June 8-11, 2023, the 10th Design Shanghai will be held at the Shanghai World Expo Exhibition & Convention Center, where Chinese industrial designer, founder of Chen Min Office and curator of neooold, Chen Min, has invited famous architect, Chen Hao Ru, to create an exhibition space with the theme of "Crouching Tiger, Hidden Dragon in the Forest". The exhibition space was created with a bamboo forest and a winding path to recreate the Jianghu dream. How to create a quiet space in the bustling metropolis? The designers adopted a "回" exhibition space design, using three layers of bamboo walls to enclose and divide the neooold exhibition space, creating a "vortex" inside the calm space. The curved exhibition route is designed to lead visitors deep into the bamboo forest. Several yellow bamboos stand proudly in their own place, topped with flexible and slender bamboo pieces, imitating the real bamboo forest's open and leafy form. The curtain between the bamboo and the bamboo is thin and light-transmitting, in which the exhibits are displayed, creating a visual effect of looking into the fog: From the outside to the inside, the curtain is covered and full of imagination; From the inside to the outside, the curtain is impermeable and one can only sit and watch the sky. It likes the "walled city" of Jianghu, where outsiders and incomers, each playing their own game, have their own sorrows and joys, as well as their own destinies.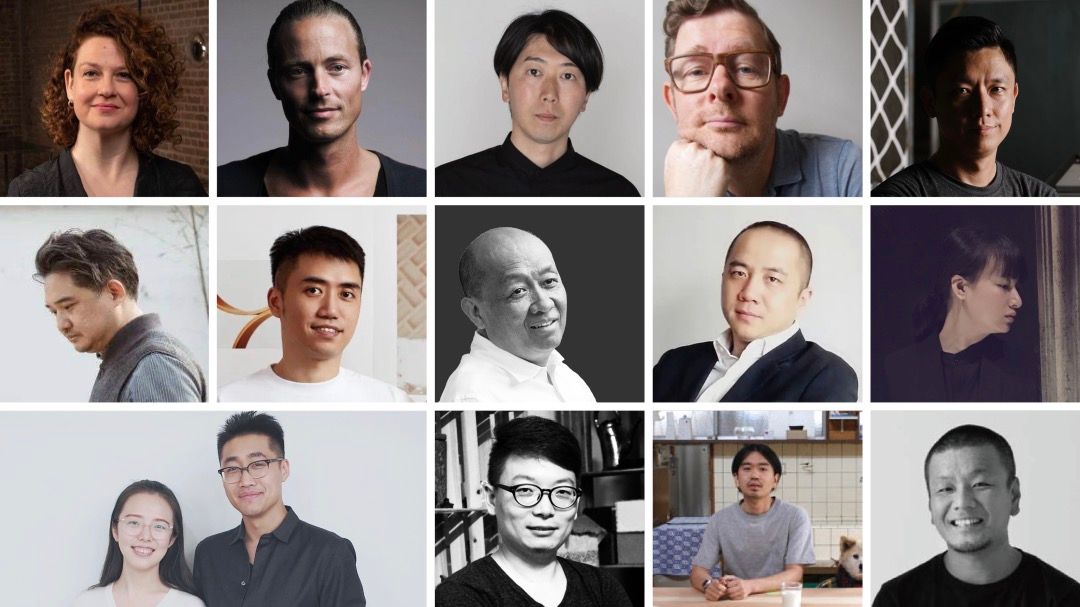 neooold 2023 participating designers
1. Aldo Bakker
Dutch designer, known for simplicity and organic designs. His works are collected by a number of museums: Boijmans Van Beuningen (Rotterdam), MoMa (New York), Cooper Hewitt (New York), mudac (Lausanne), Philadelphia Museum of Art, Centre Pompidou (Paris), Rijksmuseum Amsterdam, Stedelijk Museum Amsterdam and Museum V&A, etc.
Rosewood Bench
Year: 2023
Material: Rosewood
Craftsman: Ruihe Furniture
Edition: 10
All the parts of Rosewood Bench fit together, but not in an ostentatious manner; its pleasant, upright quality and subtly rounded corners make the sitter more comfortable. But that is not all. For Bakker, the real breakthrough of Rosewood Bench, is the small, protruding "Berlage element" in the middle of the frame. It represents Bakker's rebellion against 'what you see is what you get'.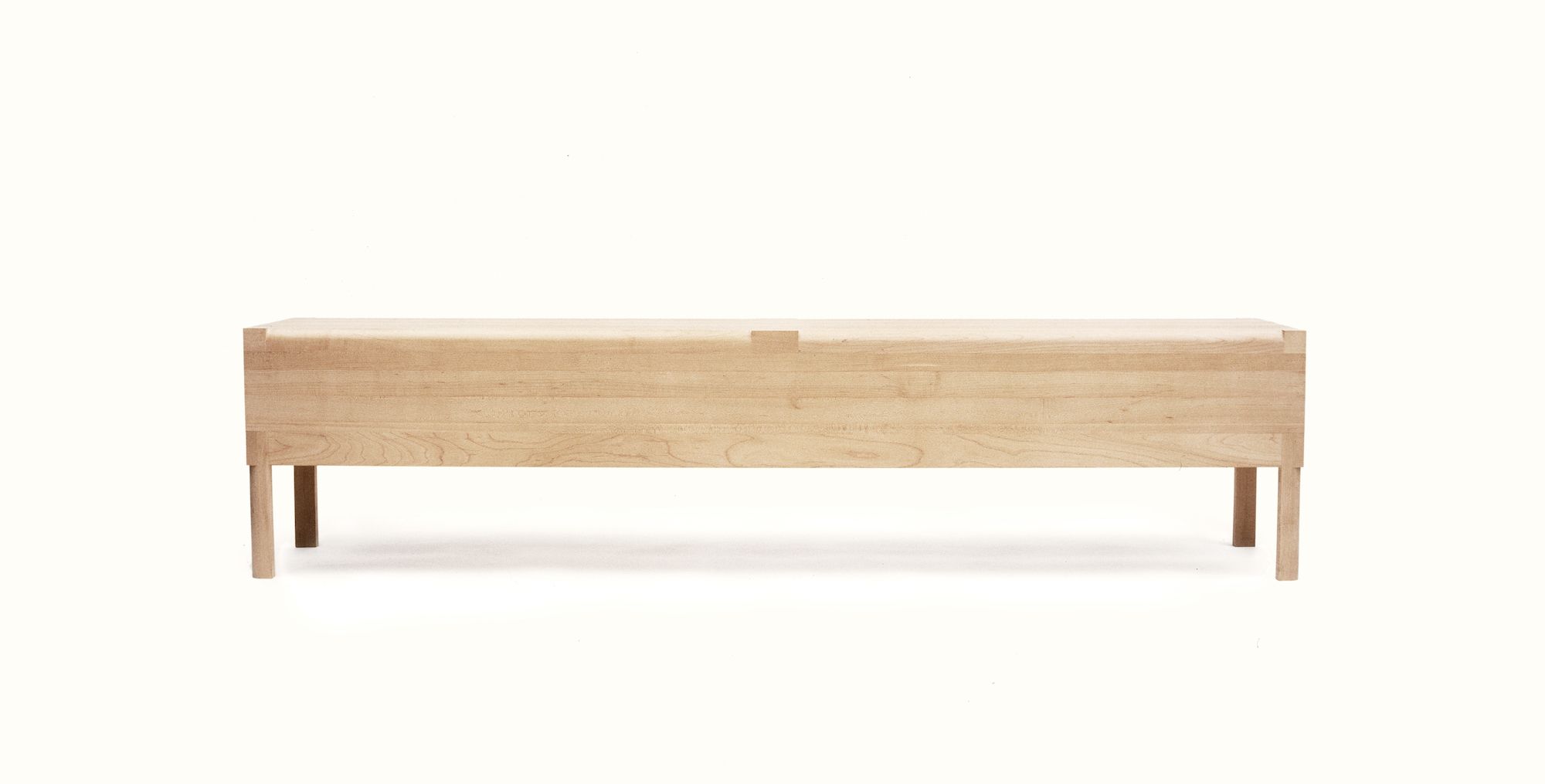 2. Adi Toch
A London-based metalworking artist whose work has been exhibited internationally and has won the Gold Medal of the British Goldsmiths Council for Craftsmanship and Design. In 2017, she was shortlisted for the Loewe Craft Award and won the Wallpaper Design Award in the same year; In 2018, she won the European Award for Applied Arts.
Segmented Vessel
Year: 2022
Material: Silver
Edition: 1
In the hands of Adi Toch, materials can be derived from a variety of possibilities beyond the traditional. The shape of the pot is taken from the female breast. After being inverted, the tip of the nipple becomes the foothold of the bottle. It is like the toe of a ballet dancer, as if it is about to spin and dance immediately.
3. CHEN Min
neooold curator, industrial designer from Hangzhou, China. Graduated from Köln International School of Design, and Design Academy Eindhoven. His representative work Hangzhou Stool was collected by Pompidou Center (Paris). In 2019, he was in the expert panel of Loewe Craft Award, since 2020, he has been a judge of the one & twenty awards of the German Design Council, and in 2021, a judge of the Dezeen Awards.
Gong Table (工字桌)
Year: 2023
Material: Metal, natural lacquer
Edition: 10
One of CHEN Min's "3D calligraphy work".
Chinese character "工 (gong)" is a graphic evolved from the beam and column structure of traditional Chinese architecture. By rotating the upper horizontal stroke of "工 (gong)" for 90°, CHEN Min created a three-dimensional module. When two "工(gong)" are jointed, they become a table stand. The black and red color is painted in natural lacquer which adds a subtle and elegant oriental style to the work.
Gong Shelf (工字架)
Year: 2023
Material: Metal Glass
One of CHEN Min's "3D calligraphy work".
Chinese character "工 (gong)" is a graphic evolved from the beam and column structure of traditional Chinese architecture. By rotating the upper horizontal stroke of "工 (gong)" for 90°, CHEN Min created a three-dimensional module. When several "工(gong)" are jointed, they become a infinite shelf system. Different colors could be applied and organized all at free will.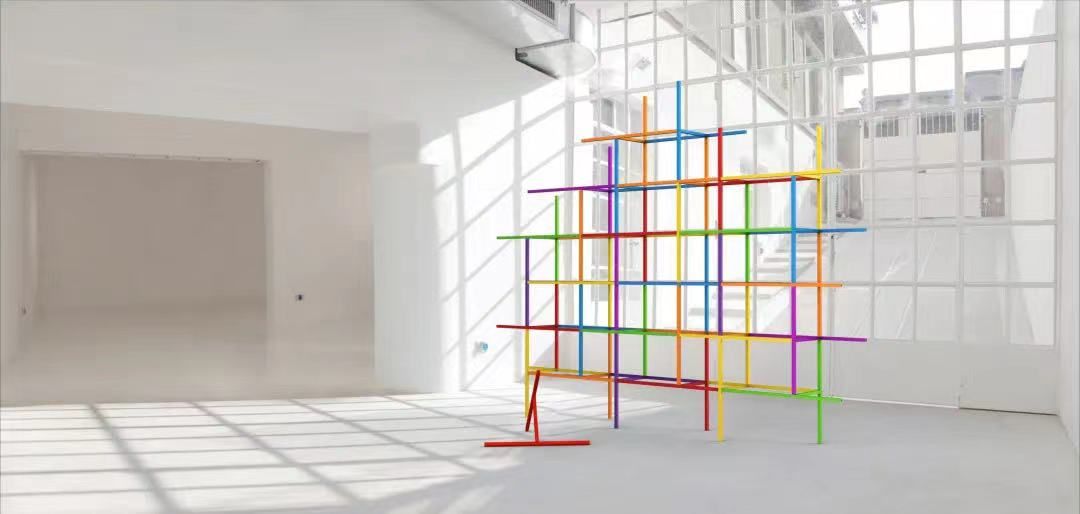 Yi
Year: 2022
Material: Zisha
Edition: 1
Zisha pot, originated in Yixing, is a kind of craft product between pottery and porcelain, which has a history of more than 1000 years in China. This teapot adopts "cup" as the main design element and applied on spout, lid, body, handle and teacups. The two teacups can also be stacked together, forming a witty silent play.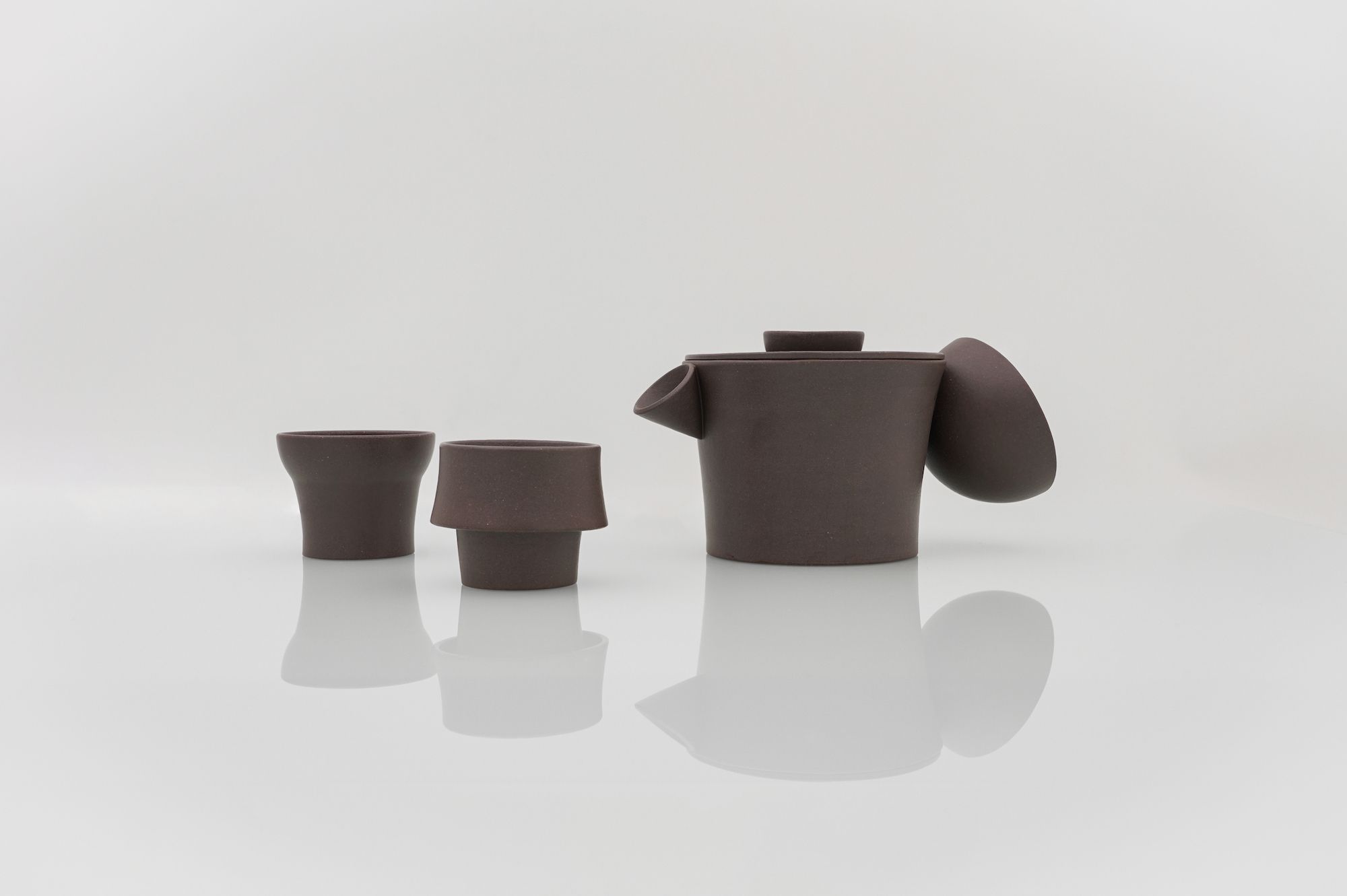 Uselessful
Year: 2023
Material: TPU
Edition: 10
Commonly wasted TPU fibers from garment industry are soft and light, thermoplastic and malleable. In line with the characteristics of the material itself, CHEN Min melt it into some "cloth", and then attached the "cloth" to objects or canvas to shape a new form. The end of useless things, thus becoming a starting point for useless beauty, and expresses the designers' understanding of "no use is of great use".
4. David Clarke
A renowned metalworking artist from London, known as one of the "most innovative silversmiths in the UK". He was a finalist for the Jerwood Metal Award in 2005, a Sotheby's Award in 2007, a Jerwood Contemporary Craftsman Award in 2010, and a finalist for the LOEWE Craft Award in 2022. His work is regularly collected by major art institutions, including the V&A Museum in London and the Crafts Council.
Spewy, Spurty and Dirty Squirty
Year: 2022
Materials: Silver, Pewter
Edition: 1
David Clarke takes inspiration from the tulipiere vase, which was used exclusively to cultivate tulips in the 17th century. The tulipiere has always been seen a luxury item. However, David wanted to celebrate a few choice blooms and utilize some old crazy spouts.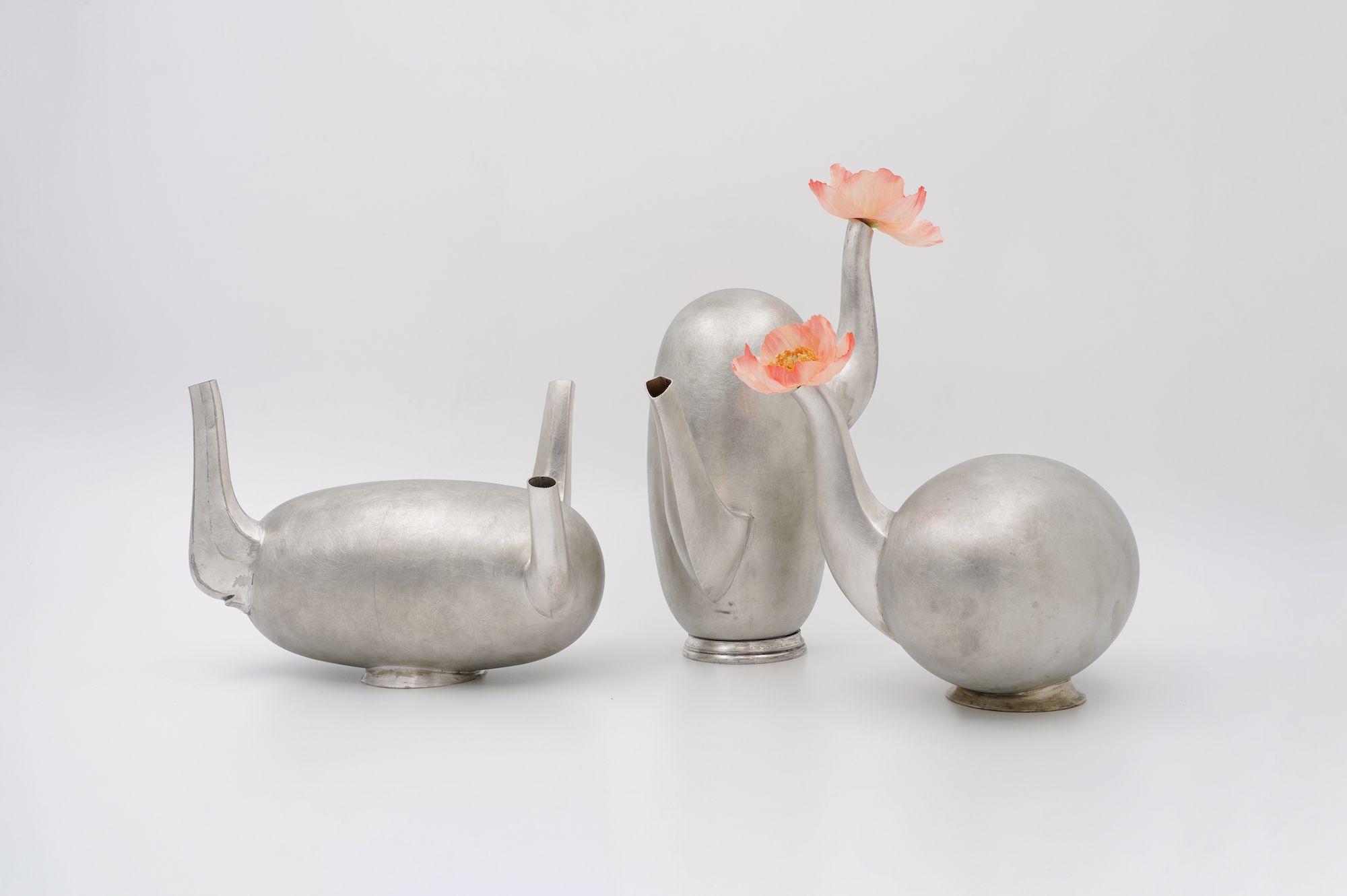 5. Dan Tomimatsu
Born in 1982, Tomimatsu is a designer from Japan. He graduated from Tama Art University in Tokyo, and received his master's degree from Domus Design Academy in Italy. His design scope covers accessories, furniture, objects, art installations etc., And in 2009, he established his accessory brand "_DAN TOMIMATSU".
Engawa
Year: 2022
Material: Cedar, Riverstone
Craftsman: Shigeharu Miyazato
Edition: 1
ENGAWA bench is named from a part of the traditional Japanese house space called Engawa, which is usually located around the house between outside and inside. The designer captures and retains the shape and function of this architectural detail, creating a multifunctional coffee table that can be seated. The surface of the cedar is based on the traditional Japanese "Udukuri" process, in which the wood surface is carved away with a metal brush, leaving only the hard wood grain.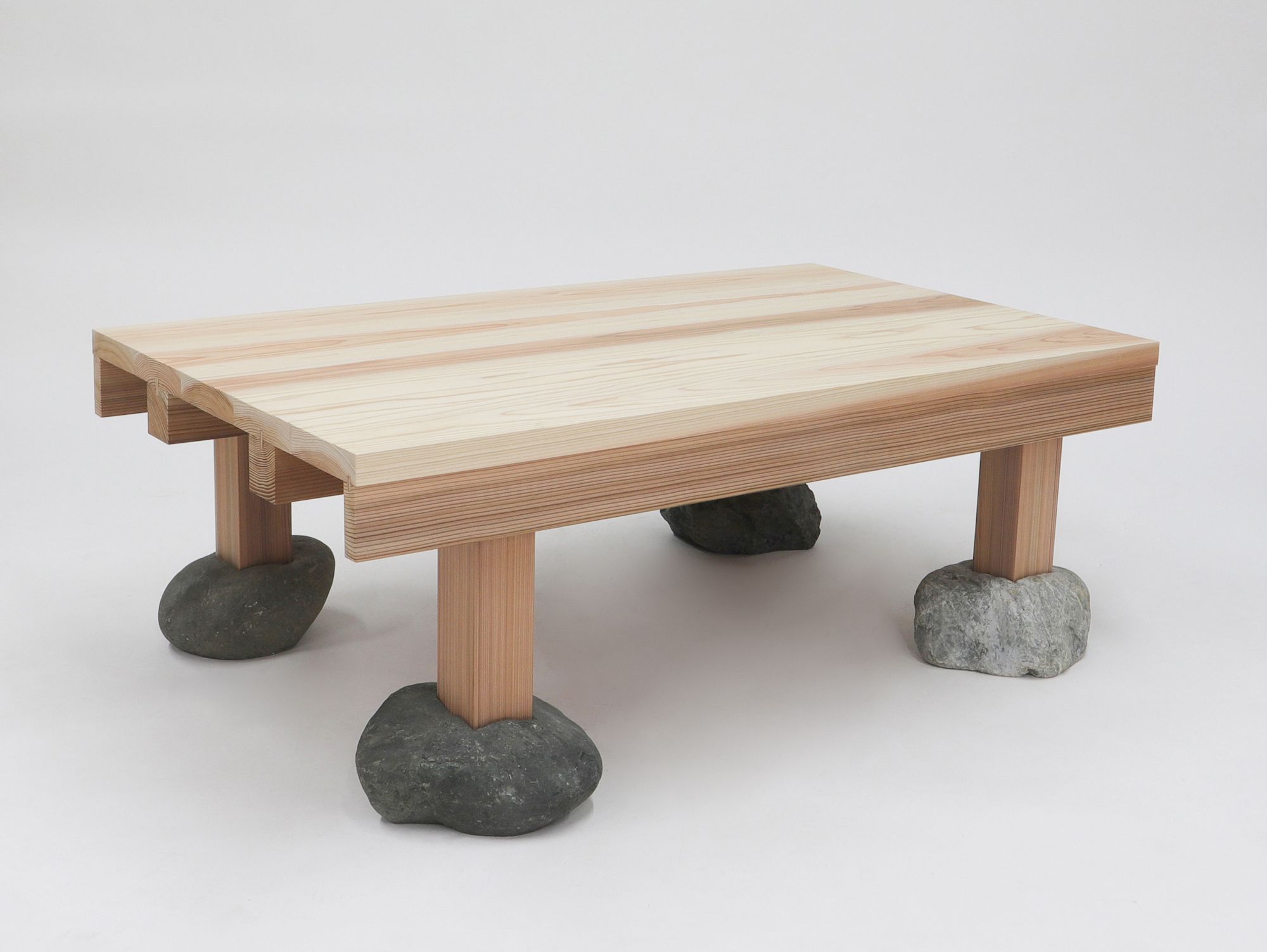 6. Hans Tan
Hans Tan teaches at the National University of Singapore and works on his art creations in his spare time. His works have won several times of the Singapore Presidential Design Award (2018/2015/2012), Design For Asia Award (2014), and have been exhibited at the M+Museum in Hong Kong, the Princesehof National Ceramic Museum in the Netherlands, the Museum of Indigenous Chinese in Singapore, and the San Jose Museum of Art in the United States.
Striped Ming, Sarong Party, Spotted Nyonya
Year: 2019
Materials: Ceramic
Edition: 1
A series of old porcelain renovations by Singapore artist. The renovated vases are all from second-hand shops, which were once highly sought after for their luxurious decoration, but gradually forgot by the new generation. After arranging and designing the surface of the porcelain, the artist slowly grinding off the glaze to expose the white porcelain on the base or carve new patterns on them. Once again, the artist has awakened the beauty lied in old objects.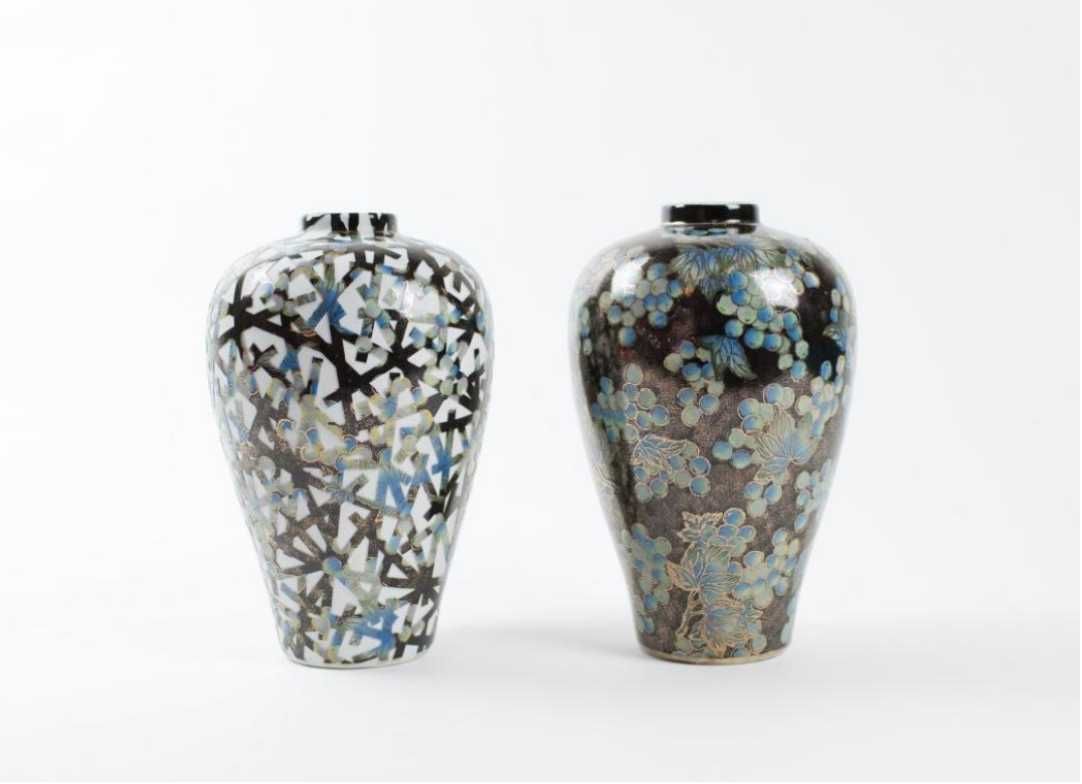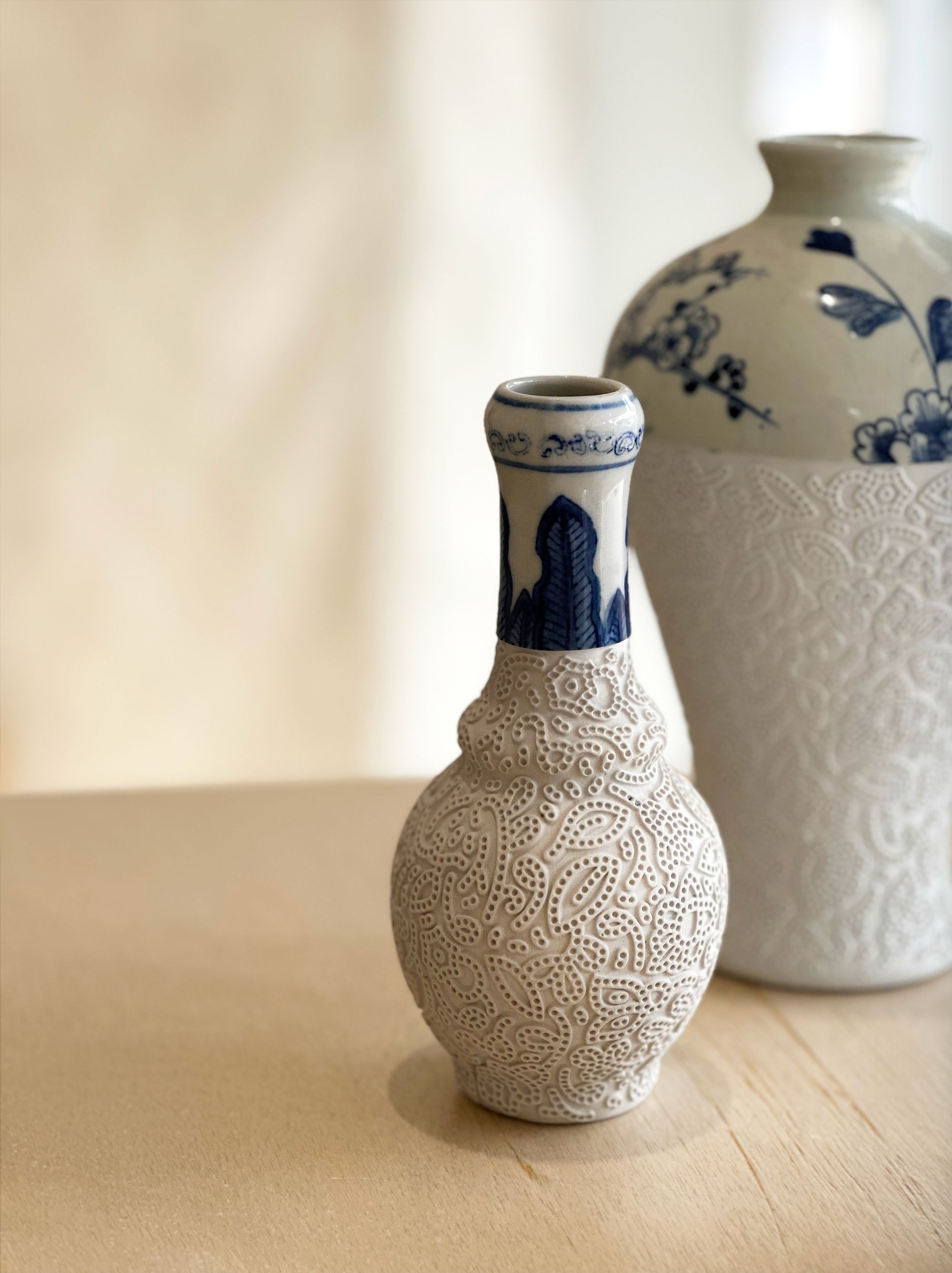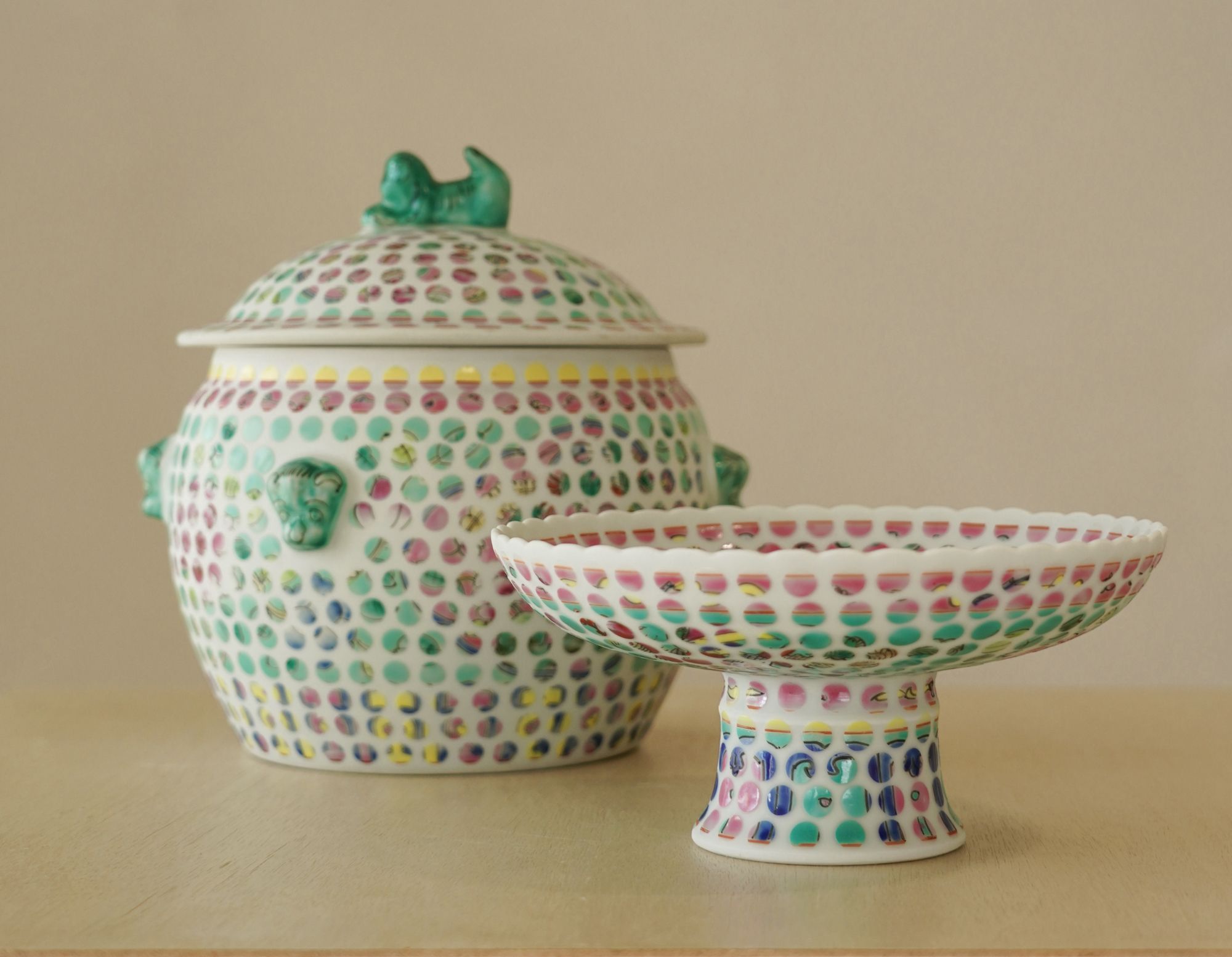 7. Norihiko Terayama
Terayama returned to Japan after completing his studies in Design Academy in Eindhoven, Netherlands. Thereafter he founded Studio Note providing services including product design, interior design, artwork design etc. He was invited to participate in 21_ 21 Design Vision Exhibition, various gallery exhibitions, solo exhibitions, and other artist activities.
Structure of Sessile
Year: 2022
Materials: Ceramic
Edition: 1
Sessile animals like barnacles, find vacant spaces inviting other con-species and cover each other, creating a new shell. The pattern of these newly created shell holds uncontrollable beauty. The designer felt the same impact when seeing a mold at a cast-metal workshop. By layering numerous ceramic layers, the sharp angle becomes round. Mixed with sand, it shapes into an odd roughness and transforms to a newborn "shell". Each of his work is a unique piece only.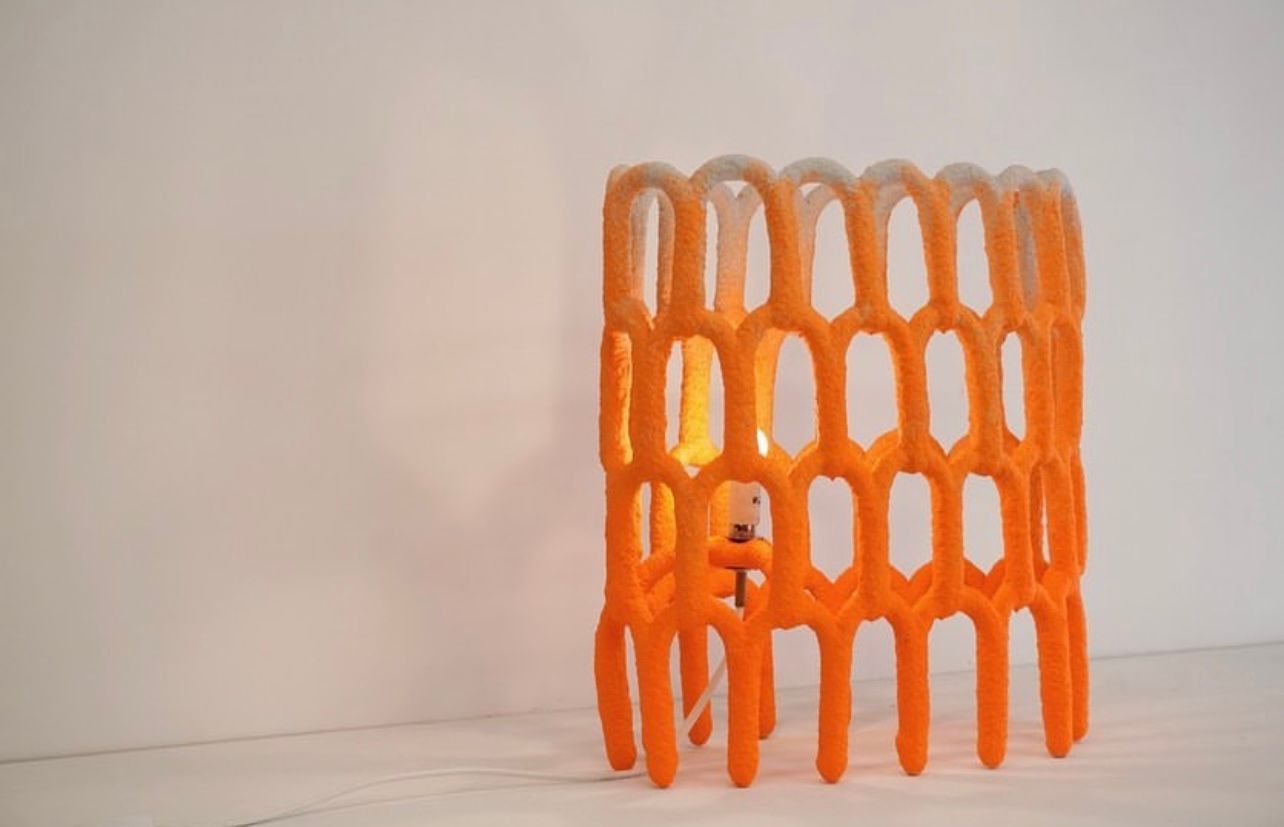 8. Kezhen Wang
Chinese metalworking artist, director of the Arts and Crafts Department and head of the Metal Crafts major at Nanjing Academy of Arts, curator of the European Department at the Shanghai International Contemporary Jewelry Biennale, and curator of the Chinese Art Department at the National Crafts Center in the UK. His works have been collected by the V&A Museum in the UK, as well as some art institutions in Denmark and the Netherlands.
Pipe
Year: 2022
Material: Silver
Designer: Kezhen Wang, Min Jiang
Edition: 1
As we throughout the history of human creation,it's easily to find out that tube,as a functional form of design, played an important role in the modern contemporary world. The work pipe removes the functions of the pipe and makes the pipe become the main body of the vessel. It is a metaphor for the communication characteristics of modern society, that everything can used as a medium. The work is made of silver by forging and nobbing.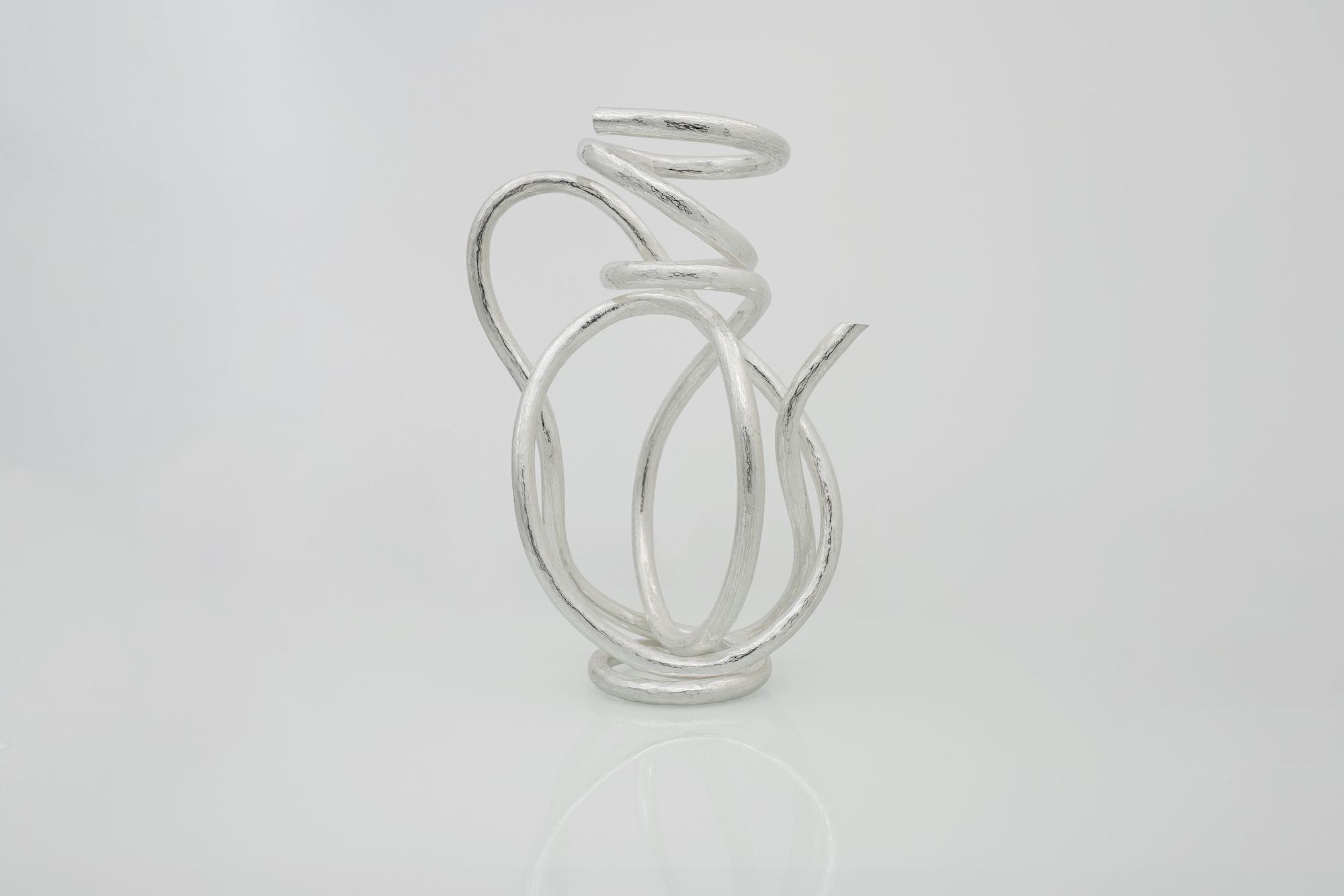 9. Ryohei Yoshiyuki
Product designer Ryohei Yoshiyuki graduated from Design Academy in Eindhoven, Netherlands and then established his own studio "Ryohei Yoshiyuki to job" in Japan. He seeks to introduce the final form and color of the design by reconsidering, touching with original materials or simple techniques, and his works have been exhibited at the Mart Department Store in Italy, MOMAT in Japan, and the 21-21 Design Exhibition in Japan.
Thin
Year: 2022
Material: 铜、锡 Copper, tin
"Thin" is plate series that are totally handmade, by hammering very thin copper sheet and put the tin only on mouth part for keep the shape and coating. While using the plates on daily basis, the tone may get deeper. It is a process of dialogue with materials, also an important expression from the artist.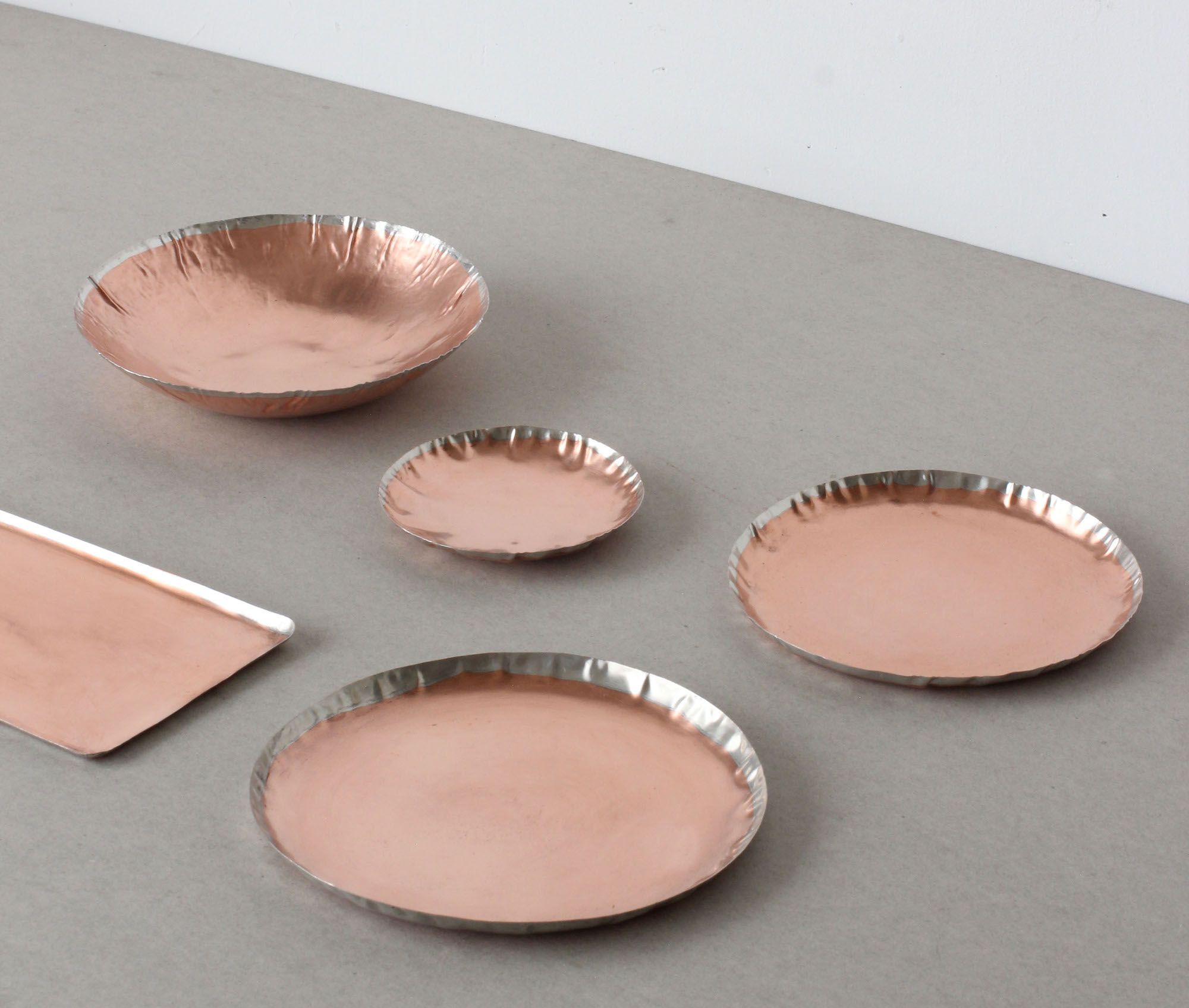 10. Chi Wing Lo
An internationally known designer, architect, sculptor, the 2015 "DFA World Outstanding Chinese Designer" winner. Lo's practice covers many fields such as architecture, sculpture, interior and furniture design, and is highly regarded by the Italian and international design community for his purification, poetic interpretation and attention to detail. His oriental ideology integrates the design wisdom of ancient and modern China, and reaffirms the way of eternity, simplicity and essence.
Jade Tray
Year: 2023
Material: Jade and stones, concrete
Craftsman: Rui Gong
Edition: 10
Every material can be a jewel, depending on how it is cut, crafted, and presented. These few trays of cast concrete provide a silent background to discover the intricate veins and listen to the melodic translucency frozen in nature of minerals such as jade, fluorite, onyx etc.
11. Shan Wang
Shan Wang, one of the founders of the design brand "oriento". She graduated from Sichuan Academy of Fine Arts in 2011 and from the Art and Design Department of Guangzhou Academy of Fine Arts in 2017. Director of the Chinese Traditional Crafts Research Association, member of the China Armor Research Association. She focus on exploring the artistry and painting of copper surface treatment, and create colorful metal art pieces.
Stoneless
Year: 2023
Material: Bronze
Designer: Shan Wang, Min Chen
Edition: 1
"A dwelling without stones is inelegant." A rockery, a bamboo, and a courtyard are the most ideal portrait of a living place for Chinese ancient literals. This work adopts digital parameter design technology to form a unique narrative, exploring the exquisite posture of Chinese classical garden stones in a modern expression, to reinterpret the traditional aesthetics.
12. Yidong Hong
Graduated from the Mural Painting Department of Guangzhou Academy of Fine Arts, majoring in lacquer art. In 2017, he founded his own original lacquer handicraft brand "YiQi", and in 2018, he began to participate in art exhibitions and cultural institutions as a lacquer artist who is committed to "lacquer painting, lacquerware and lacquer-mended ceramics", to integrate lacquer art of nearly 7,000 years into contemporary daily life.
neooold Express
Year: 2023
Material: Courier box, natural lacquer, gold foil
Designer: Yidong Hong, Min Chen
Edition: 1
An unfolded box that is both "new" and "old", co-created by lacquer artist Hong Yidong and neooold curator CHEN Min. The commonly discarded courier box is used as a built-in core, which is solidified by the mounting scraping process. A few logistics symbols are painted in natural lacquer and golden foil, of which are neooold logo variants' tapes, playfully interpreting this creative idea.
13. Ming Design Studio
Ming Design Studio was founded in Amsterdam by Huang Zhiya and Zhang Mingshuo, who both graduated from the Design Academy Eindhoven in the Netherlands. They constantly try to find the identity and presence of things in specific contexts via experimentation and innovation. They have won more than 20 international design awards such as Red Dot, iF, IDEA, Gmark, etc.
Faint Aroma
Year: 2023
Material: paper, pigments
At the invitation of neooold, Ming Design Studio "reinterpreted" neooold's logo. Using innovative and experimental design methods, the work presents a unique and immediate artistic creation. The three-ring logo of three primary colors quietly extended, separated and blended. Thanks to the lighting of Occhio, a luxury German lighting brand, the audience are able to enjoy the sophisticated color changing process. This installation also well expressing neooold's vision for the infinite possibilities generated by the mutual dependence among design, art and craft.
14. Axel Meise
Axel Meise is the founder and creative product designer of Germany luxury lighting brand Occhio. Since childhood steeped in a fascination for the elementary effect of light on atmosphere and mood, Axel Meise had an early start to tinkering with the development and design of the best-quality light. The ultimate aim of Axel Meise native: to use the power of light to improve the quality of people's lives.
Gioia equilibrio
Year: 2023
Material: Aluminum and steel
Occhio has named the flagship of its new Gioia luminaire series equilibrio, Italian for
"balance". Gioia equilibrio has sculptural design, outstanding mobility, and lighting effects. The synthesis of design and innovation is as extraordinary as the joy moving the luminaires smoothly. Its appearance and function provide joy of use. Gioia equilibrio is a masterpiece recreated by Occhio, directing the light with simple gestures and making the adjustments one desires – a magical experience.