02/07/2018
INAUGURAL DESIGN CHINA BEIJING EXHIBITION TO DEBUT IN SEPTEMBER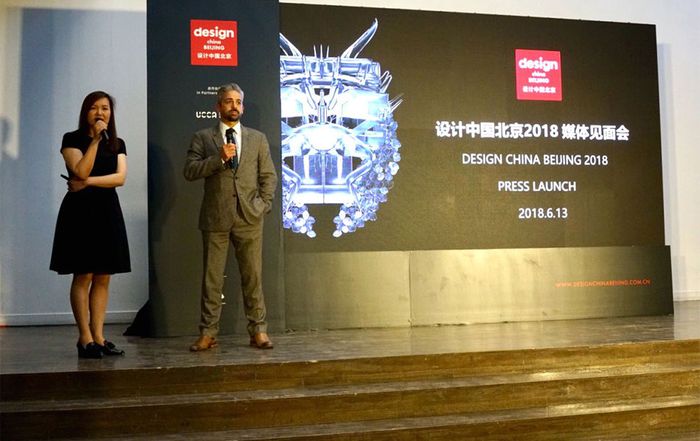 Design China Beijing is the first truly international design trade event in Beijing. Held over four days, it will bring together exceptional design, quality and inspiration, and introduce the world's most established brands, exciting up-and-coming designers from China and abroad, as well as renowned galleries.
Organized by Media 10, Design China Beijing will build on the great success achieved at Design Shanghai, Asia's biggest international design event, while showcasing content tailored for a Beijing audience.
Mike Dynan, Managing Director of Media 10 China, says, "We are excited about the forthcoming inaugural edition of Design China Beijing, through which we will bring the high-end standard and the global perspectives of Design Shanghai to Beijing and introduce more international leading design brands, galleries and independent designers including Kartell, AXOR, Interface and Bolon."
Set across the remarkable China National Agricultural Exhibition Center, one of the largest exhibition centres in Beijing, and featuring three sections offering a platform to an entirely different realm of design, Design China Beijing will be sure to make an impact in its first edition. The fair will welcome over 80 leading international and home-grown design brands and galleries, and present their exciting and innovative ideas through extensive product launches, bespoke installations and exclusive networking events.
A creative hub of talents, the Contemporary Design section assembles the very best design brands from across the globe. It will house creative contemporary design talents with a vast selection of leading high-end design brands and emerging independent designers. This offers an invaluable opportunity for international brands to engage with Asia's most influential and highly regarded architects, interior designers, property developers, retailers and private buyers. Contemporary designers include design brand Bolon, Israeli kitchen and bathroom surface maker Ceasarstone, and design agency Noord.
Meeting Asia's desire for merging the best craftsmanship, heritage and design, the Classic & Luxury Design section brings together timeless designs and decorative furniture from all over the world. Classic & Luxury brands on show will include Moissonnier, House of Taiping, and Hong Kong-based wallpaper and flooring designers TAT ming. The Collectible Design section showcases the highest level of global artistry and design, presenting extraordinary one-off pieces as well as limited edition works from international designers represented by globally renowned design galleries. Viennese silversmiths Wiener Silber Manufacture, furniture designer Ana Fatia and German timepiece markers Erwin Sattler are among the Collectibles brands taking part.
Over 5 successive years, Design Shanghai has become a key platform to support emerging designers and a powerful driver for the development of promising Chinese design talent, including graduates of the Central Academy of Fine Arts and the Central Academy of Art & Design at Beijing's prestigious Tsinghua University. Through this partnership, local Chinese designers will be able to bring together design cultures from the east and the west, and combine aesthetics, innovation and function to create truly recognizable international designs.
WGSN, the world's leading trend forecaster online, will also become the global partner for Design China Beijing, adding a design trend column alongside Design China Beijing's social media pages, and providing valuable creative guidelines and business analysis.
As China's leading independent institution of contemporary art, UCCA is a cultural landmark in Beijing; a conduit for international exchange and an incubator for new talent. The efforts made by UCCA in art education and retail are widely appreciated, and UCCA will be engaged in discussions about the similarities between art and design.
Design China Beijing is more than just a fair. It is an exchange of the best design thinking. In partnership with Kohler, a global leader in kitchen and bathroom product manufacturing, Design China Beijing will host forums where top designers from the world will share inspirational ideas revolving around the themes of Inspiration, Nature, Handicraft and Technology in the kitchen and bathroom product category. At the Design Forum, world-leading design icons including Italy's Filippo Gabbiani, Germany's Sebastian Herkner, Shuhei Aoyama from Japan, and Chinese designers Liu Feng, Jamy Yang, and Frank Chou will grace the stage to share their inspiring and thought provoking ideas with an audience of leading media, design critics, buyers, industry leaders and top Beijing design talent.
Meanwhile, the Hosted Buyer Program of Design China Beijing aims to help buyers meet exhibitors during the show to discuss real projects and set up business connections.
Zhuo Tan, Show Director of Design China Beijing and Design Shanghai, says,"Beijing has over 250,000 international and local architecture and interior design studios, and is the biggest design cluster in China. Launching Design China Beijing during Beijing Design Week this year will help to enhance communication and interaction within the design industry, which is of great importance in sharing design resources, shaping the design market and connecting urban innovation in the long term."